Fri., Jan. 9, 2015
Otter strikes defiant tone in third inaugural address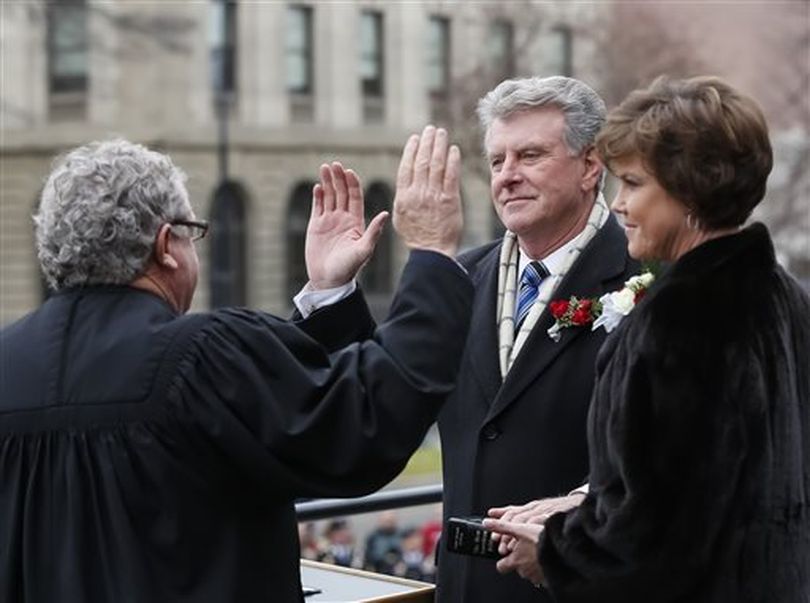 Idaho Gov. Butch Otter struck a defiant tone in his third inaugural address today, declaring, "We stand for what's right, here in Idaho." You can read my full story here at spokesman.com.
"Where we draw the line is having others' views imposed on us as mandates out of misguided political correctness or a lack of respect for our history, traditions and values," the governor said in one of several apparent references to his ongoing fight against same-sex marriage, which became legal in Idaho on Oct. 15. Otter is currently pressing an appeal to the U.S. Supreme Court.
Asked by reporters a day earlier if he wasn't wasting taxpayers' money to continue the court fight, Otter said he was committed to protecting the Idaho Constitution, which was amended by voters in 2006 to ban gay marriage. He compared it to press freedoms under the U.S. Constitution's 1st Amendment, saying he wouldn't give those up without a fight either.
When Idaho Supreme Court Chief Justice Roger Burdick administered the oath of office to Otter on the chilly state Capitol steps today, the governor added an extra two words, with emphasis, when asked if he'd support the Constitution of the state of Idaho: "I will support and defend the Constitution of the state of Idaho," he declared.
A crowd of more than 200 gathered for the state's official inaugural ceremony, at which Otter and the other six statewide elected officials were sworn in; the applause was muted from the gloved and bundled-up crowd. A lone, bearded protester at the back of the crowd held up a sign saying, "SAVE A WOLF, EDUCATE AN OTTER." The crowd included Harley Brown, the fringe candidate who ran against Otter in the primary and who dresses in leather biker gear; Otter shook his hand after the ceremony.
---
---