Fri., July 17, 2015
Hundreds surround Capitol to celebrate ADA's 25th anniversary, note disability rights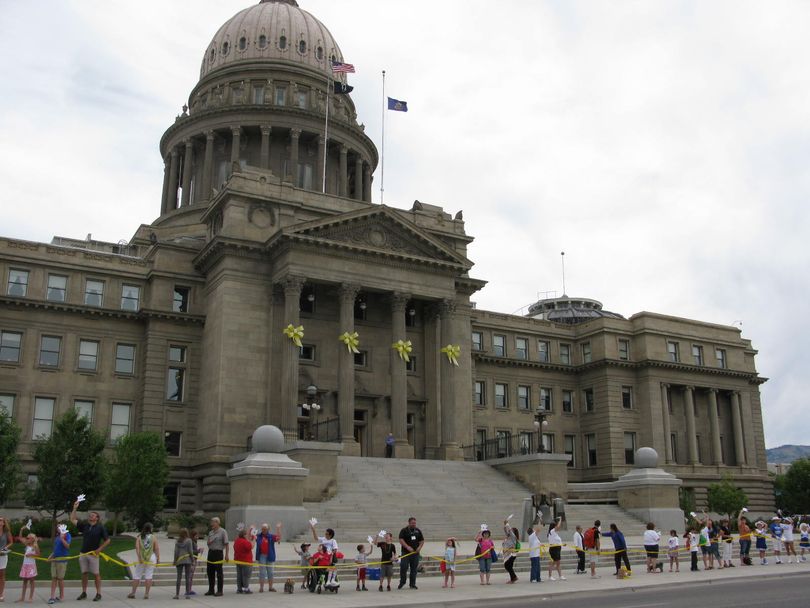 Hundreds of people ringed the state Capitol today, stretching a yellow ribbon around the entire double block containing the Statehouse, in commemoration of the 25th anniversary of the Americans with Disabilities Act. Some were in wheelchairs, some were conversing in sign language, some had artificial limbs. Some pushed strollers. Some brought young children; some brought service dogs. Some used canes. Some arrived on bicycles. Some wore T-shirts with slogans, including, "Disability rights are civil rights" and "Keep calm, I'm an autism mom." A sign said, "Not being able to speak is not the same as not having anything to say." You can read my full story here from Saturday's Spokesman-Review.
Boise Mayor Dave Bieter welcomed the crowd, saying, "We are on a mission in the city of Boise to be the most livable city in the country, and we intend to be the most livable for everyone." Idaho Secretary of State Lawerence Denney read a proclamation from Gov. Butch Otter, which noted that Idaho amended its Idaho Human Rights Act on July 1, 1988 to ban discrimination on the basis of disability - two years before the passage of the ADA in 1990.
"We will fulfill the promise of the ADA," Denney said, saying it's intended to ensure that people with disabilities can "participate as active, productive and independent citizens in Idaho."
In an unfortunately timed exit, just as the crowd was lining up on the sidewalks ringing the Capitol, Otter, in shirtsleeves, backed his pickup out of its parking space in front of the building shortly before the noon hour. At the direction of his plain-clothes ISP escort, the crowd dutifully parted and made way, but after he'd left, one man said, "We should've blocked 'im in."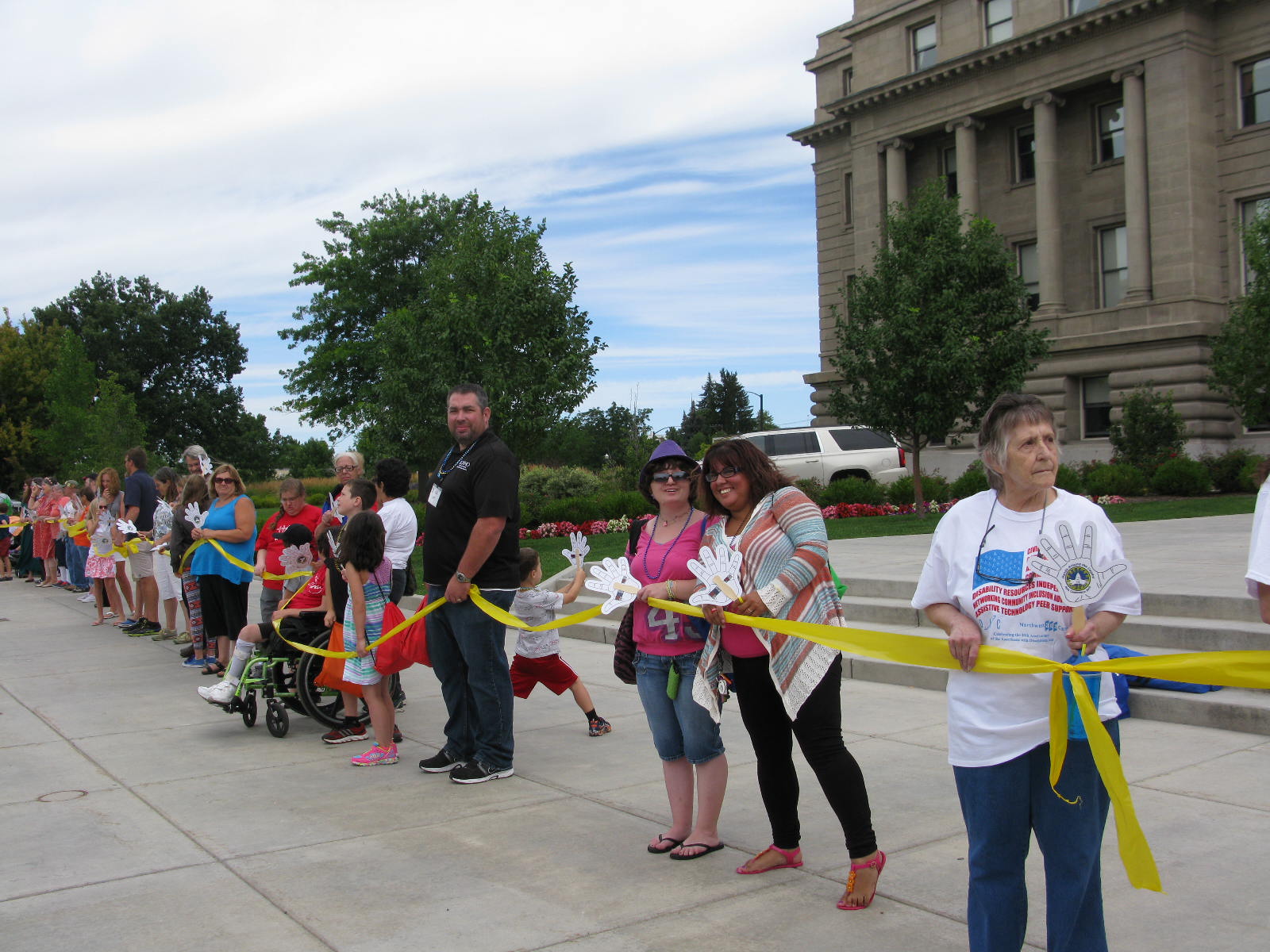 But the mood was mostly joyous, as participants celebrated a quarter-century of civil rights for people with disabilities. "The ADA's message is clear: Those with disabilities are to fully share in American life," U.S. Attorney for Idaho Wendy Olson told the crowd.
Olson said this year's commemoration is particularly significant because it follows the "historic" settlement between the U.S. Justice Department and the state of Idaho to make $400,000 worth of improvements to the newly renovated state Capitol to bring it into compliance with the ADA. She recalled a tour of the Capitol with other justice officials and Idaho disability activist Dana Gover – who toured in her wheelchair – that drove home for Olson the obstacles to getting around the building that's sometimes called the "people's house." "Now, truly, the Idaho Statehouse will belong to all of us," Olson said.
Other speakers included nationally known activist and motivational speaker Richard Pimentel, who told the crowd that the changes the ADA prompted, from ramps and curb-cuts to e-readers with adjustable font size to automatically opening doors that shoppers with full carts appreciate when they leave grocery stores, were intended to help people with disabilities, but ended up helping everyone. "What we've done for people with disabilities has made the world a better place for all of us," he said.
Sign-language interpreters interpreted for the crowd during most of the speeches, but when Steven Snow, director of the Idaho Council for the Deaf and Hard of Hearing, spoke, he gave his speech in American sign language and the interpreter spoke into a microphone from off-stage. "If it weren't for the ADA, I probably wouldn't be here, and so many of you wouldn't be here, too," Snow told the crowd. He recalled hearing the news of the ADA's passage as a middle-schooler at the Idaho School for the Deaf & Blind. And he noted the many patents and innovations that have come about from efforts that started out to accommodate people with disabilities.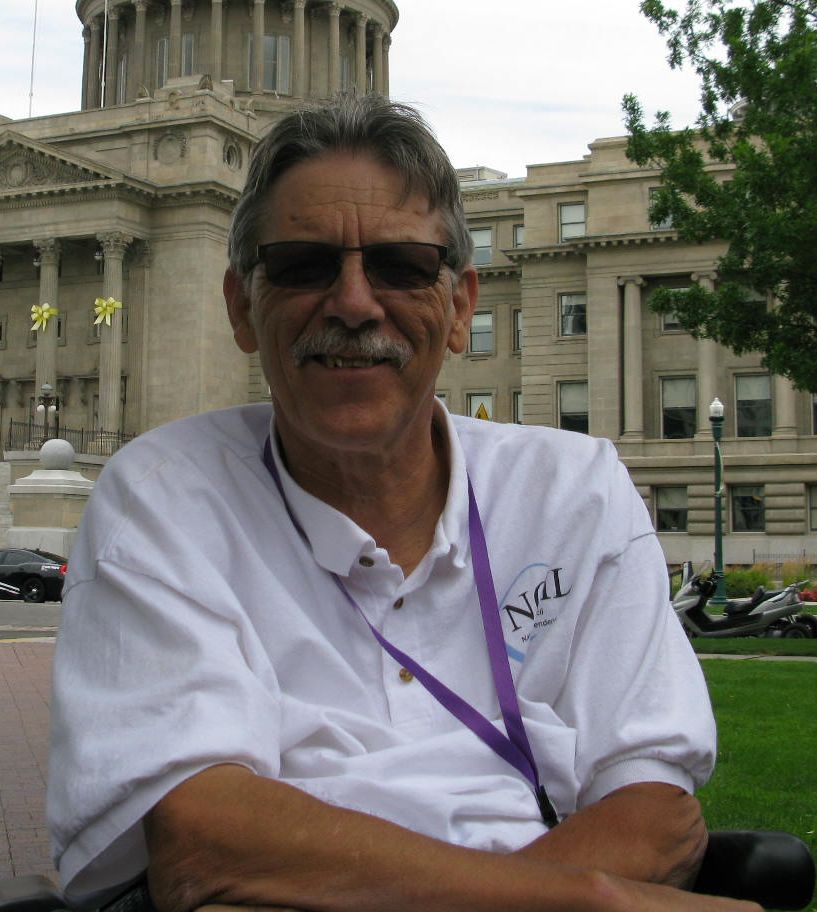 Kelly Buckland, today's keynote speaker, said, "We have much to celebrate, and it's fitting that we would celebrate by holding hands around the Idaho state Capitol building." Buckland, a lifelong Idahoan whose dive into the Snake River at age 16 broke his neck and left him in a wheelchair, is now a national advocate for disability rights, heading the National Council on Independent Living. He headed the Center for Independent Living in Boise for six years and the State Independent Living Network for 14 years before moving to the nation's capitol to head the national group; when he learned that his and other advocates' advice to the state about making the Capitol ADA-compliant during its renovation had been ignored, he filed the complaint that launched the U.S. Justice Department investigation and led to the settlement.
In the early 2000s, Buckland led the effort to change Idaho's child custody, child protection, divorce and parental rights termination laws to prevent parents from losing their kids solely because the parent has a disability. Idaho was a leader on that, but Buckland said 37 states still have no such protections; he's been working with the U.S. Department of Justice and Sen. Mike Crapo on ways to expand those protections nationwide. "Disabilities should never be used as a reason to remove or diminish our rights as parents," Buckland told the crowd.
He and his wife Merle have a 16-year-old son, which Buckland said has made him think about what it must have been like for his parents when he was injured at that age. That was 20 years before the passage of the ADA. "I know what it was like to live with a disability without those rights," Buckland said.
He recalled relying on his classmates at Rigby High School to carry him up the steps into the school and back down at the end of classes. "There was no parking," he said. "There were not any accessible bathrooms – you had to go before you left home." And Buckland said he was routinely discriminated against for being disabled. "I was kicked out of movie theaters, restaurants and bars, just because they didn't want you there," he said. "A lot of people don't think that sort of stuff happened." He recalled being turned away from a former Boise landmark restaurant, the Top of the Hoff, because he and his wife were told that his wheelchair was "in the way of the waiters – they couldn't easily get past my chair. They asked us to leave, they wouldn't serve us."
That couldn't happen today, under the ADA. But he and other speakers today stressed that the ADA only passed because people actively worked to get it accomplished. Olson recounted the "Capitol Crawl" – before the bill passed in 1990, people with disabilities from 30 states descended on the U.S. Capitol, where they set aside their wheelchairs, crutches and canes, and literally crawled up the Capitol steps, asking Congress to pass the bill.
When Buckland mentioned the accessibility upgrades to the Idaho Capitol under the recent settlement, the crowd applauded. "Yeah, clap – it's a big deal," he said. "However, it's clear that that would not have happened if somebody hadn't spoken up. And it's important that people speak up when they see their rights being violated, and that includes all of you."
He said challenges ahead for disability rights include ensuring that new smartphones and other devices are usable by people with disabilities; ending what he calls an "institutional bias" in Medicaid that in some states pushes people with disabilities to enter institutions rather than providing them services in their homes; and many other issues. "Today, far too many people with disabilities are forced to live in institutions, forced to receive unwanted treatment, denied programs and services, or paid less than minimum wage," he said. "We must continue our advocacy. … More work must be done."
---
---