Dem candidates for governor square off, clash over marijuana, campaign endorsements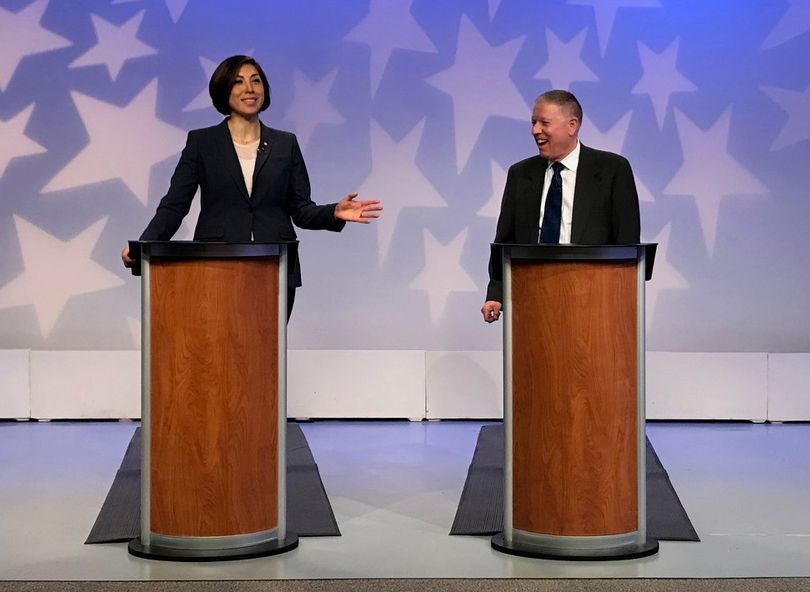 Here's an article from the Associated Press:
By Kimberlee Kruesi
BOISE, Idaho (AP) — Idaho's Democratic gubernatorial candidates on Sunday spent most of their first televised debate in overall agreement when discussing the state's biggest issues surrounding education, health care and taxes.
Arm teachers to improve school safety? No, said both former Rep. Paulette Jordan of Plummer and Boise businessman A.J. Balukoff.
Expand Medicaid to help those who don't qualify for health care coverage or make too little to qualify for a subsidy? Yes, and both have signed the petition currently being passed around the state to get a Medicaid expansion proposal on the November ballot.
Raise taxes to increase education spending? No, instead they agreed the state should find a way to reduce its long list of tax exemptions.
However, near the end of the hour-long debate, the two became animated when faced with questions over their endorsements. Despite having served inside the Idaho Statehouse for nearly two terms, Jordan has not received any endorsements from her Democratic colleagues.
If elected, Jordan, 38, would become not only Idaho's first female governor, but also the first Native American elected governor in the nation. That distinction has quickly attracted national attention. She has received endorsements from national groups like Planned Parenthood and Indivisible, as well as a celebrity endorsement from Cher.
Meanwhile, Balukoff has secured endorsements from both former and present Democratic state and congressional lawmakers — even though he has never held an elected office higher than school board.
Balukoff, 71, unsuccessfully ran for political office for the first time as a Democratic gubernatorial candidate against Gov. C.L. "Butch" Otter in 2014. This time around, Balukoff's experience working as a Boise businessman and school board member has attracted praise from legislative leaders.
Jordan downplayed the significance of the endorsements, saying she was more focused on unifying Idaho's Democratic Party rather than highlighting its differences; she said she'd asked her House caucus to remain neutral in the race.
"I think it's unfortunate, we (Democrats) are very few and far between, this is how we know we should stand together as family," Jordan said.
Balukoff countered that his endorsements show that he can work with others and build trust.
"I would encourage you to check the record, all of the endorsements I have received have come after her candidacy," Balukoff said, rebuffing Jordan's claim that his endorsements came before she had thrown her hat in the ring.
The two candidates also notably split when debating marijuana in Idaho.
Jordan said she fully supports legalizing marijuana, and backed unsuccessful legislation in the state House to decriminalize it. "This is a natural medicine that grew here for thousands of years," she said. "Unfortunately, we're seeing it being replaced by the opioid drugs through the opioid industry, which are far more impactful, hurtful, harmful to rural communities in Idaho, and they are destroying our communities. And opioids are the gateway drug to heroin and methamphetamines." Jordan added that legalizing marijuana could add "millions of dollars in tax revenue," as it has in neighboring states, and reduce Idaho's prison costs. "We are over-criminalizing people for using marijuana," she said, and even for simply driving through the state en route from other states where it's legal.
Balukoff said he opposes recreational marijuana but doubted that the issue would even come to his desk if elected, due to the current Republican-controlled Legislature. He also said marijuana should be reclassified so the federal government could research the benefits of medical marijuana.
When asked about decriminalization, Balukoff quickly pivoted to opioids: "Yes, we should talk about that, it's not one of the most dangerous drugs but we don't know what it could be used for. As I've talked with doctors, they don't see that necessarily being a replacement for opioids." Balukoff called for targeting opioids in different ways: Education, doctors checking registries to avoid patients getting prescriptions from multiple providers, and working with insurance companies "to make sure that alternate methods of pain management are covered by insurance, things like acupuncture, massage therapy and so forth, and try to avoid to the extent we can the use of opioids to manage all pain."
Idaho has long remained steadfast in its strict anti-marijuana laws despite bordering three states — Washington, Oregon and Nevada — that have legalized recreational pot.
Balukoff and Jordan are vying to become the Democratic nominee for governor in the upcoming May 15 primary election. Whoever wins will go up against the Republican primary winner in the November election.
The governor's race is wide open now that four-term Gov. C.L. "Butch" Otter hasn't filed to run for re-election. However, in Republican-dominant Idaho, most Democratic candidates face an uphill battle in statewide and local elections.
The last time Idaho voters elected a Democrat to the top seat was former Gov. Cecil Andrus in 1990. Andrus, who died last year, served four non-consecutive terms.
Staff writer Betsy Z. Russell contributed to this report.
---
---