Mayor Condon appoints Acting Police Chief…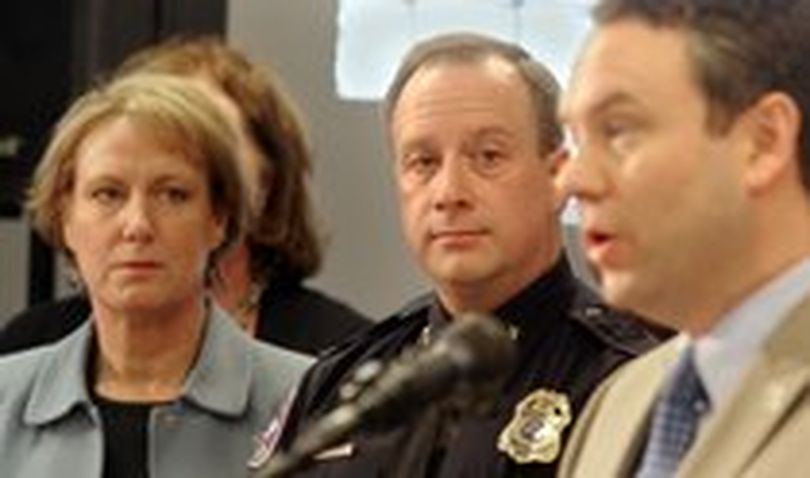 Good morning, Netizens...
Yesterday Mayor David Condon appointed appointed Maj. Scott Stephens interim police chief and announced plans to review the department's use-of-force policies and training. Stevens replaces former Police Chief Anne Kirkpatrick, who retired effective Monday, at a time when the Spokane Police Department is suffering from morale and deep division among the ranks and poor confidence from the public.
According to the Spokesman-Review, Stephens, as a lieutenant, supervised the department's major crimes division during the 2006 police examination into Zehm's death, an investigation that federal officials openly described as flawed. He also oversaw the division when two detectives were called to investigate an alleged rape at a Spokane fire station in 2006. The detectives directed the accused firefighter, who claimed sexual activity with the 16-year-old girl was consensual, to delete photos of the partially naked girl from his cellphone. The detectives claimed they were protecting the girl from inadvertent dissemination of the photos. Critics said the decision destroyed potential evidence.
Former Police Chief Roger Bragdon is quoted as saying that Stephens is a man of good character, a statement that is troublesome to some of the public, however no one has stepped forward to contradict Bragdon's statement.
Assistant City Attorney Rocky Treppiedi will no longer serve as the legal adviser to the Spokane Police Department. Under the City Charter, Treppiedi serves at the pleasure of the City Attorney, not Mayor Condon. However, it remains to be seen if City Attorney Howard Delaney will keep his job under the new regime. Mayor Condon has said he will re-evaluate his team of administrators currently in place at the end of 120 days, and thus Delaney may step down from office, as well.
As viewed from over the back fence, Mayor Condon has begun a good start toward restoring public trust in the Spokane Police Department. It is a good start, but Spokane still has a long way to go to completely restore faith in the department.
We will watch and see where Mayor Condon's leadership takes us in the future.
Dave
---
---