RV Life: Our tablecloth tells a tasty tale of memorable meals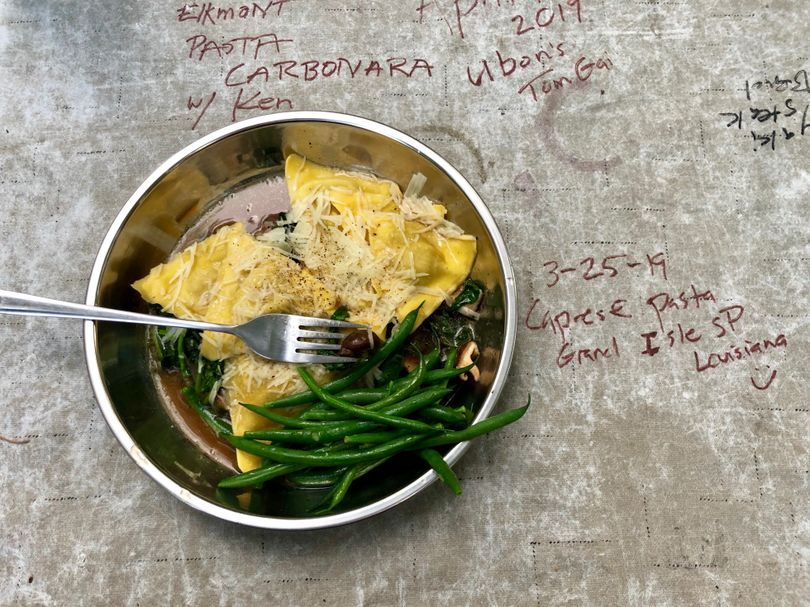 When we began this incredible journey more than a year ago, we picked up a cheap tablecloth for dining al fresco. It was beige and boring and I'm not exactly sure when I decided to spice things up by making notes on what we'd eaten for dinner. I'm sure glad I started this fun tradition.
This cover is definitely no longer blah, but an amusing record of what we've eaten and where. Like the fantastic halibut shared with new friends while at the Brandi Carlile concert in June at The Gorge. And the creamy carbonara devoured after a hike with our pal, former SR'er, Ken Sands. He drove from D.C. to meet us at Smoky Mountain National Park last spring.
The meals enjoyed with friends and family are the best, of course. This week, I celebrated my birthday with my sister, Colleen, who arrived in the world the day I turned 13. On the banks of the Icicle River at one of my all-time fave resorts, we feasted with friends on morel mushroom risotto, caramelized onion crostini, fat shrimp cooked on our new George Foreman grill. We sipped Washington state wine, and talked and laughed and shed a few tears. It was wonderful.
Some of the scribbles have faded over time, harkening back to the days when I used a ballpoint. Now, it's always recorded in permanent Sharpie. Sometimes, I even turn the pen over to a guest and invite them to leave their mark. Who knows what's going to happen when we run out of room to write. But in the meantime, we've had some spectacular suppers on our latest trip to Leavenworth, including the mushroom ravioli simmered in mushroom broth and served over a sauté of spinach and garlic, pictured above.
---
---