Fri., Jan. 10, 2020
In Palm Springs, everyone is a star, including RV owners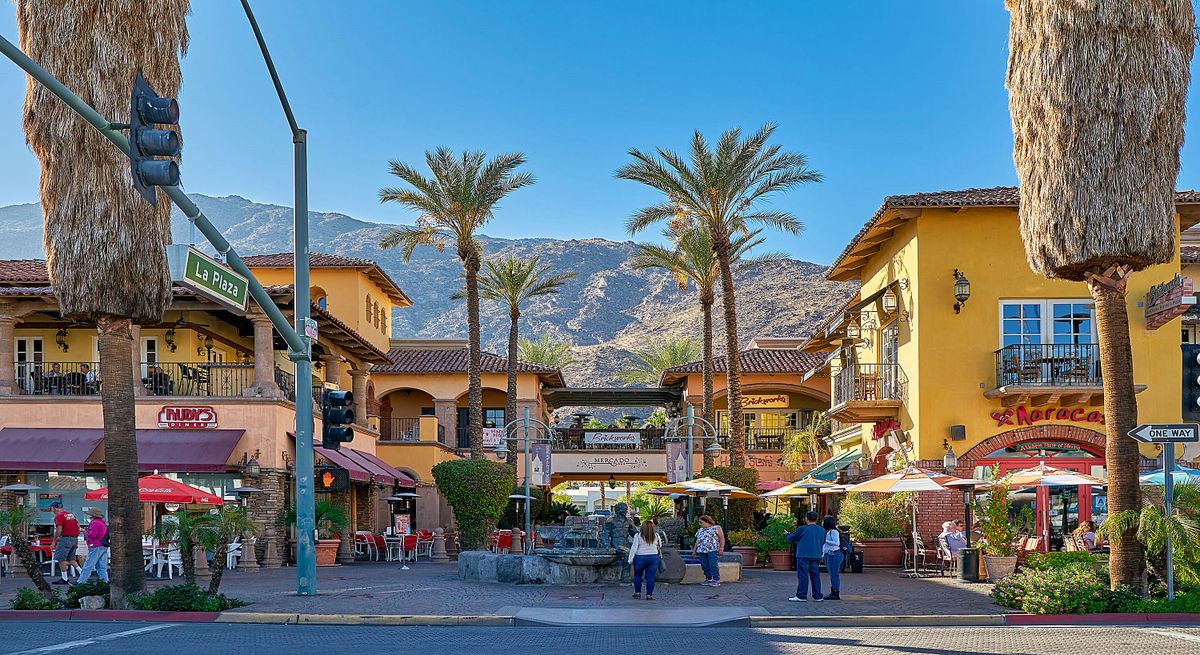 Palm Springs' downtown is a busy tourist hub, with restaurants, shops and bars. (Courtesy Visit Palm Springs)
PALM SPRINGS, Calif. — Quentin Tarantino had some special advice he wanted to share about this friendly city.
"The margaritas at Blue Coyote Grill," the film director told an appreciative audience, "are very good."
Thanks Quentin!
Palm Springs is like a lot of snowbird hangouts except for one thing: Here, you will definitely run into a star or two during Palm Springs International Film Festival in early January. And even if it's not festival time, you'll groove on the city's old-school Hollywood vibe — think Frank Sinatra, Cary Grant, Bob Hope and Dinah Shore.
We were lucky enough to score passes to the awards gala event on Jan. 2 and saw Tarantino (who offered his juicy tip about the margaritas during his acceptance speech for director of the year). Other A-listers who appeared at the awards event included Jennifer Lopez, Jamie Foxx, Antonio Banderas, Charlize Theron, Adam Driver, Robert De Niro, Laura Dern, Renee Zellweger and Martin Scorsese.
It was like being at a mini-Golden Globes ceremony, and it definitely was a thrilling highlight of our three-week stay.
For RVers, Palm Springs offers many snowbird advantages. Despite its glitzy image, it's a fairly reasonable place to hang out. We stayed (as we have two other times) at the Happy Traveler RV Park, a perfectly situated spot on the edge of downtown.
Besides having an excellent pool, the Happy Traveler has a community feeling that you don't get in other parks. We celebrated New Year's Eve with a party in Happy Traveler clubhouse, a rockin' affair with a live band.
Around town, happy hour is a real thing, starting at 3 p.m. We checked out Melvyn's an old-time Palm Springs bar that Frank Sinatra frequented, and also went to another Rat Pack hangout, the Purple Room, where we saw the amazing Michael Holmes perform in his popular Judy Show, a tribute to Judy Garland.
Beyond the restaurants and clubs, there's a lot to do in Palm Springs. You can get into the city's mid-century modern vibe and check out all the '50s and '60s-era homes where many stars of the day lived.
You can also get outdoors for some surprisingly good bicycling and hiking. The foothills of the San Jacinto Mountains butt up against the city's downtown tourist center, offering access to the popular Carl Lykken Trail, a challenging hike that gains a legit 1,500 vertical feet. From the high ridgelines, you have a stellar view of the broad and booming Coachella Valley.
And if you're hankering for something a bit more exotic, Joshua Tree National Park is only about an hour's drive away.
Besides its many outdoor and indoor charms, Palm Springs offers something else: An inclusive attitude that embraces LGBTQ culture. In an increasingly divided America, it feels nice to be in a place where everyone is accepted and celebrated.
As we continue our travels around the Southwest, we can see the appeal of being a snowbird. And Palm Springs gives us a picture of what that lifestyle is like in all the best ways.
Take this RV name quiz
Have you ever wondered how they come up with all the names for RVs? We do — and we still laugh at some of the strangest ones we see in our travels. Hello Coachman Leprechaun— we're talking about you!
We have devised a 10-question quiz on our spokesman.com blog with fake names mixed in with real ones. See if you can suss out the imposters here: spokesman.com/blogs/going-mobile/2020/jan/01/pop-quiz-spot-fake-rv-names.
This week's Going Mobile question
Have you ever spotted any entertainment or sports stars while on the road? We've been on a bit of a roll — while we were in Malibu, we dined at Gravina, a homey Italian restaurant where we spotted actors David Duchovny and John C. McGinley (Dr. Cox on Scrubs). Tell us your stories at goingmobile@spokesman.com and we'll share them in the next column.
---
---