Thu., Dec. 17, 2009
Could I-90 Deaths Been Prevented?
The SUV barreled across the grassy median and into oncoming traffic just west of the Seltice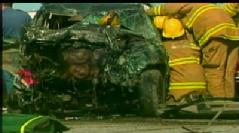 overpass. At that spot there is no barrier to keep cars from driving into oncoming traffic. If the crash had happened just six miles to the west in Washington, a cable median divides east and west bound lanes and would have helped prevent the SUV from crossing the centerline. ... The cable barriers were installed on a seven mile stretch of Interstate 90 from Sullivan Road to the Idaho state line back in 2004. In the 4 years before installation there were six crossover crashes on that stretch of freeway. In the years since there have been none though on 93 separate occasions vehicles have been stopped from crossing over by the cable barrier/Sally Showman, KXLY. More here.
Question: Is it time to install some sort of median to prevent out-of-control vehicles from crashing head-on into others on the opposite side of the freeway through Post Falls?
---
---