Fri., May 14, 2010
Crump: 'Napoleon' Sequel? Not Likely
Heck! In some of the worst flippin' news for small-town Idaho in years, movie director Jared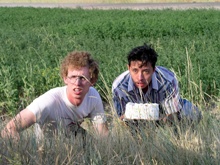 Hess says he's not much interested in making a sequel to "Napoleon Dynamite." "When sequels are an afterthought, they usually end up being bad but when they were originally intended to have multiple films made of the same story, when they're conceived that way, I think it works," Hess told the online entertainment news website starpulse.com. "But oftentimes when sequels are done just because the first one was successful and they do it for that, I don't know." Gosh! "Napoleon Dynamite," the 2004 film starring Preston, Idaho, made $46 million. And it absolutely nailed what it's like to live in rural southern Idaho/Steve Crump, Twin Falls Times-New. More here.
Cutline: Jon Heder, left, and Efren Ramirez are seen in this undated promotional movie still from the film "Napoleon Dynamite." Last winter's independent-film showcase has produced a string of successes, among them "Napoleon Dynamite," "Open Water," "Garden State" and "Super Size Me." (AP Photo/Fox Searchlight, Aaron Ruell)
Question: Are you a "Napoleon Dynamite" fan?
---
---