Wed., Dec. 5, 2012, 11:57 a.m.
High Noon: Sweet Gesture
Christmas is all about giving, but it's also nice to receive. That's what makes Christmas cookie exchanges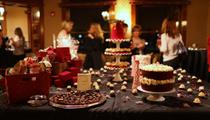 such a popular holiday activity. Whether you host an intimate group of friends or make it a gala event, cookie swap parties are a great way to celebrate the season. For the past four years, the folks at Ronald McDonald House Charities of Spokane have hosted a cookie exchange at Patsy Clark's Mansion. "It's fun, festive and a great way to get a sampling of cookies while supporting Ronald McDonald House," said Colleen Fox, director of marketing and communications. Fox said they're expecting 100 guests for the fifth annual event next Wednesday. The popular party is already sold out. "We'll be serving Christmas cosmos, wine and appetizers"/Cindy Hval, SR. More here.
Question: Which Christmas treat is your favorite?
---
---