Thu., June 12, 2014
Ready or not, it's time for The World Cup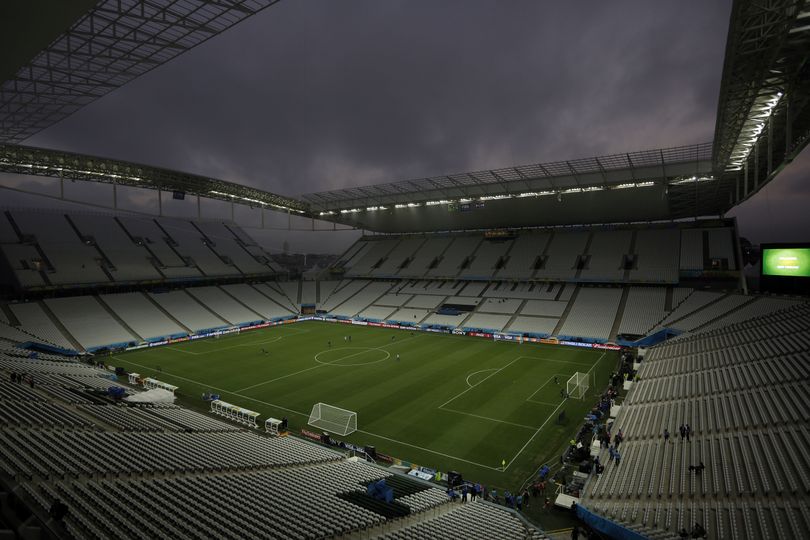 General view at the Itaquerao Stadium during an official training session the day before the group A World Cup soccer match between Brazil and Croatia in the Itaquerao Stadium, Sao Paulo, Brazil, Wednesday, June 11, 2014.
The World Cup is the world's greatest sporting spectacle – actually, I prefer the PBA's Tournament of Champions; of course, there's no accounting for taste – a quadrennial festival viewed across the planet by 3.2 billion people, or 3.196 billion more than watch "Crisis" on NBC.
The month-long world championship begins this week, and as a courtesy to those not as soccer-fluent as Couch Slouch, we now provide an insider's guide to this magnificent event:
Brazil is hosting the World Cup, and, well, they're not quite ready. For instance, the new international media center in Curitiba is unfinished, so journalists will be housed in parking-lot tents, which, to be sure, will aptly reflect the state of journalism these days. More importantly, many of the stadiums in the 12 host cities are also in disarray – sources tell me some fields will have only one goal in place, which means some matches might resemble half-court, pickup basketball games.
P.S. – Brazil also is running behind in preparation to host the next Olympics, with talk that there may be a slight delay. So…hello, 2017 Summer Games! Read more. Norman Chad
LIttle secret? Norman Chad is the only sports columnist I read with any regularity. Also, my husband played soccer all through high school and college and toured Europe with a semi-pro team. After we had kids he focused on coaching their teams, so yeah World Cup is a big deal at our house. How about yours?
---
---