Fri., April 5, 2013
SCR provides vital testing ground for Kurt Busch's car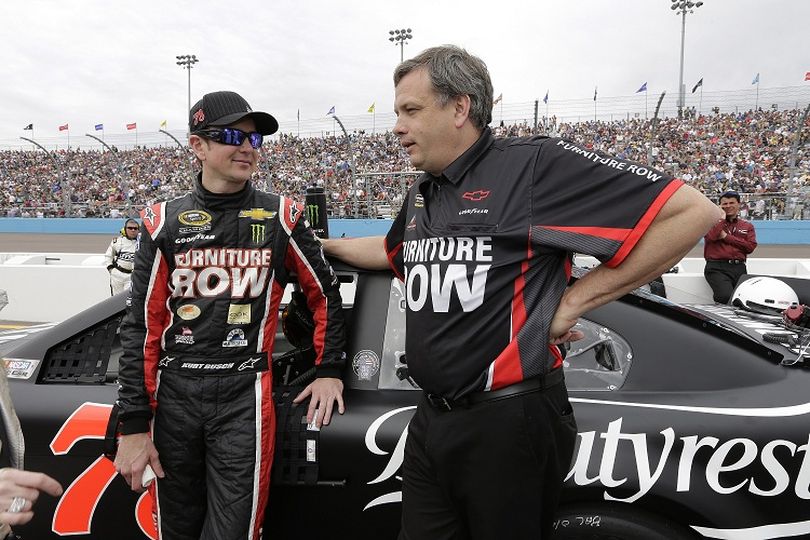 Spokane at Martinsville Speedway this weekend? That's correct as the No. 78 Furniture Row Chevrolet wheeled by Kurt Busch unloads with knowledge gained from two days of testing at Spokane County Raceway.
Doug Pace
The Spokesman-Review
When the NASCAR Sprint Cup Series hits Martinsville (Va.) Speedway this weekend for the STP Gas Booster 500, one team will bring a piece of Spokane County Raceway with them as they look to continue their recent success.
Kurt Busch, driver of the Furniture Row Chevrolet, has put together back-to-back top-10 finishes. With Martinsville being a flat half-mile oval, his team, led by crew chief Todd Berrier, needed to find a track with similar features to test after snow hit Sandusky, Ohio, and forced their original plans to be scrubbed.
NASCAR teams are in the midst of fine-tuning a new race car that has but one short-track race under its belt. Martinsville has little in common with fellow half-mile Bristol Motor Speedway, where the series ran in early March. Berrier needed a place to practice that did not involve using one of his four test dates allotted by the series and had planned to use the Ohio track until the snowstorm hit.
Ohio's loss was Spokane's gain.
Berrier researched tracks across the country and received advice about Spokane from Jerry Pitts, a championship crew chief on the NASCAR K&N Pro Series which competed at SCR 2011 and returns this summer. The wheels were put in motion to bring Busch's car to the Inland Empire for two days of testing and tuning for Sunday's 500-lap Martinsville showdown.
"Keeping things going well is one of the most important things for continuing our success (the team is 13th in championship standings heading into the weekend)," Berrier explained. "Martinsville is different than the last few tracks we've been to so we tested to get some experience with the new car.
"We used Google Earth and found some K&N video on YouTube to see what Spokane was like. I talked with Jerry and he said it would be a good place for what we're doing so I flew up and took a look and realized we could use the track. Going into this season they've changed the rear camber rules and when you go to a place where you can spin the tires like Richmond or Martinsville we need to know the wear in the correct manner and how much camber can you get away with on the car. When you come to Spokane you have limited grip, which allows you to evaluate your changes with the rear camber (during two days of testing) from a set-up side of things and know what knobs to turn going into Martinsville."
No matter the outcome on Sunday, Berrier was impressed with Spokane County Raceway and sees the potential for the Colorado-based team using the track in the future.
"The track folks really put some work into getting ready for us to come. It can be an option for us (for testing) and we may come back after a (local) race weekend when there's some rubber into the track that will help with grip in our car," Berrier said.
Havens starts season
Spokane's Braeden Havens, who finished third in the 2012 Rookie of the Year standings on the K&N Pro Series, gets his season started this weekend as the college freshman takes his late model to Evergreen Speedway in Monroe, Wash., for the track's NASCAR Whelen All-American Series season-opener.
Havens and his family will be busy this season as father Todd will continue to race late models in the region while younger brother Jess goes from go-karts to Stateline Speedway's Bandolero division. Braeden's schedule will see several K&N events as the team has purchased equipment from former Indy car driver, Billy Boat, to continue in the NASCAR series.
"We will have a full plate this year that's for sure," he said. "With Dad and my brother running and now adding the K&N car into the team, our guys will be working hard to keep all of the cars up and running."
---
---