Fri., Aug. 26, 2011
Crews trying to get handle on western wildfires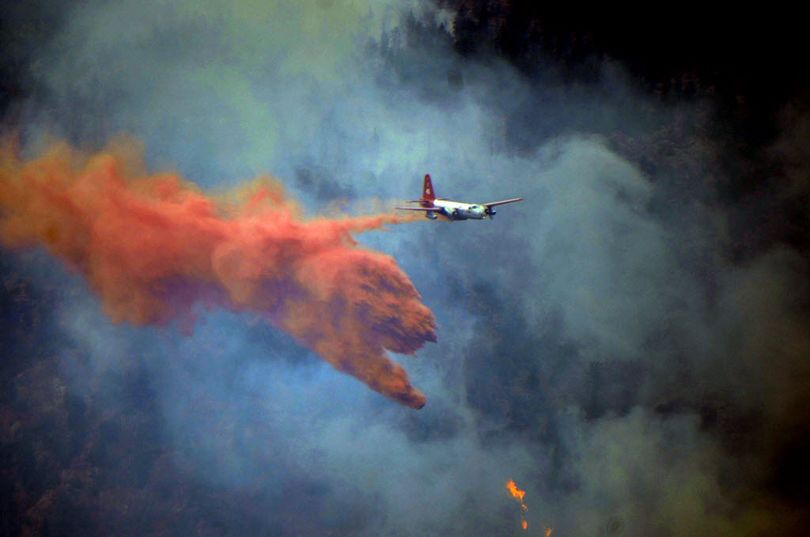 PUBLIC LANDS -- Fire crews dug in to gain control over some of the largest wildfires in the West Friday, taking advantage of a break in the weather before hot temperatures and gusty winds return over the weekend.
However, a Wednesday thunderstorm started 18 new fires in the Clearwater-Nez Perce National Forests of Idaho.
Almost 3,000 firefighters are working dozens of blazes that flared up in recent days in forests and shrubland in Montana, Idaho, Wyoming and Oregon. Active fires in those states have scorched almost 175,000 acres. That's about 270 square miles.
Read on for more details from the Associated Press and staff reports; click here for information on large fires around the nation.
Conditions could deteriorate around the West over the weekend, with hot temperatures and wind forecast.
Yet crews working around the clock appeared to be gaining the upper hand in many areas, including two of the largest fire complexes in Montana's remote, arid southeastern corner.
The Black Springs and Diamond fire complexes have burned a combined 60,000 acres near the communities of Otter and Lame Deer. About three dozen houses initially were threatened by the blazes, but authorities said Friday that the immediate danger had passed.
Black Springs was reported at 60 percent contained and Diamond at 45 percent contained. Fires lines constructed around some of the threatened residences successfully steered the flames away Thursday, preventing any residential damage.
"With the release in the winds and cooler temperatures yesterday firefighters were able to get quite a lot of work done," Black Springs fire information officer Mariah Leuschen said.
She added that some of the crews fighting to the blaze were expected to be re-assigned soon to other fires — a sign of the progress being made on Black Springs.
Crews also reported gains on a fire along the Wyoming-Montana border and one near Bonner, Mont.
The 2,100-acre blaze near Bonner was being closely watched Thursday when thunderstorms packing lightning had been forecast. That hazard never materialized, and the fire was 25 percent contained. The west flank of the fire, which had threatened dozens of homes in the West Riverside subdivision, was 90 percent contained.
In southwestern Montana near the Idaho line, the Ravalli County Sheriff's Office kept about 50 homes near the Painted Rocks State Park on alert to be ready to leave on short notice if a wildfire burning nearby threatened them.
The 21,152-acre Saddle complex of fires was still uncontained in both states, but Bob Macgregor of the West Fork Ranger District told the Ravalli Republic the fires moved slowly Thursday, with no storm cells developing to stoke them.
In Wyoming, progress made against several fires was partially offset by dry lightning storms overnight in Converse and Niobrara counties. State Forester Bill Crapser said the storm could have sparked five to 15 new fires.
Crews already were battling several of them and the Civil Air Patrol was flying over the two counties to get a better idea of what firefighters might be up against. Other new fires started in Carbon and Big Horn counties but little information was available.
Firefighters contained a 14,400-acre wildfire west of Wheatland, Wyo. and gained 70 percent containment on a 4,200-acre fire north of Gillette, Wyo.
Some rain and higher humidity allowed firefighters to make strides against the Hole in the Wall fire after it burned 5,764 acres in northern Wyoming and southern Montana.
Firefighters have 50 percent of the fire contained, primarily on the Wyoming side where the fire began on Sunday by lightning in the Shoshone National Forest.
Firefighters stopped the fire's northward advance about 7 miles south of Red Lodge, Mont., and were concentrating efforts Friday on preventing the fire from going around the east side of Red Lodge.
No homes or cabins were threatened although a few people with summer cabins were advised it was best not to stay in them this weekend.
Firefighters battled nine major lightning fires covering a total of more than 20,000 acres in Eastern Oregon on Friday, most of them on grass and brush-covered rangeland.
More than 9,400 strikes were tallied Wednesday night and Thursday morning — the most in a 24-hour period in 11 years, said Northwest Interagency Coordination Center spokesman Mark Morrow.
The biggest of the range fires was the Hancock complex, burning across 13,126 acres of rangeland straddling the John Day River and Highway 218 west of Fossil. That fire forced evacuation of the Hancock Field Station when it erupted Wednesday night and threatened 60 structures, only 15 of which were considered livable.
Firefighters burned out a safety zone around the field station, which was no longer threatened, and had the fire 10 percent contained after focusing on attacking hotspots during the cool night hours.
"We're kind of holding our own right now," Central Oregon Interagency Dispatch spokeswoman Carol Connolly said. "We have adequate resources in place at this time."
Thirty-five fires were burning on Oregon's Confederated Tribes of the Warm Springs reservation, said Warm Springs Fire Management spokesman Bob Sjolund. One that ignited in hills within a half mile of the town of Warm Springs was burning away from structures and was not considered a threat to the 2,500 residents, he said.
ON THE CLEARWATER-NEZ PERCE FORESTS:
The Clear/Nez Fire Zone picked upon 18 new fires as a result of Wednesday night's storms, but strong initial attack by firefighters significantly reduced concerns. Air patrol will continue flights searching for any holdover fires which may pop up.
On the Salmon River Ranger District the Narrows Fire experienced active torching and is reported at 20 acres, while the John Day Fire is three acres. Both fires will be supported by retardant and water drops today, and a Hot Shot firefighter crew has been ordered. Both ground and air patrol for spot fires will take place.
The East Fork Fire in the Meadow Creek drainage of the Red River Ranger District experienced little change Thursday. It is currently at 4,500 acres and will continue to be closely monitored.
Activity on the prescribed Liz Butte Fire on the North Fork Ranger District calmed Thursday, with only intermittent torching, and the size remains at 200 acres.
On the Powell Ranger District, the Storm Complex also demonstrated calm behavior Thursday and is now reported at 250 acres. Management of the Granite Creek Fire, which is has combined with a Montana fire, is transitioning to a Type III management team and will be administered by the Lolo National Forest.
Clearwater-Nez Perce closures:
East Fork Fire area closure is in effect covering the Green Mountain Road #285, Running Creek Road #357, and area trails #529 (in part), #530, #531, #533, #534 and #562. This area closure includes a portion of the widely used "Centennial Trail" from the junction of Trail #502 and Forest Road #285 north to Wylies Peak. The Magruder Road Corridor remains fully open. As the fire progresses, additional closures are likely.
Liz Butte Fire closures including the Liz butte Road #560 from the junction of Lolo Trail Road 500 to Liz Butte Cabin, and Liz Butte Trail #649 from the junction of Liz Butte Road to the junction of Yokum Creek Trail #650.
For more information about fires around the Clear/Nez Fire Zone, check out the website for the Grangeville Interagency Dispatch at http://gacc.nifc.gov/nrcc/dc/idgvc/index.htm.
---
---