Fri., July 1, 2011
Bear experts confirm North Cascades bear was grizzly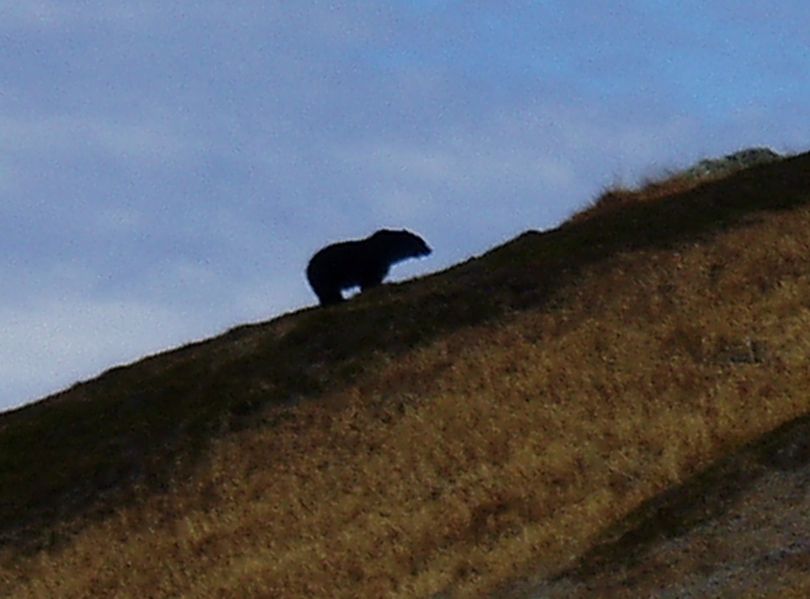 WILDLIFE -- A team of government and independent grizzly bear experts has confirmed that a bear photographed by a hiker n North Cascades National Park in October 2010 was a grizzly bear, according to a statement just released by the U.S. Fish and Wildlife Service.
The agency says this was the first "confirmed photograph" of a grizzly bear in the North Cascades in perhaps half a century. Another sighting confirmed by tracks and evidence was recorded in 1996.
A panel of experts identified the grizzly in a photo taken last October in the upper Cascade River watershed by Joe Sebille. The Mount Vernon man says he was hiking near Marblemount when he saw the bear and snapped the cell phone photo.
Friends persuaded him to share the photo with the North Cascades National Park.
A member of the Interagency Grizzly Bear Committee, Becki Heath, says it's a significant event in the recovery of the bear. Fewer than 20 grizzlies are believed to live in Washington's North Cascades. The bears are protected under state and federal law.
At nearly 10,000 square miles, the North Cascades Ecosystem is the second largest of six official grizzly bear recovery zones designated by the federal government and the only one outside of the Rocky Mountains. State and federal agencies have been working to recover the North Cascades grizzlies for more than two decades.
Read on for more.
"We welcome this confirmation that grizzly bears still roam the North Cascades," said Joe Scott, Conservation Northwest's director of international conservation. "But it doesn't change the fact that their foothold in these mountains is as tenuous as that of a climber on crumbling rock. The Cascades grizzly bear population has been languishing at dangerously low levels for more than 50 years. It will not recover without pro-active strategies to boost the population, an action identified in the Service's North Cascades Grizzly Bear Recovery Strategy 15 years ago."
---
---