Tue., Oct. 4, 2011
Latest salmon, steelhead fishing reports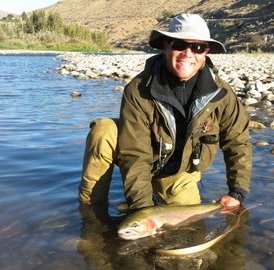 FISHING -- Here are the latest salmon and steelhead reports from around the region:
Yakima River Fall Salmon Fishery Report Sept. 26 - Oct. 2 (From WDFW):
Angler effort and harvest for fall Chinook and coho continues to rise on the lower Yakima River. This past week there were an estimated 887 angler trips on the Yakima River for salmon. WDFW staff sampled 147 anglers with 11 adult Chinook, 5 jacks, and 1 coho. Anglers averaged one Chinook for 25 hours of fishing. Estimated harvest for the week was 91 adult Chinook, 50 jacks, and 8 coho. For the season an estimated 142 adult Chinook, 115 chinook jacks, and 8 coho have been harvested.
Hanford Reach Sport Fishery Summary Oct. 2 (WDFW):
Staff interviewed 479 boats last week with 513 adult Chinook, 126 jacks, and 2 coho. Anglers averaged slightly better than one salmon per boat. An estimated 2,608 adult Chinook, 641 jacks, and 5 coho were harvested this past week. There were an estimated 6,070 angler trips this past week. This past week was likely a record for both total angler trips and Chinook caught in a week for the Hanford Reach area. For the season, 5,705 adult Chinook, 1,259 jacks, and 37 coho have been harvested.
On September 30, the in-season return estimate for the Hanford Reach was updated. The adult return estimate is now predicted to be 64,361 adult Chinook (not including hatchery returns). The in-season estimate dropped 6,000 adult Chinook from the previous estimate (9/23) but WDFW is still predicting a strong return.
Methow River steelhead (from Darrell & Dad's Family Guide Service):
Fly fishing is king, but jig and bobber guys can do well too. If you're fly fishing, drift a glo bug under a strike indicator. If you're a "swinger", throw big wooly buggers and leeches. Jig and bobber guys can choose between Mack's Lures Glo-Getter jigs or Worden Lures Maxi Jigs. Try the brightest colors you can get. Fish the same jig and slip bobber combos in the mainstem of the Columbia, but bait them with a chunk of shrimp cured with Pautzke's Fire Cure. Remember wild steelhead release rules are in effect. Pinch those barbs.
Upper Columbia salmon (from Darrell & Dad's Family Guide Service):
It's the tail end of the salmon season above Brewster. Fish Super Baits and Plug Cut Super Baits behind big rotating flashers until the season ends Oct. 15. The fish are getting uglier, but they are big and pull hard. An extra bonus is their meat is still good.
---
---