Tue., May 28, 2013
Remorseful camper contributes to junk-food elk
CAMPING -- Many families consider Memorial Day weekend the kickoff for the camping season. Unfortunately, it's also the start of some bad habits for wildlife attracted to the food and garbage campers make available.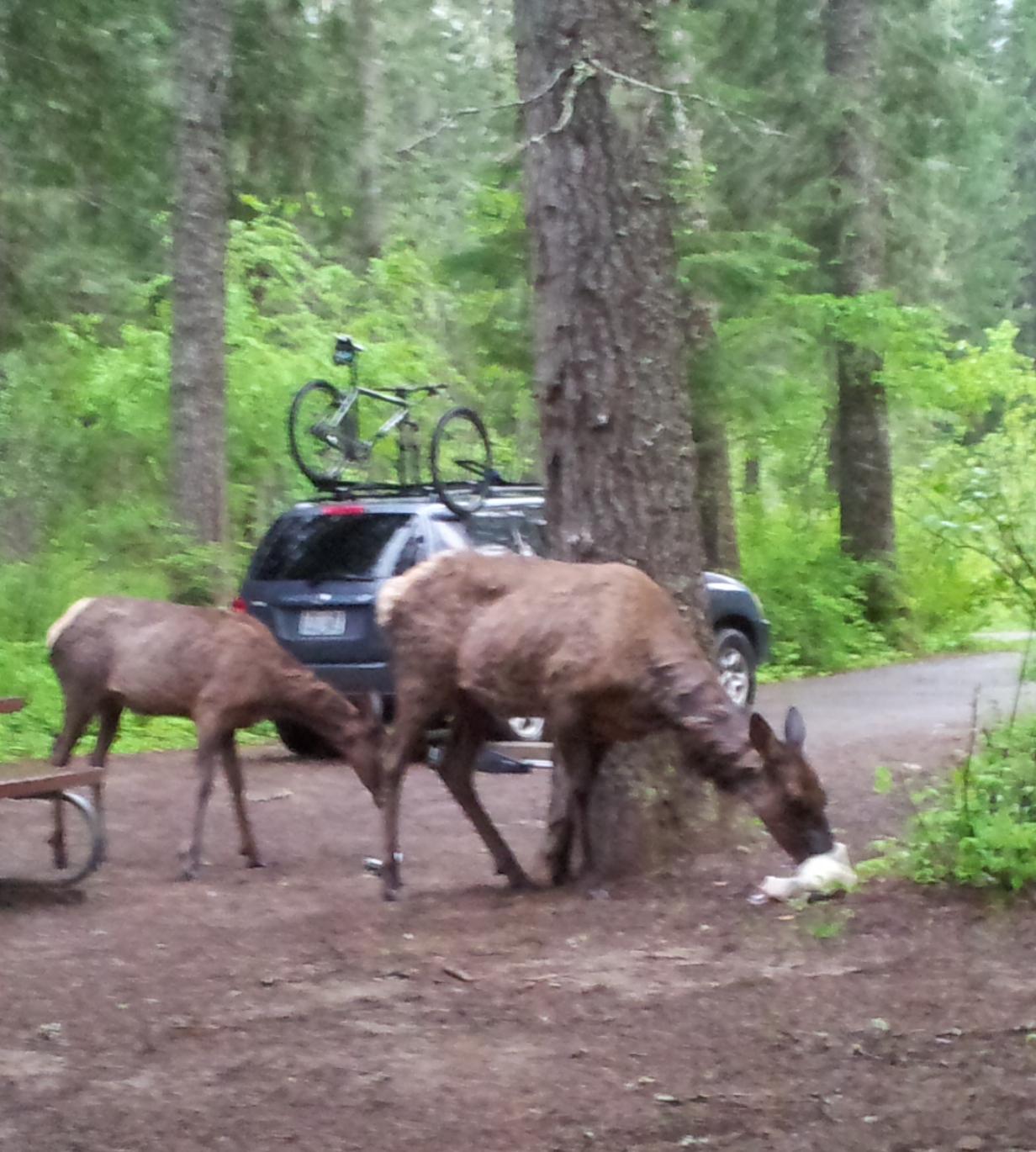 Luring wildlife to camping areas with food creates pests that can bother or injure campers that follow. In some cases, especially with bears, a junk-food addict usually must to be killed for public safety.
Also, wildlife attracted to food are more likely to be around roads where they can be hurt in vehicle collisions.
But even with that knowledge already firmly in his camping routine, James Pelland was chagrined to find elk rustling through untended garbage at his camp over the weekend. Here's his report and heads up to other campers.
"My family and I enjoy floating and camping up on the N.Fk CDA. Over the years we've seen plenty of deer, elk and moose.
"Around 5 a.m. Monday morning I woke to what sounded like something rummaging through our camp gear. I had gone to bed early and left it up to my wife and daughter, who were enjoying the campfire, to make sure our site was properly "secured" (food put away etc). I poked my head out of the tent and saw our small trash bag had been left hanging on a tree and the elk (not raccoons, not crows) in the attached picture were helping themselves to leftover pita chips and clam chowder. The yearling was using its nose to try to open our cooler!

"We feel sorry for furthering the habituation of these elk to people and people food, and feel sorry for the elk. The camp hosts told us that the elk drink the soapy water from their cleaning pail."
Then Pelland pointed out:
I remember a couple years ago a bear chewed on someone's ear through his tent near St. Regis... The camper got there at night and didn't notice that the previous folks had left a huge food mess. My buddy and I had driven right past that site the next day on our way to fishing... I always remember that story and don't need a bear chewing on my ear (or worse).
---
---