It's official: ID angler shatters WA tiger trout record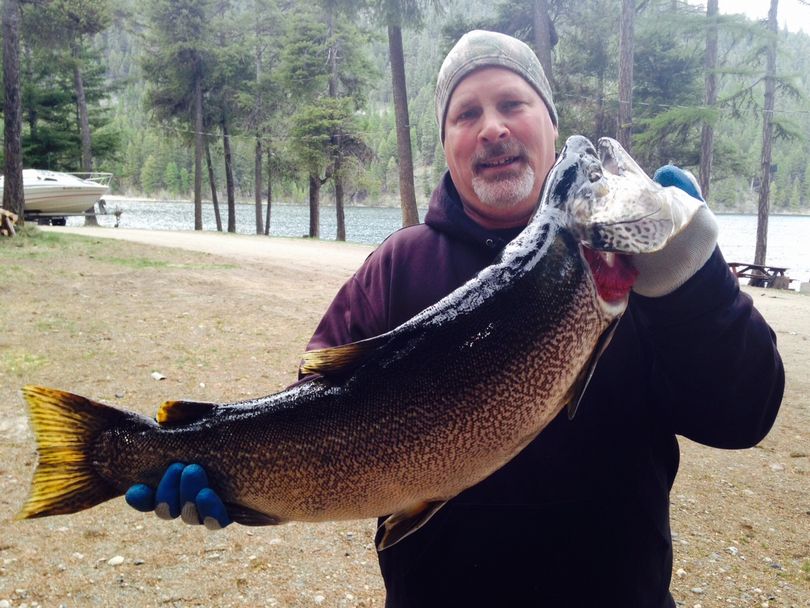 FISHING -- An 18.49-pound tiger trout caught in Bonaparte Lake near Tonasket on May 5 has been confirmed as a Washington state record, the Washington Department of Fish and Wildlife announced today.
The catch was reported earlier but records processing has taken more than two months.
Kelly Flaherty, 53, of Priest River, Idaho, caught the trout measuring 32.5 inches while bait fishing with a worm and egg at the Okanogan County lake.
A tiger trout is a cross between a brown trout and brook trout. The hybrid is a sterile trout that's fond of eating forage fish. Tigers are stocked in lakes where they can help control prolific sunfish, perch and other forage fish.
"The fish skyrocketed out of the water," said Flaherty, who was fishing from a boat launch. "As soon as I hooked it, I was whooping it up, while a crowd gathered around the whole time."
Flaherty estimates it took 15 minutes to land the fish from the time he set the hook until he pulled his prize onto the boat launch without a landing net.
The record exceeds the previous record tiger trout record by 3.45 pounds. That fish was caught in 2012 by Kirk Herrin in Roses Lake, Chelan County.
---
---