Mon., Sept. 28, 2015
Fall chinook flood into Hanford Reach; catch rates high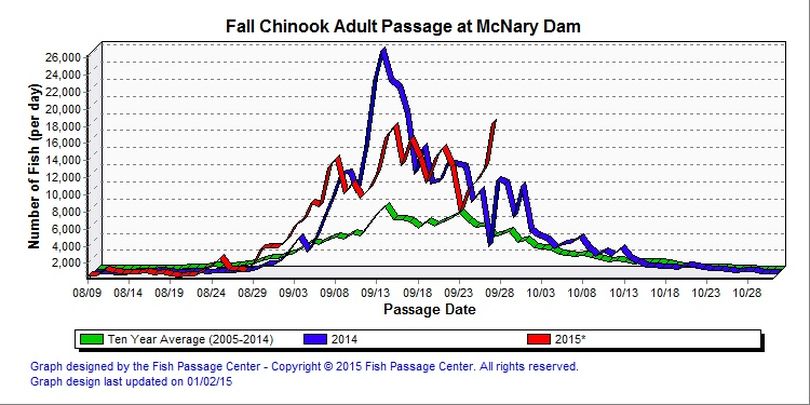 FISHING -- As 2015 chinook salmon runs were setting a record for numbers over Bonneville Dam on Sunday, anglers were capping the week with darned good fishing upstream in the Hanford Reach.
The total of 1,204,410 spring, summer and fall chinook has been counted at Bonneville through Sunday, the highest number since 1938 when the dam was completed and counts began -- and the salmon are still coming over the dam at about 10,000 a day.
This year's counts top the 1,152,643 counted in 2014 and 1,129,664 counted in 2013. These three years have been exceptional.
Of course, that translates in to good fishing, with record catches in the lower Columbia this year.
Now the hot spot is the Hanford Reach between McNary and Priest Rapids dams, where many of the fall chinook will spawn. Here's the weekly report from Paul Hoffarth, Washington Department of Fish and Wildlife fisheries biologist in the Tri Cities.
It was another good week for salmon fishing in the Hanford Reach. Harvest for the week was estimated at 5,993 fall chinook (5,706 adults and 288 jacks). WDFW estimates there were 9,115 anglers fishing in the Hanford Reach this past week (3,500+ boats). So far this season 13,778 adult chinook and 715 jacks have been harvested.

Fish were harvested throughout the Hanford Reach with the best catch per boat at White Bluffs and Ringold at just over 2 fish per boat. Vernita was running about 1.6 chinook per boat. Overall, anglers fishing in the Hanford Reach average better than 1.5 chinook per boat, 10 hours per fish. Bank angling at the Ringold Springs Access area picked up this week with 71chinook harvested for the week.

WDFW staff interviewed 2,561 anglers from 1,025 boats and 207 bank anglers fishing for fall chinook in the Hanford Reach.

The in-season run update (Sept 23) for the Hanford Reach is 195,620 adult chinook based on the long term mean, (152,517 based on the 2014 return).
---
---