Wed., Oct. 11, 2017
Turkey hunters required to wear orange during rifle game seasons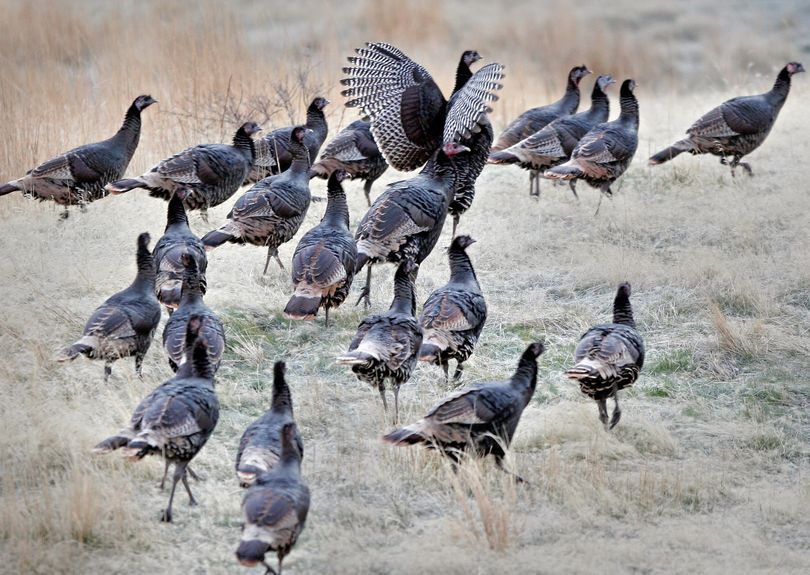 HUNTING -- Fall turkey hunters must wear a hunter orange vest or clothing during the portion of their season that corresponds with any modern rifle big-game seasons.
Without a formal announcement, the Washington Department of Fish and Wildlife has posted the emergency rule online a week before the general deer season opens. Until that rifle season opens, turkey hunters can continue to hunt without wearing orange.
The rule is "intended as a safety measure for hunters participating in any hunt that overlaps a deer or elk modern firearm season by requiring them to wear high-visibility 'hunter orange' clothing," the post says.
An oversight in Washington's 2016 and 2017 fall turkey hunting seasons had allowed camouflaged hunters in the field during the general modern rifle deer season.
Washington seasons for turkey hunters — as well as archery and muzzleloader big-game hunters who are allowed to wear camouflage — are normally separate from modern rifle seasons, in which hunters are required to wear 400 square inches of hunter orange clothing for safety.
But when fall turkey seasons were lengthened last year to take advantage of robust turkey populations, the hunter orange requirement wasn't addressed said Kevin Robinette, Fish and Wildlife Department regional wildlife manager in Spokane.
It was an oversight that fall turkey hunters were not included in the rule requiring small game hunters to wear hunter orange during portions of seasons that overlap with modern firearms seasons, he said.
The hunter orange rule had said, "It is unlawful to hunt bear, cougar, bobcat, raccoon, fox, coyote, rabbit, forest grouse or hare during those times and in those places open to the taking of deer or elk during a modern firearm season, unless the hunter is wearing fluorescent hunter orange clothing."
The rule has been changed to include turkey hunters.
The fall turkey season in specified Game Management Units is open Sept. 23-Oct. 31. The hunter orange requirement isn't an issue until Oct. 14, opening day of the modern firearm deer season.

---
---