Mon., Sept. 18, 2017
Palaniuk of Hayden, Idaho, wins 2017 Bassmaster Angler of Year title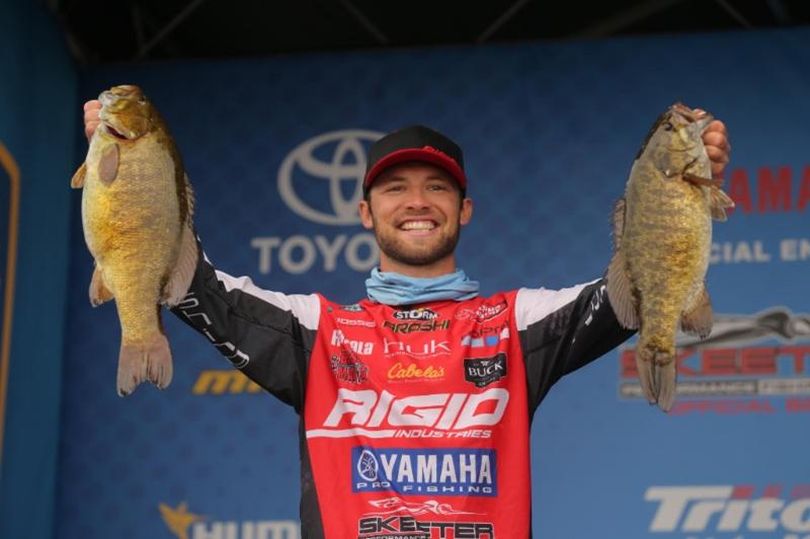 FISHING -- With the help of a last-minute 6-pounder and a full-speed run to beat the clock back to the weigh-in station, 29-year-old Bradon Palaniuk of Hayden, Idaho, has become the 2017 Toyota Bassmaster Angler of the Year.
The tense action came Saturday at the end of the second round of the final tournament in the AOY points race series.
Palaniuk, a smallmouth specialist, had a good lead in the season points race going into the championships at Mille Lacs Lake out of Onamia, Minnesota. But on the first day of the three-day finale, he'd caught just 10 smallies that weren't hefty enough to give him much comfort.
"I just struggled to get bit," Palaniuk said in a release from B.A.S.S. "I was just catching one here, one there — and I wasn't really catching any big ones. But then at 3:14 (p.m.), I made one final drop and caught a 6-pounder."
He hooked the fish while drop-shoting just six minutes before his deadline.

That fish helped Palaniuk weigh in 21 pounds 1 ounce, which was good for 20th place in the daily standings and enough to keep him in the AOY lead.
He managed to hold that position through the next two days of the event to win the overall AOY title, which paid him $100,000 and pushed his career earnings past $1 million with B.A.S.S.
"This has been a dream of mine since I was 8 years old," Palaniuk said after the Sunday weigh-in. "I decided 21 years ago that this is what I was going to do. I just made up my mind that I wanted to fish for a living — and every decision I've made for 21 years has led to this point."
Palaniuk's big fish came so late Saturday that he barely made it back to the check-in on time.

"I caught the fish at 3:14, check-in was 3:20 and I was 3 miles away," Palaniuk said. "On top of that, I still had to cull.

"I ended up making it back with 40 seconds to spare. But that fish was a 3-pound cull. Without it, who knows where I would be?"
On the way to winning the 2017 AOY, Palaniuk recorded six Top 12 finishes, including a victory on Sam Rayburn Reservoir in Texas. The only time he finished outside the Top 30 in 10 Elite Series events was a nearly disastrous 105th-place showing in the second event of the year on Florida's Lake Okeechobee.
"When I first started fishing, I was running heavy equipment, cutting trees down and fishing local tournaments," Palaniuk said in B.A.S.S. interview Sunday. "I would stash away as much money as I could during the summer from fishing local club tournaments. Then I just had one incredible year in 2010 when I qualified for the Elites when it seemed like everywhere I went in the country I caught fish.

"That's when it all started happening for me — and that's what helped me get here today."
Incidentally, Luke Clausen of Spokane finished 5th to win $14,000 in the weekend event at Mille Lacs.

---
---