Fri., Sept. 11, 2009, 8:06 p.m.
Papers detail medical marijuana probe
The investigation into the medical marijuana dispensary Change began when a detective saw a TV news article about the business in May, court documents show.
"The news story advised that Scott Shupe dispenses marijuana and that he grows, possesses and sells marijuana and that 'it's all perfectly legal,'" according to search warrants filed this afternoon in Spokane County Superior Court.
About the same time those warrants were filed, Shupe was appearing in an upstairs courtroom via video on a felony charge of delivery of a controlled substance related grow operations and fresh marijuana found at his home and at Change.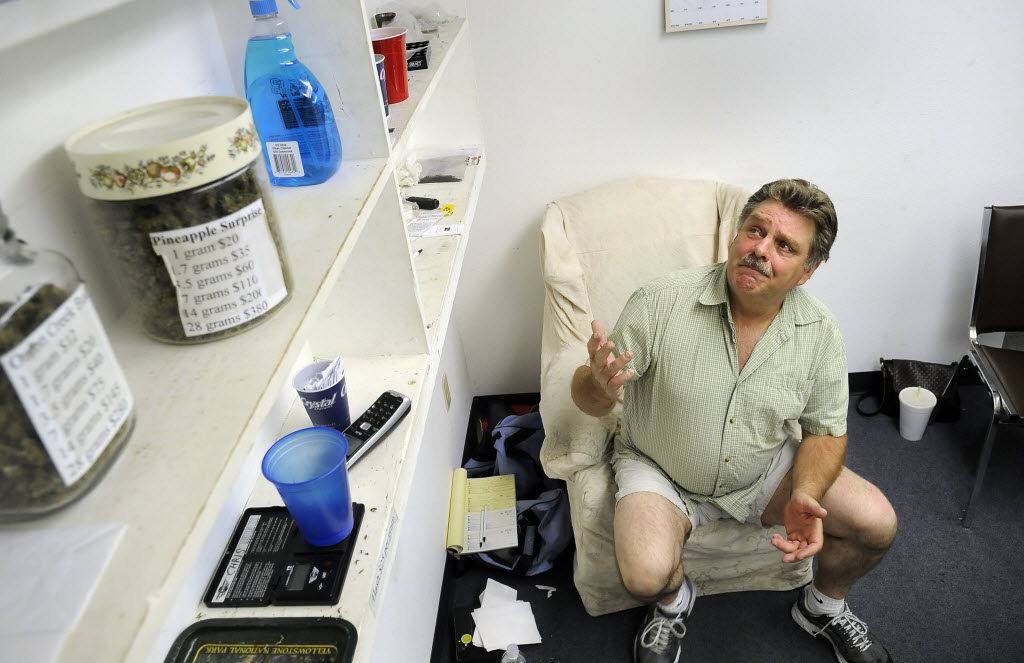 Spokane police arrested Shupe and Change co-owner Christopher Stevens, a former City Council candidate, yesterday.
Judge Harold Clarke ordered Stevens released from jail on his own recognisance today; Shupe was given a $10,000 bond because of six felony convictions and pending felony drug charges in Oregon.
Both were out of jail early this evening.
The search warrants detail months of investigation that began when Spokane police Detective Brian Tafoya spotted a KXLY story on Change.
The investigation was fed by Shupe and Stevens' blatancy in selling marijuana to more than a thousand medical marijuana patients, something they argue is allowed under the state's medical marijuana law.
But police, prosecutors and the state Department of Social and Health Services say it's illegal, and the Spokane Police Department is the first agency in Washington to arrest medical marijuana dispensers.
The KXLY story didn't give Change's location: Tafoya found it by requesting Shupe's business license.
Drug detectives started watching the place. They noted Shupe (top right) and Stevens (bottom left) coming and going from the building regularly with a duffel bag. They followed them to their homes, and installed a video camera on Change May 21.
That same month, patrol officers detained someone near Change with a fake handgun and talked with people inside Change. They wanted a search warrant after smelling "an overwhelming odor of marijuana." Drug detectives told them they were already on it.
In July, police pulled over several drivers for expired vehicle licenses and confirmed they'd purchased medical marijuana from Change, according to the search warrants.
While police appeared to have a reason to stop each person, detectives wrote in the search warrants that the stops were actually "terry stops" to investigate Change. (Named after the 1968 court case that established them (Terry v. Ohio), terry stops allow police to stop people if they have reasonable suspicion that they've engaged in criminal activity.)
"The vehicle license infractions were used to minimize any suspicion to the drivers of the "Change" shop investigation,"according to the search warrant. "No sample of the marijuana was taken from these subjects. This was also done to minimize suspicion of the investigation."
Police received two anonymous complaints about marijuana grows at Stevens' and Shupe's homes. But their investigation really amped up Sept. 2, when detectives were staking out Change, Stevens' home on North Cedar, and Shupe's home at 726 W. Mansfield.
They expected Stevens to arrive at Change around 10 a.m. Instead, he traveled to Nine Mile Falls, and police found a card on the front door of Change saying something like "Call us about 12:00 - on the hunt," according to the warrant.
"Your affiant believed this to mean that they were 'hunting' for marijuana to sell," Tafoya wrote.
A detective followed Stevens to a home in the 6400 block of Circle Drive, where police found more than 100 marijuana plants in a raid yesterday.
During a search of the Mansfield home, police found 17 marijuana plants and a note stating "I'm upstairs - Scott."
They also found several pounds of marijuana.
In all, police searched five locations - Change at 1514 Northwest Blvd., Stevens' North Cedar home (where they found 33 plants), the Mansfield property, the Nine Mile Falls place, and a home on 11th Avenue.
Read past coverage of medical marijuana here.
---
---