Mon., March 7, 2011
Biker's arrest pleases '01 victim's mother
Dolores Taylor heard the news from her daughter, who lives in Pullman.
"She said 'I finally have some good news. He's been arrested again," Taylor recalled during a phone call Friday from her east Texas home.
Taylor was referring to Ricky Jenks.
Jenks, arrested Thursday in a police raid at the Hells Angels headquarters in Spokane, was involved in the shooting death of Taylor's son, Lonnie Earl Taylor, 37, on March 21, 2001, in what authorities described as a murder plotted by the Hells Angels, Jenks' outlaw motorcycle gang.
Taylor said she was troubled when Jenks was convicted of only manslaughter and served just 21 months in prison.
Now she's hopeful Jenks (pictured in 2002) will go away for longer.
"If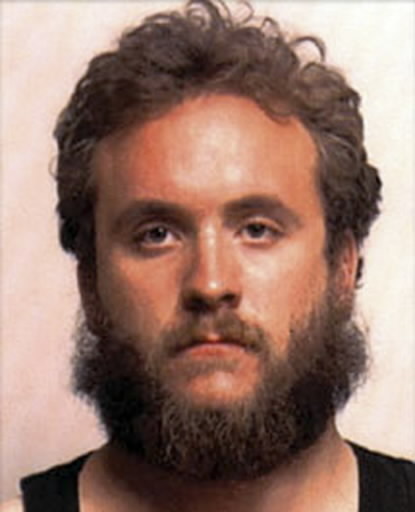 anybody belongs up there in prison, it's him," she said.
A family member of Jenks' has not returned a phone call seeking comment. Jenks is in federal custody and unavailable for interviews.
Jenks, sergeants of arms of the Washington chapter of the Hells Angels, was arrested at the gang's headquarters at 1308 E. Sprague Avenue in Spokane Thursday. He's being held without bail on a single charge of being a felon in possession of a firearm. A bail hearing is scheduled Tuesday.
Another Hells Angel member, Michael Ryan Fitzpatrick, was arrested on a marijuana charge at another location Thursday. He was released from jail on Friday.
Jenks and Joseph D. Shafer were convicted of second-degree mansluaghter in Taylor's death, which authorities say occurred during a drug rip will Taylor made methamphetamine.
Jenks was wanted on a first-degree murder charge for several months before an an off-duty sheriff's lieutenant spotted him at a grocery store, leading to his arrest.
Taylor, a 37-year-old mechanic, was found fatally shot in a house at 1125 S. Robinhood in the Sherwood Forest subdivision in the Valley. The homeowner told investigators that Taylor came to the house and was making meth when the shooting occurred, court documents say.
Taylor recalled attending Jenks' court hearings, which she said were packed with patch-wearing Hells Angels members.
"The courtroom was hell. We had to be escorted out."
Taylor said she deeply disagrees with Jenks' short prison stint.
"He killed my son," said Taylor, who lives in Jacksonville, Texas. "I'm 82, and I'm waiting for justice before I go."
---
---