Thu., Oct. 13, 2011
Oreskovich calls prosecution 'vicious'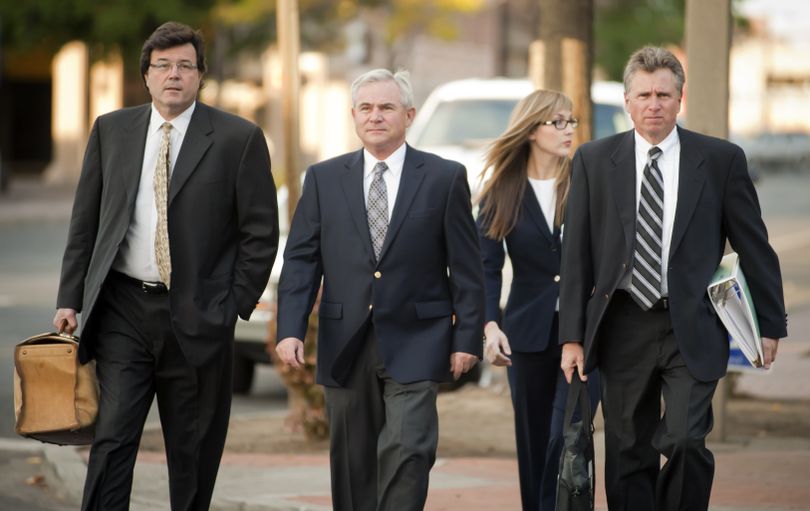 Karl F. Thompson Jr. arrives with his legal team, including Carl Oreskovich, far left, at the William O. Douglas Federal Building on Wednesday in Yakima.
Carl Oreskovich, a longtime defense lawyer representing Spokane police Officer Karl Thompson, told Judge Fred Van Sickle outside the presence of the jury that the prosecution of his client is the most vicious he's seen.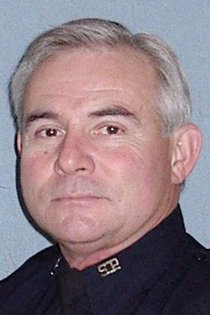 That was after Oreskovich told jurors in his opening statement that this case is about that split second decision that a police officer has to make when apprehending a suspect "and protecting citizens like you and me."
The "cruel irony" of the case is that the same quick decision making that brought him to the courtroom is "exactly the same quick-decision making" he used when he stopped a suicidal man from jumping from the Monroe Street Bridge and won the police department's lief-saving award, Oreskovich told jurors.
"It's not a case of 20/20 hindsight," Oreskovch said, calling Thompson a "very good police officer" who left his lunch break to catch a fleeing criminal suspect. Thompson will testify, Oreskovich said.
"Police officers, particularly patrol officers, deal with risks on a daily basis," including potential threats to their own well being, not just that of others, Oreskovich said.
He told jurors how Thompson was drafted by his coworkers for police chief (which went to Anne Kirkpatrick in 2006) and is well trained and experienced.
Thompson has the "training and experience of a man who's been shot at, who's had partners stabbed."
"Being a good, responsible police officer," Thompson looked at the dispatch report when he heard a report of a fleeing suspect who scared girls at an ATM, Oreskovich said.
Thompson realized that he was close by to the suspect and asked a confirming question to dispatch - "he took her money?" when he spotted Zehm in the Zip Trip.
"A police officer has a right to use force," Oreskovich says. Police have tools, and they have a certain amount of time to be proactive.
"He observed that there were citizens, including two young girls inside the store at the counter," Oreskovich said.
Oreskovich says surveillance video "doesn't give us all we need to have" because it doesn't show entire interaction, which Oreskovich described as violent.
"Thompson made very quick decisions, very quick commands, and when Mr. Zehm didn't drop the pop bottle" he struck him with baton, Oreskovich said.
Oreskovich told jurors that Thompson relied on his memory in interviews about the violent encounter.
"Unfortunately, he got some things out of order" in his story, Oreskovich said of Thompson. "Now he gets called a liar.
"This will be a long trial. I think in the end, the evidence will show this police officer was not acting in a bad purpose, but with the purpose he was charged with: to investigate and protect citizens. This honorable man is innocent of these crimes."
---
---