Gregoire says be bold; legislators ask for details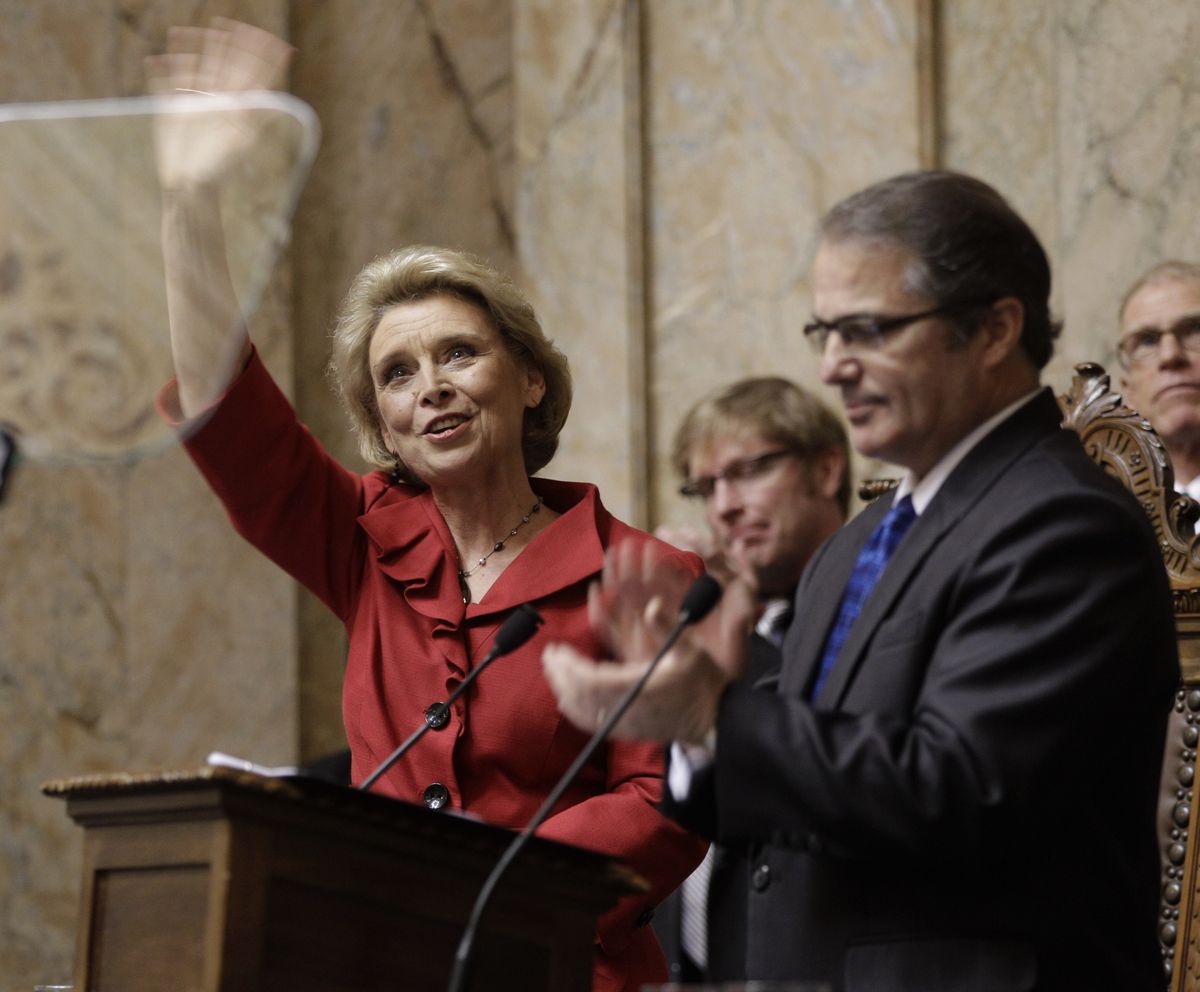 OLYMPIA – Amid the tension of a state budget some $4.6 billion out of whack and proposals to cut programs for some of the state's poorest and most vulnerable, Gov. Chris Gregoire tried to sound upbeat Tuesday with a promise Washington would come out of the recession stronger if they can just "be bold."

"We will rebound and we will provide a brighter future for our children," Gregoire told the Legislature in her annual state of the state speech.

Republican response ranged from cautiously positive to slightly caustic. If Gregoire is serious about some of her reforms for state salaries, unemployment insurance and workers compensation, they're on board, Republican leaders said; if she'd made some of these changes years ago like they wanted, the state would be in better shape right now.

"The governor has switched parties," Senate Minority Leader Mike Hewitt, R-Walla Walla, said.

But they promised to oppose some Gregoire proposals like higher fees at state parks and described her plan to reorganize the Puget Sound ferry system as "DOA."
Democrats also are anxious to see details of the governor's plans for consolidating state government and education systems, Senate Majority Leader Lisa Brown of Spokane. But Gregoire didn't bring up two of the most controversial cuts she's proposed, the elimination of state-sponsored Basic Health and the Disability Lifeline, Brown noted.
Those proposals already met with resistance from both parties.
Among the governor's initiatives:
* a single cabinet department with an appointed secretary to oversee education from preschool through graduate level for education. It would come with the ability of state colleges and universities to raise tuition to higher levels if state support is lacking.
* consolidation of other state departments, such as Fish and Wildlife with Natural Resources.
* changes to unemployment insurance that would cut rates, and to the workers compensation system that would get injured employees back to work quicker and save employers money.
* reductions in hours for state workers and reforms to state pensions.
The governor has been previewing her legislative initiatives for several weeks with press conferences and briefing papers. So Tuesday's speech held few surprises, down to the obligatory kudos for successful sports teams like the University of Washington and Eastern Washington University football teams.
But it did mix the talk of dire budget conditions, which has blanketed the Capitol for months, with an upbeat approach.
"It hit the right tone for the times we're in," Brown said.
Yes, the choices are difficult, Gregoire said: "You will have choices that keep you awake at night. But our decisions aren't nearly as tough as those being made by too many of our friends and neighbors who have been forced out of work, out of their homes and out of hope."
"There are those who say we cannot provide real change," she said. "This year, let's prove the cynics and the skeptics wrong."
Republicans seemed to keep their cynicism in check, but were skeptical on some points. If the governor wants the private sector to pull the state out of the recession, she should do more to cut government regulations, House Minority Leader Richard DeBolt of Chehalis said.
Consolidating education or some of the other agencies may or may not work, "but at least she's put them on the table," Sen. Joe Zarelli, R-Ridgefield.
Democrats are anxious to see the specifics of Gregoire's government reforms because it's difficult to put together the 2011-13 budget without details on the size and structure of the agencies, Brown said.


---
---