Wed., July 6, 2016
Minimum wage, gun control and transgender bathroom rules among initiatives that could make ballot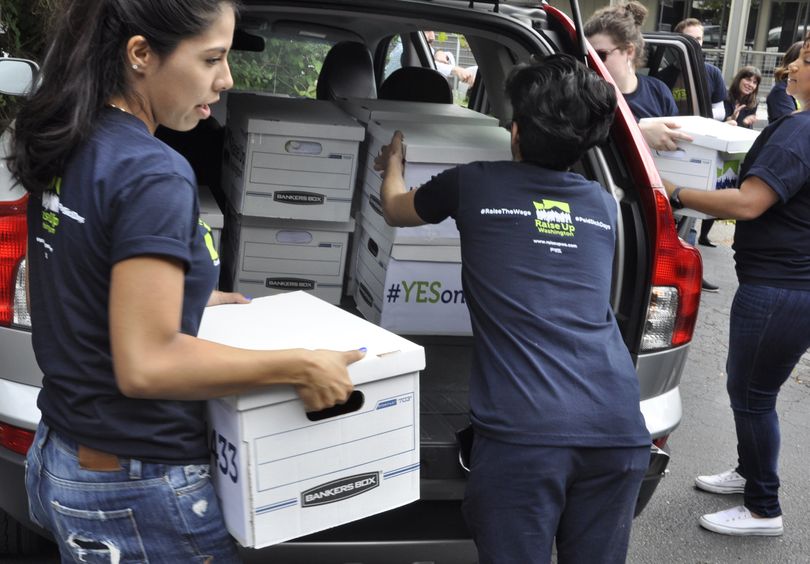 Washington voters could get the chance this fall to raise the minimum wage, restrict some access to guns and require people to use public restrooms based on their biology. They might also toughen penalties for people who prey on the elderly and tighten campaign finance laws.
They could levy a tax on carbon emissions and ask Congress to pass an amendment to the U.S. Constitution to limit campaign financing.
All of these issues could get approved without a majority of the Legislature and the governor's signature through the state's initiative process, which this year could give voters the most ballot measures since 1972.
Signatures on petitions for initiatives to the people are due by Friday afternoon. This year's parade of campaign workers ferrying boxes into the state elections office started Wednesday morning when supporters of I-1433, which would raise the minimum wage to $13.50 by 2020 and require most employers to give their workers paid sick and safe leave, turned in some 360,000 signatures.
The state requires slightly less than 247,000 signatures from registered voters, so a cushion of more than 110,000 is usually more than enough to guarantee a measure a spot on the ballot.
Surrounded by young volunteers in campaign tee-shirts holding campaign bumper stickers, April Sims, the I-1433 signature drive director, called raising the state minimum wage from the current $9.47 "the right thing to do for workers and the right thing to do for communities."
But several business groups argued it is the wrong thing to do for employers, who may have to raise prices to cover the higher wages, or lay off some workers. The Association of Washington Business and other organizations tried unsuccessfully to come up with a compromise on a minimum wage boost in the Legislature, AWB President Kris Johnson said.
"For us, that means support for entry level jobs and recognition of other compensation that employers already provide like health care, retirement and scholarships," Johnson said.
Sims countered that raising the minimum wage would not automatically result in layoffs: "The data doesn't show that's the case."
On Thursday, petitions are expected from supporters of I-1491, which would allow police or family members to go to court to ask for an "extreme risk protection order" against someone who poses a danger to himself or others. The order would require the person to surrender any firearms they have and keep them from buying more. A temporary two-week order could be issued without a hearing but the person would be entitled to a hearing before a final order, which could be in place for as long as a year, can be issued.
On Friday morning, supporters of I-1515 are scheduled to turn in signatures on a measure that would repeal a rule by the state Human Rights Commission that allows transgender people to used public restrooms, locker rooms and other facilities based on their gender identity, not their biology. Opponents of the rule argue that sexual predators will used it to claim they are transgender, then enter those facilities and assault young victims.
The rule generated little controversy before the commission approved it last December but conservatives in the Legislature introduced several bills to repeal it early this year. None passed and Joseph Backholm of the Family Policy Institute of Washington led the effort to give voters a chance to do what legislators couldn't.
On Friday afternoon, two more initiatives could turn in signatures. I-1501 would increase the penalties for people found guilty of identity theft or other fraud against seniors or vulnerable adults, including a civil penalty three times the amount of the damage and requiring the convicted thief to pay to restore the victim's credit. I-1463 would exempt a senior citizen's primary residence from property taxes and any fees connected with the tax.
Any of these initiatives to the people will join two measures that started as initiatives to the Legislature and were sent to the ballot because lawmakers didn't pass them. I-732 calls for a tax on carbon emissions from fossil fuels that would start at $15 per metric ton in 2017 and eventually rise to $100 per metric ton. Supporters say it's a way to reduce greenhouse gases at their source but opponents warn it could cost large factories so much that they'll close and cause a spike in gasoline prices as oil refiners pass on their costs to consumers.
I-735 urges, but doesn't require, Washington's congressional delegation to propose a constitutional amendment that certain rights belong to individuals but not corporation, and that campaign contributions and expenditures aren't considered free speech under the First Amendment. Such an amendment would have to be passed by two-thirds of both houses of Congress and three-fourths of the states. Washington would be the 17th state to send a similar message to Congress.
The deadline for signatures for initiatives to the people is 5 p.m. Friday, supporters of initiatives to the Legislature, which would be submitted to next year's session and could be on the 2017 ballot, will be thrusting petitions at voters to get their signatures through the end of December.
---
---