WaLeg Day 1: Not everything is serious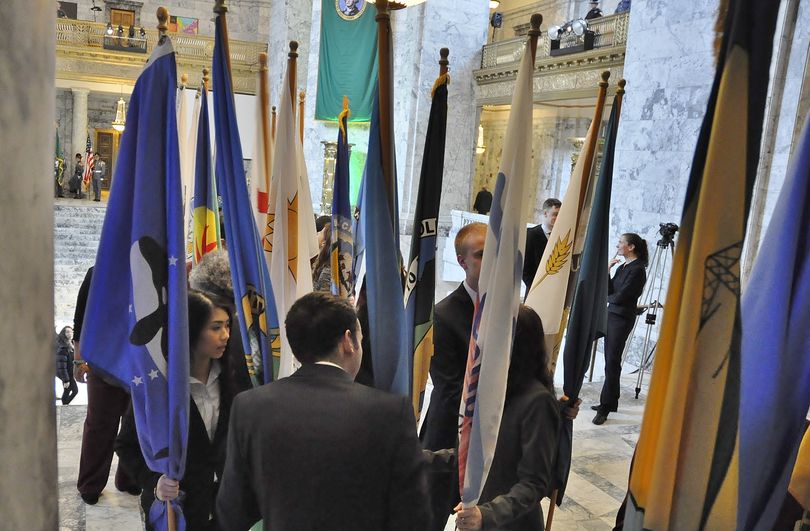 OLYMPIA -- Although most of a legislative session's first day is either ceremonial or predictable, there are always a few things that make you go "Huh?"
Like Sen. Mike Baumgartner, R-Spokane, questioning procedure and casting an unusual vote for Senate pro tem, the job given to the person who presides over the chamber when the lieutenant governor is absent.
His caucus is in the majority, and it had chosen Sen. Tim Sheldon of Potlatch for the job. Although Sheldon is a Democrat, he caucuses with the Republicans. Unlike some previous years, minority Democrats didn't propose an alternative candidate, so the only thing left was a ratifying vote.
Lt. Gov. Brad Owen, presiding over has last opening day because he didn't run for re-election and his replacement Cyrus Habib will step in as soon as he's sworn in, called for senators to vote yes or no on Sheldon.
He was elected, but after the votes were counted, Baumgartner raised a "point of order": Didn't protocol demand senators vote for Sheldon by name, not a yes or no, he asked.
Owen said he was just trying to save time, so they could get on to more important work.
"I'd like to change my vote to Faith Spotted Eagle, then," Baumgartner said, switching to the Native American activist who got one vote for president from a Washington Democrat on the Electoral College last month.
"Message received. But it doesn't mean anything," Owen said, adding "I'm going to miss all this" in a tone which made clear that he was not.
For subsequent votes, Owen had senators vote for the candidate of their choice by name.
---
---