Fri., Feb. 5, 2010
Day after Portland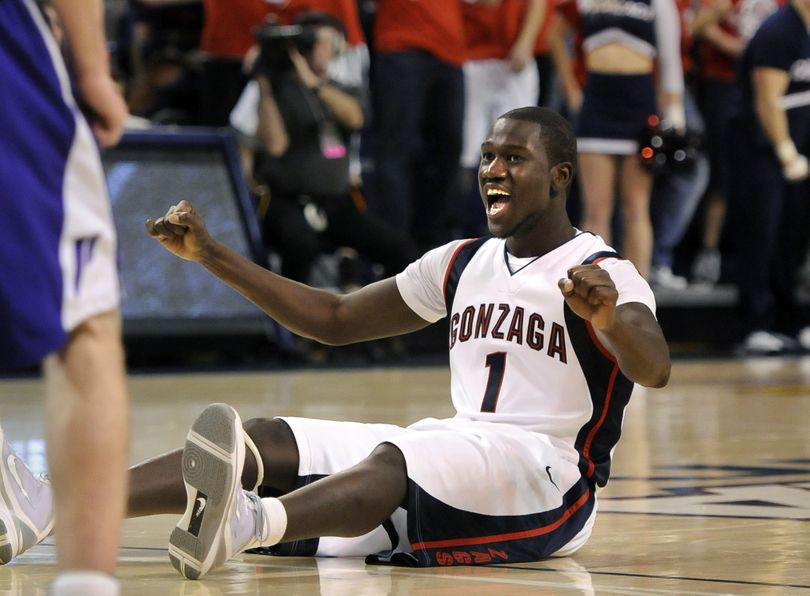 Good rainy morning. Took in the replay of GU's 76-49 romp over Portland late Thursday/early Friday to gather a couple more items for the day-after post. Here are the links: S-R gamer, Blanchette column on the bench's contribution, S-R photos, A.P., Oregonian article authored by S-R's Dave Trimmer (though the byline says Mike) and WCC write-ups.
Read on for more.
--It was a rugged start offensively for both teams. Through the first 12-plus minutes, the score was tied at 15 as both teams missed shots and turned the ball over. Three of GU's first five turnovers were via offensive fouls – two on Elias Harris and one on Robert Sacre.
But Gonzaga started to get dialed in, particularly at the defensive end, which helped the Bulldogs generate offense.
"We defended great, the best we've defended all year," head coach Mark Few said. "We defended with a lot of passion, for 40 minutes instead of spurts."
--For one of the few times I can remember in a close game, Matt Bouldin and Steven Gray were on the bench at the same time. The Bulldogs, with a lineup of Manny Arop (pictured above), Demetri Goodson, Grant Gibbs, Sacre and Harris, broke from a 15-15 all tie to go on top 22-17.
Bouldin subbed in for Harris and played the '4' position (and Kelly Olynyk entered for Sacre) as GU extended its lead to 35-17. Bouldin struck for seven points in a 1:15 span.
"That's true," said Harris, noticing the rare instance of Gray and Bouldin on the bench. "Even I was on the bench a long time with foul problems. And it still works, defense is the key to everything."
"Meech was playing great, I thought that was his best game," Few said. "He played great against Davidson, but this was his best all-around game because (T.J.) Campbell is a heck of a player. And Manny was in there. There was no need to take him out. He was defending, concentrating and he was so active on the glass. We were able to get Grant in there and we were able to use his feel for the game. Didn't hurt us at all.
"And then we got Matt back in at the '4'. We just needed to get Matt back on the floor. Manny was playing well and 'E' had two fouls, so that led us down that road."
--Goodson was a factor at both ends of the floor. He scored 12 points, several during Gonzaga's 26-6 run to close out the first half. He made 4 of 6 shots, had three assists, two steals and no turnovers in 29 minutes. He made his only 3-point attempt, the second straight game he's done that, which makes him 4 of 21 on the season from distance.
Defensively, he shut down Campbell, who had eight points, 12 assists and no turnovers in the Jan. 9th meeting. Campbell was 1 of 10 from the field, 1 of 7 on 3s. He finished with three points, three assists and seven turnovers in 34 minutes.
He's one of the few Pilots who can create his own shot, especially with Nik Raivio sidelined by an Achilles' injury, but Campbell had no luck trying to penetrate against GU. Campbell is sort of the Pilots' as-he-goes, so-goes-the-team player. He had three points in a 20-point loss to Idaho. He had five points in a 35-point loss to Washington.
"All week in practice, coach (Few) was preaching, 'Don't give up 3s,' " Goodson said. "We did a great job of not giving up 3s."
--By the way, I spoke with Portland coach Eric Reveno before the game and he said Raivio's progress has been slow. The injury is in an unusual spot on his Achilles' and he's still on crutches. Reveno's hope is to get Raivio back by late in the regular season.
--Thursday was GU's Coaches vs. Cancer game and both coaching staffs wore polos with BELiEVE inscriptions, the brainchild of Sarah Michaelson, wife of Bulldogs administrative assistant Brian Michaelson. Many of the fans wore white BELiEVE t-shirts as well.
In a pre-game ceremony, Mark and Marcy Few were honored and a check for more than $500,000 raised from their annual Coaches vs. Cancer summer event was presented toward cancer research. At one point, a student at Lewis and Clark High who has overcome cancer received a loud ovation as he held the check at center court.
"It was great to get the young man out there to accept the check in front of 6,000 screaming fans," Few said. "If that didn't bring a tear to your eye, then I don't know what will, because that's what it's all about."
--Sacre scored five points and grabbed four rebounds, but he made his presence felt at the defensive end with four blocks. The Bulldogs challenged nearly every shot inside. On one second-half play, Sacre blocked Kramer Knutson, who recovered the ball. He went up and scored, but three Bulldogs were in the air trying to prevent the shot and two others were within three feet of the ball.
"We needed to come out fired up," Sacre said. "We were all fired up and we kind of punched them in the mouth, really. We wanted to be the most aggressive team and we had to make a statement that coming into the second half of conference we're not going to be pushed around. Teams are going to come in here with their backs against the wall because they need to beat us, but we have to come in fired up."
--Arop had eight points, seven boards and three steals in 17 minutes, leading a productive night from the bench. Gibbs had a three-point play and two assists. Olynyk had two points, three assists and two teals. Bol Kong scored on a drive to the basket. Walk-on Michael Hart made his first career field goal – a 3-pointer late.
"That loss to San Francisco, we looked at it as a lack of hard work," Arop said. "So the whole week the coaches have been challenging us to play as hard as we have all season long. That was in everybody's minds, the bench, the starters.
"Our main focus was to work as hard as you can for the few minutes get, whether it's five minutes or 10. Didn't matter, just give it all you can."
Will Foster had a career-high six points and three rebounds. After missing his first 10 free throws this season, Foster made two straight, punctuating the first with a fist pump. He received a standing ovation.
Relief? "Yeah," he said, smiling. "Now I'm 2 (makes) and 12 (misses)."
--Stats of note: Gonzaga had 11 steals, its most since 14 against Eastern Washington on Dec. 28th. The Bulldogs were just 11 of 22 at the foul line. Gonzaga had just 10 turnovers, tied for its third lowest of the season. GU's 17 offensive rebounds equaled a season high. Gray only scored five points, but he had six rebounds and five assists. Portland's nine assists tied for its second lowest total of the season. Gonzaga's 26-point win was its most lopsided since trampling EWU 94-52.
QUOTEBOOK
Few: "The best thing that happened is our bench didn't let us down. We've been dropping off sometimes when we go to the bench."
Sacre on Memphis: "A very physical team, athletic, pressure the ball. That's exactly how we want to play: up tempo, physical and defensive-minded."
Few: "We're not used to losing up here and you always wonder how your team is going to respond. They responded the right way. Unfortunately, we have about 5 minutes to celebrate and then we have to go home and get to bed and fly out early tomorrow across country for (Saturday's game against) Memphis. It's a really tough turnaround."
Goodson on the bench: "Will played great. Grant's been playing great lately. Manny's been playing great, Bol. Tonight was definitely a team effort."
Harris on the defensive strategy: "Take the 3-point shots away, be up into the man. And for post guys, front their guys and keep the ball out of the post."
Few on Bouldin: "He was really good tonight and he played better defensively than he's been playing. He just made simple, simple plays. They were jamming the lanes early, but he took what they gave him, shot the ball well. When we make shots, it makes things seem a lot easier on offense, and we were able to do that."
Reveno: "I think the tale of the game was turnovers and offensive rebounds. Our defense was solid when we got set, but the points they had off turnovers and the points they had off offensive boards made it very hard. The bottom fell out as it's apt to do here and those are the two key reasons."
Reveno: "The lesson has to do with when you find yourself in a battle like that, the amount of physicality and toughness you need to bring to that battle. Our guys our tough kids and they respond well to that sort of conversation but I think it's tough, it's tough when you're playing a Top 10 team, a Top 20 team, your margin for error is very limited. You better play very tough-minded in terms to taking care of the basketball and executing."
Few on GU's 40-30 rebounding edge: "We offensive rebounded. We might not have been perfect, especially early, but we attacked the glass."
Goodson on who is going to win the Super Bowl: "Colts."
---
---