Wed., Jan. 26, 2011
Chiefs give Engel win and shutout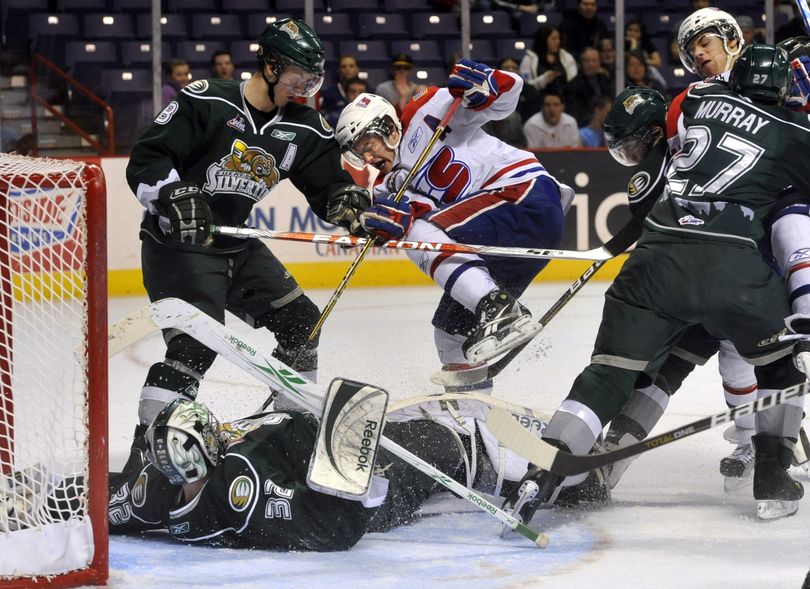 The Spokane Chiefs got goals from Matt Marantz and Jared Cowen less than a minute apart early in the second period and Mac Engle made that stand up for his first Western Hockey League win. Levko Koper added an empty net goal to complete the 3-0 win over Everett. Tyler Johnson, who assisted Koper, ran his point streak to 15 games.
Stars, 3, Cowen, 2, Engle, 1, Marantz. Long box below, here is the story.
In photo above, Chiefs Steven Kuhn and Brady Brassart (right) battle Everett defenders Rasmus Rissanen (8) and Ryan Murray (27) along with goalie Kent Simpson.
Chiefs 3, Silvertips 0
Spokane – Wednesday
First period
No scoring.
Penalties – Harrison, Eve (slashing) 5:00; Uher, Spo (hooking) 7:08; Aviani, Spo (checking from behind) 10:29; Friesen, Eve (high sticking) 15:21.
Second period
1, Spo, Marantz 14 (Vanscourt, Brassart), 4:56.
2, Spo, Cowen 13 (Koper) 5:43, pp.
Penalties – McCrea, Eve (fighting major), Kramer, Spo (fighting major) 2:54; Rissanen, Eve (high sticking) 5:15; Harrison, Eve (cross checking) 12:27; Kramer, Spo (charging) 16:06; Maxwell, Eve (cross-checking) 16:36.
Third period
3, Spo, Koper 26 (Johnson) 18:45, en.
Penalties – Stanfield, Eve (roughing), Vanscourt, Spo (roughing) 14:03.
Shots on goal by
Everett 6-48-_18
Spokane 10-24-14_48
Goal (shots-saves) — Everett: Simpson (L, 12-16-3-4) 47-45. Spokane: Engle (W, 1-4-2-1) 18-18.
Power plays (goals-chances) — Everett 0-4; Spokane 1-5.
Referees — Steve Papp, Matt Thurston. Linesmen — Chris Carlson, Anthony Guzzo.
Attendance – 3,758.
Scratches – Everett: Landon Ferraro, Campbell Elynuik, Chad Suer. Spokane: James Reid (ankle, day-to-day), Cole Hamblin, Marek Kalus, Reid Gow, Kenton Miller (concussion, day-to-day).
---
---