Fri., Feb. 7, 2014
It's cold but the M's are thawing out a bit
A GRIP ON SPORTS
I'm guessing the skiing and snowboarding will be tubular today. It's 13 degrees outside and it's snowing pretty hard. The snow is so light, though, if you breathe hard enough it blows away. Maybe all the way to southern Russia. Read on.
• I'm guessing the Putin wannabes running the Sochi Olympics would love our weather today. Ya, it's cold, but the Winter Olympics are supposed to be cold, right? They are the Winter Olympics. They aren't usually held in a resort town known for its beaches. But that's what they've become. A television show sold to the highest bidder. Sort of like major college sports. But we covered that a bit yesterday in our discussion on the Wednesday night basketball games and signing day. So we won't go there again. Instead, let's talk a warm-weather sport. Baseball. Yep, it's just around the corner. Yes, I know most of you have turned away from the Northwest's major league team. I get it. I'm not going to get all excited either. However, there seems to have been some sort of climate-change in Seattle recently. It started when Mariner president Chuck Armstrong announced his retirement. That small warm-up was followed by a heat wave, the $240-million contract bestowed upon free agent Robinson Cano. That was as unexpected as holding the Winter Olympics in a warm-weather city (Sochi is labeled "sub-tropical" if you didn't know). But one hot move doesn't mean there will be a permanent thaw. That's why yesterday's contract agreement (two years, $14 million) with reliever Fernando Rodney (pictured) is so important. Now I'm not a huge fan of Rodney. Yes, he can wing it upward of 100 miles per hour. And yes, he's been one of the most prolific closers of the past decade. But Rodney is a bit of an enigma. I'm not talking about the way he wears his hat. Big deal. If he can strike out Albert Pujols with the bases loaded and two outs in the bottom of the ninth to seal a win, he can wear a clown nose as far as I'm concerned. I'm more worried about his propensity to load those bases himself before he gets dialed in. That's his MO. Still the signing of Rodney just may be another sign the M's have changed. They are spending money to fix holes in their roster. A big bat. A possibly lights-out closer. And all signs point to the notion they are not done. Another bat or arm may be in the offing. Whether they are spending wisely is a discussion for another day. Let's just be happy they have gotten off their glacially slow rebuilding train and made some moves. Such largesse is welcome around here. A lot more welcome than this morning's snow.
•••
• WSU: The Cougars were idle yesterday but that didn't stop our Jacob Thorpe from coming up with a morning post filled with Pac-12 links. ... Bud Withers has this blog post on former WSU player Xavier Thames, who has led San Diego State to a top-five national ranking. Remember, however, Thames would have graduated last year if he hadn't redshirted.
• Gonzaga: The Zags were idle as well yesterday but that didn't stop our John Blanchette from coming up with a column that looks at their improved defense. Their philosophical change on defense has been a topic in this space in the past. ... The rest of the WCC was in action last night, with USF posting the biggest win, a second-half comeback in San Diego that kept the Dons in second place. The Toreros played without top reserve Chris Sarbaugh. ... BYU had no trouble with short-handed Santa Clara. ... St. Mary's routed Loyola-Marymount in Los Angeles. The Lions' leader, Anthony Ireland, actually earned some ink today in the Los Angeles Times. ... Pepperdine got past Pacific at home. ... Speaking of Pepperdine, the Zag women had no trouble with the Waves as Haiden Palmer (pictured) was just two assists shy of a triple-double. Thomas Clouse has all the particulars in this story while Colin Mulvany adds a picture story.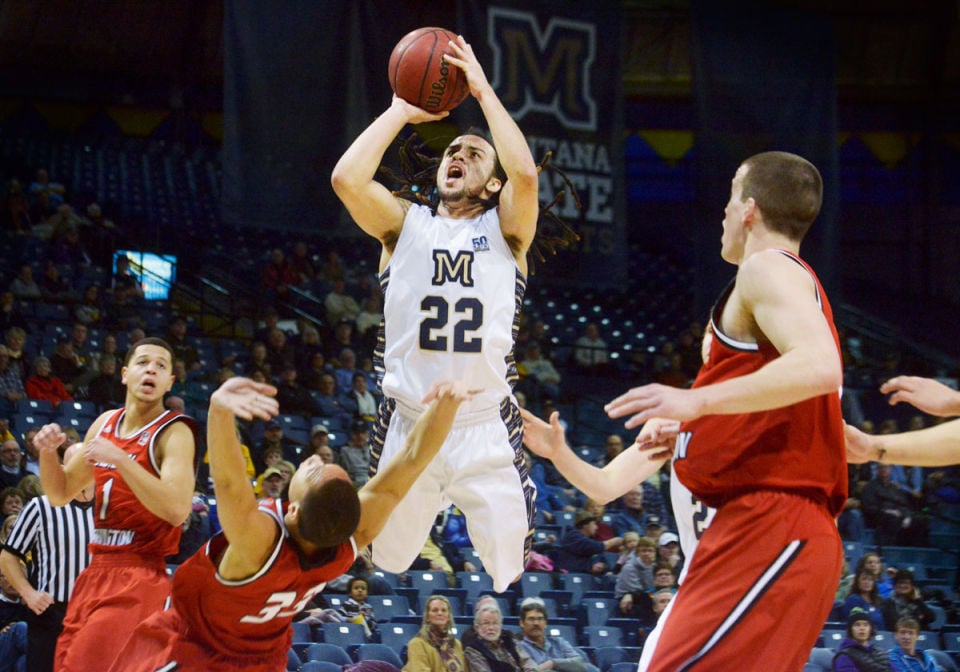 • EWU: Up until Thursday, the Eagles had yet to win a road game. They had come close, but couldn't get it done. So in Bozeman last night they decided not to let it be close, as they routed host Montana State, 79-50, behind Tyler Harvey's 19 points. ... Next up Saturday is a visit to Montana, which dumped Portland State 82-76 in overtime. ... Weber State stayed atop the Big Sky standings with a win over North Dakota. ... Sacramento State ran over Northern Arizona, 87-70, in Sacramento.
• Idaho: The Vandals needed a win badly. But with WAC preseason favorite (and current second-place occupant) New Mexico State in Moscow, that was a tall order. No problem. Idaho rode a second-half surge to a 73-67 upset. Josh Wright has more in this game story and blog post.
• Preps: The Greater Spokane League's boys basketball race is all tied at the top. Gonzaga Prep, Central Valley and Ferris all are 13-2 after the Saxons knocked off CV at home last night. Greg Lee was there and has the story. ... We can also offer a GSL girls roundup and girls and boys roundups from around the area.
• Seahawks: After the win, after the celebration, after the parade, everyone seemed to rest. But we found a couple items to pass along. We didn't want to cut you off cold turkey.
• Mariners: The biggest news yesterday was the Rodney agreement. Ryan Divish also has this look at the starting rotation.
• Sounders: You know what the Sounders want? They want what their fellow Century Link Field occupant has: a title. And a parade. ... The preseason is starting out OK for the new-look Sounders.
•••
• And that's that. Luckily, I don't have to shovel the driveway until later. Maybe by then the snow will have stopped. And maybe, if I am really lucky, it will just blow away. It's that light. Until later ...
---
---