Sun., Sept. 28, 2014
Sunday practice and the sack that wasn't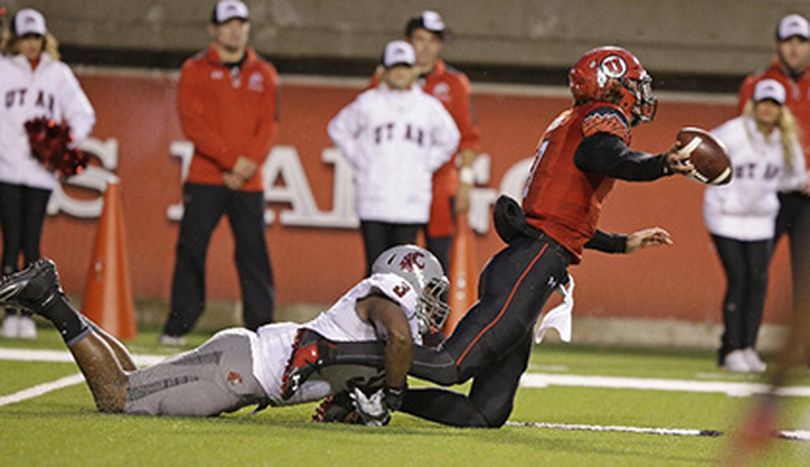 (Photo Credit: Rick Bowmer/WSU Athletics)
The Cougars "only" managed one sack on Saturday after piling up seven against Oregon's Marcus Mariota, but as the above photo indicates they should have been credited with at least one more.
The play pictured was ruled an incomplete pass when Utah quarterback Travis Wilson chucked the ball away, but the photo clearly shows that his knee was on the ground.
The sack should have gone to Ivan McLennan, a WSU defender who has really started to make an impact lately. McLennan was officially credited with two tackles against Utah and against the Ducks he had five tackles, 1.5 sacks and forced a fumble.
He's also played well in practice, and the Cougars have expanded his role, giving him looks at Buck linebacker and defensive end.
"He's a kid that needs to play and find a way to get on the field and I think part of that is earning his play," defensive line coach Joe Salave'a said. "He's earned the reps and he's going to continue to play and that's something that we've always strived to get that air of competition and let the kids know that they'll be rewarded if those things show up in the practice field."
We have more from WSU's Sunday night practice after the jump.
…
At least part of the reason for McLennan's recent success is schematic. Washington State has started employing McLennan and fellow Buck linebacker Kache Palacio at the same time on opposite ends of the defensive line, creating pressure on the offensive pass-blockers that suddenly have to deal with two speed rushing linebackers instead of one.
"We call that our "rush personnel" and again, we're talking about speed," Breske said. "We're trying to get as fast as we can on the football field and obviously in passing situations. It gives us an added dynamic."
Breske also talked about cornerback Charleston White, who has had a lot of success defending deep passes the last two weeks. He broke up a pair of fourth down attempts against the Utes, and broke up a deep pass the Ducks tried despite giving up half a foot in height to the UO receiver.
"He's just playing the upfield shoulder," Breske said. "He's getting in position. He's got long levers, he can get up in the air. We're going to need that this weekend against Cal, a lot of vertical routes, that type of thing."

-- Destiny Vaeao was again limited in practice, although he did participate in drills. Once again, I couldn't find receiver Kristoff Williams at practice. Also limited were Drew Springfield, Mack Hopkins, Isaac Dotson, Nate DeRider, Sherman Hutcherson and Nick Begg.

-- Mitch Peterson saw some time with the ones at Sam linebacker while Cyrus Coen didn't take many reps. Coen appeared to be fine, however.
---
---