Tue., Aug. 18, 2015
There is no comparing these two franchises, but we try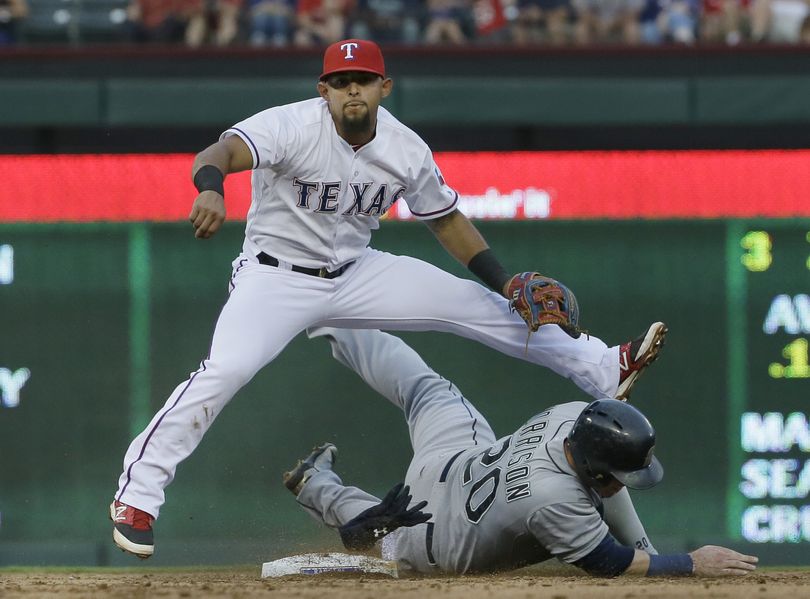 A GRIP ON SPORTS • "Compare and contrast" is a time-honored tradition in high school English. You know, as in "compare and contrast the ways Shakespeare deals with death in 'Hamlet' and 'Macbeth.' " This morning, we're taking you back to those awful, awful days. Read on.
••••••••••
• There are two major professional sports teams in Washington, the Seattle Mariners and the Seattle Seahawks. One is a winner, the other is the Mariners. Why is that? Today we will compare and contrast yesterday's actions, hoping to get to the answer.
• We'll start with the M's, who lost another baseball game yesterday in a season of lost hopes and dreams. How did they lose? By trotting out Fernando Rodney in the bottom of the ninth in a game tied at 3. Two bunts, a hit batter and bases-loaded walk later, the M's record was 55-64. There is an oft-quoted Albert Einstein statement that describes insanity as doing the same thing over and over again but expecting different results. If Einstein was right then the M's are relatively insane. A few days ago we were talking with Seattle Times beat writer Ryan Divish on the radio show. Divish mentioned Lloyd McClendon wanted to cut Rodney a while back – the correct term is designate for assignment, but cut seems so much more descriptive – but management wouldn't hear of it. See, the M's owe Rodney a lot of money, he's been an all-star closer before and who knows, he may just get his mojo back, right? Nope. He's continued to suck. Remember the story not all that long ago Rodney was tipping his pitches? The M's fixed that, remember, and now Rodney was going to get on a tear. Well, he did have a nice stretch serving as a setup guy, which gave everyone a false sense of hope. No, that's not right. No one has any hope Rodney will suddenly begin pitching again like he did last season. Less apprehension might be a better term. But that sense of less apprehension fizzled as well. Culminated in his showing last night in which he couldn't field, he couldn't throw strikes and he couldn't win. Isn't it about time McClendon got his wish and Rodney was released?
• Let's compare and contrast the way the M's have used Rodney with yesterday's news from the Seahawks. Friday night the Denver Broncos abused the Hawks' starting offensive line. Sack after sack – seven in all – resulted in a fumble, a lack of offense and, most importantly, a backup quarterback injured. But if this were the M's, the company lines would be simple: "It was an aberration." "The Broncos' defense is really good." "The line will be fine." "Give it some time." "We discovered Justin Britt was tipping his drops." "Don't worry, these guys will come together." Thankfully , the Seahawks are not the M's. Yesterday Pete Carroll and line coach Tom Cable shook up the starting group. Justin Britt was moved from right tackle to left guard. Garry Gilliam became the right tackle. Former guard Alvin Bailey was moved out to backup left tackle. The Hawks saw a problem and are moving to correct it. Now. Not in week five or sometime. Now. That's how they work. It's part of the reason they have been to back-to-back Super Bowls and have a championship trophy in their case. Cable recognized his first plan for the group wasn't going to work. He's going to Plan B. I'm sure he has a Plan C ready as well. Sooner or later he and Carroll will find something they can live with. Something that will help the Hawks keep winning. Unlike their counterparts across the street. See, CenturyLink and Safeco may be neighbors, but the Hawks and the M's are worlds apart.
•••
• WSU: The Cougars didn't practice yesterday but they got better anyway. Receiver Kyrin Priester's NCAA appeal was approved and he'll be able to play this season. He immediately makes the WSU receiving corps better. Jacob Thorpe made sure I focused on Priester (pictured) the other day at practice for good reason. He's the most dynamic of the dozen or so receivers the Cougars hope can help them. And he will help right away. ... Jacob has that news in this blog post and also highlights in this story a few other players who showed in Lewiston they can help this season. Of course, Jacob has a morning post with links. ... We add a couple more Pac-12 stories for you, including two on Vernon Adams' time thus far with the Ducks, a new way to look at college football and the not-so-new idea golf can help kickers. Oh, and there are some decent receivers at USC and UCLA.
• Gonzaga: Former assistant Bill Grier, let go as head coach by USD earlier this year, has landed on his feet. Except his feet will be in Stillwater, Okla. I can think of other places in the world that are as different from San Diego as Stillwater, but they are all in the Middle East.
• Shock: It seems inevitable the Shock will be leaving the AFL for the lower-division (but possibly more professional) IFL. However, the players and coach Andy Olson (pictured) won't be part of it. Jim Meehan has a story on the players' reaction to the all-but-certain move and Olson said on his radio show last night he's looking for a new job.
• Preps: Gonzaga Prep's Evan Weaver made a decision over the weekend. He's going to California next year. Greg Lee has the story.
• Indians: Spokane opened an all-important road series at Everett with a 5-0 defeat.
• Seahawks: Other than the changes on the offensive line, the Hawks were relatively quiet yesterday. ... Kam Chancellor didn't show up, Tarvaris Jackson has a high ankle sprain but the Hawks feel he may only miss a couple weeks and the receivers, including one who is in Detroit, refused to take Percy Harvin's bait. ... The secondary is still banged up. ... How did the Hawks do against Denver, vis-à-vis grades?
• Mariners: The 4-3 defeat in Arlington was not only made possible by Rodney's ninth, but by the play of Adrian Beltre (pictured after driving home the winning run with the bases-loaded walk) as well. ... The M's made a move to bolster a worn-down bullpen. ... Hisashi Iwakuma is the American League player of the week.
• Sounders: The one good thing about the Sounders' run of bad luck? It allowed them to discover some of their reserves can play and play well. ... But how are the stars doing? That's more important. ... San Jose lost one of its better defenders to a season-ending injury.
•••
• Before we leave, we wanted to call your attention to this story from the girls' softball World Series in Portland. It seems a Western Washington team has been accused of cheating by playing its reserves too much in a game it didn't need to win to move on. Until later ...
---
---