Wed., Jan. 7, 2015
EWU QB Vernon Adams also grades out well off the field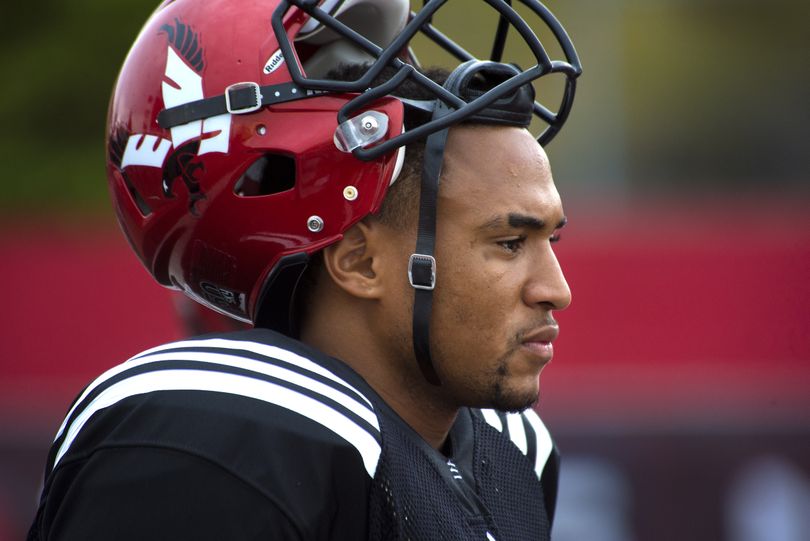 The first time I sat down for a get-to-know-you interview with Vernon Adams Jr. back in October of 2012, he was named the new starting quarterback at Eastern Washington. And he was stressed - about geography class.
The hard work paid off today, when Adams was named Eastern's Scholar-Athlete of the Month for January, along with basketball player Melissa Williams. It's been an unlikely road for Adams, a two-time All-American who told me this morning that he didn't even like the classroom until he came to Cheney.
"Now I love going to school every day," said Adams, who carries a 3.0 grade-point average while majoring in recreation management with a minor in coaching. That's the dream for Adams after his football career is over: working with kids on the playground and on the playing fields.
It hasn't been easy. Adams, who prepped in Pasadena, California, barely qualified for college, and had to take extra classes to make the grade.
Once here, Adams got help from the school and from the EWU coaches. "They're texting us all the time to do better," said Adams, who said that the long climb to a 3.0 GPA was just as tough as winning three straight Big Sky Conference football titles.
During the off-season, Adams said that team bonding happens in the weight room as well as the classroom, where coaches are hoping to lift the team GPA to 3.1 this quarter.
Adams said he draws inspiration through a quote from Abraham Lincoln: "Whatever you are, be a good one." For Adams, that means being a good father, student and a football player.
"You have to really want it," Adams said.
---
---