Tue., May 19, 2015
The M's need to answer the call with men on base
A GRIP ON SPORTS • There is a not-so-exclusive club in America right now. It's a club populated only by people who have received scam phone calls purporting to be from the IRS. I've been inducted, I don't know, a thousand times? Read on.
•••
• It's been getting worse lately, with two or three calls a week left on the answering machine. It seems like only really gullible people would fall for the scam, but if the sleazes pulling the con only hit, say, one or two times out of 10 – like the Mariners do with runners in scoring position – then it's a win for them – unlike the M's. See, the Mariners are 17-20 as they embark on a nine-game road trip – it starts tonight in Baltimore, weather-willing. They weren't expected to be three games under .500 as May winds down, were they? Nope. Through the course of the first couple months of the season, the starting pitching has been blamed, the relief pitching has been blamed, Brad Miller has been blamed, Dustin Ackley, Lloyd McClendon, heck, a lot of people have been sitting in the blame couch. But none of those things are really at the root of the problem. The real culprit is the team's inability to come through, consistently, with a big hit. As Steve Rudman points out in this piece for SportsPressNW, the M's are 27th in hitting with runners in scoring position. There are 30 teams. They are hitting .221 in those situations. The prime culprit, if you didn't know, is Ackley, who is hitting my waist size (.043) with runners on second and/or third. But others haven't been good either. Robinson Cano, he of the Midas-like contract, is hitting .194 from the three hole. And Logan Morrison? He's at .111. Looking at numbers like that, from three guys who are getting a lot of playing time – though Ackley's is diminishing and he could be gone when Austin Jackson returns from injury – and it's a wonder the M's are within three games of the break-even mark. Maybe you could say they are lucky to be still in the American League West race, albeit seven games behind the front-running Astros. You could but we won't. Luck has nothing to do with it. If you believe they have been lucky thus far, well, I have a phone call you should return.
• The M's reportedly made a deal this morning, picking up a backup catcher, Wellington Castillo, from the Cubs. The right-handed hitter (can't they find a backup who hits from the left side?) was hitting a robust .163 with Chicago in a reserve role.
• Central Valley High graduate and former Spokane Chief Tyler Johnson had a night last evening in the Stanley Cup playoffs. His hat trick lifted the Tampa Bay Lightning past the New York Rangers 6-2 in New York.
••••••••••
• WSU: Who has the best returning quarterback in the Pac-12? It's close. ... Here is another opinion about the rule changes in college hoop.
• Idaho: Former women's basketball coach Mike Divilbiss has left the Illinois basketball program after he was accused of some serious allegations.
• CCS: Janet Skaife is going out a winner. The long-time CCS softball coach saw her team win another Northwest Athletic Conference title yesterday. ... The men's golf team also won the NWAC crown.
• Preps: Speaking of golf, the state qualifying tournaments in Washington are going on this week. Jim Meehan has this story on the 4A battle. ... Mt. Spokane battled through the loser's bracket to earn the final 3A state berth from this side of the Cascades. Tom Clouse has the coverage. ... The undefeated Central Valley boys' soccer team is in a familiar spot. Jim Allen has more.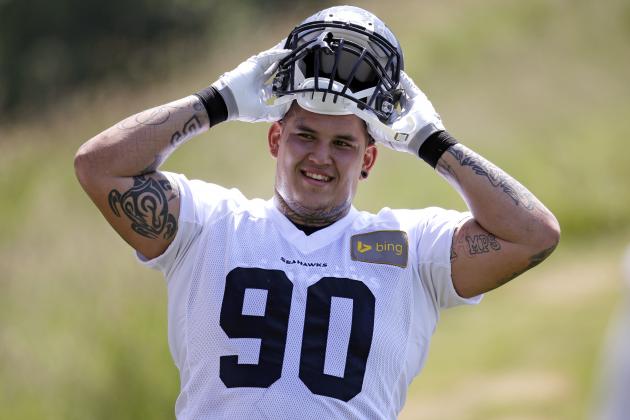 • Seahawks: Our hearts go out to Jesse Williams (pictured), the defensive tackle the Hawks drafted out of Alabama a couple years ago. Two knee injuries took his first two seasons and now Williams will undergo surgery due to a diagnosis of kidney cancer. ... Another somewhat comparable quarterback signed a contract extension yesterday and that might affect the Russell Wilson negotiations. ... You here a lot about guaranteed money in contracts this time of year. What does that really mean? ... The NFL is still trying to determine what to do with extra points next season. ... The Hawks made a couple of roster moves yesterday.
• Mariners: We covered many of the Mariner stories in the lead-in, but there are more. Including this one on Brad Miller, leadoff hitter. ... Miller was named the American League player of the week, which seems to indicate his changing role is suiting him just fine.
• Sounders: The Sounders had folks earn some MLS honors this week as well. ... Salt Lake City has a match tonight on ESPN2, before heading to Seattle for Saturday's match. It's all part of a good week in the league.
•••
• Have a good Tuesday. Summer is coming. Until later ...
---
---