Sun., May 31, 2015
May the month be with you, always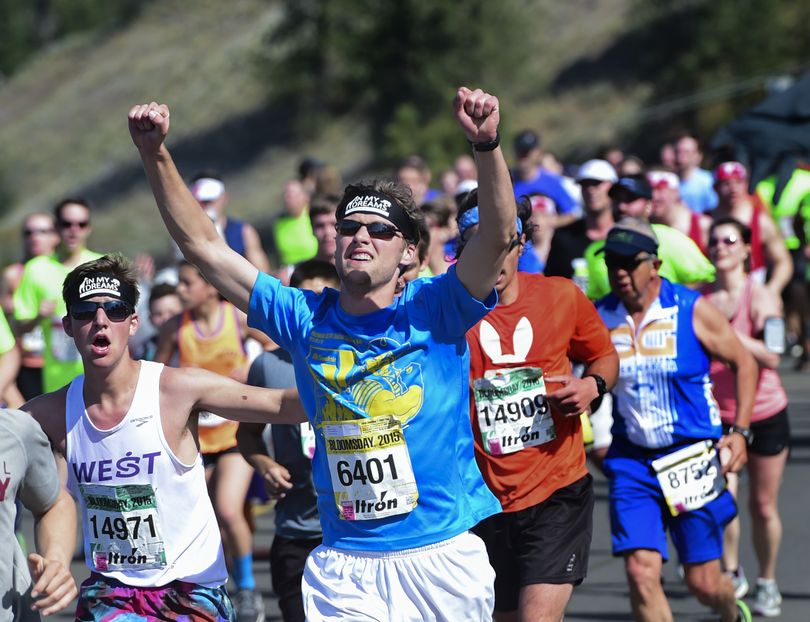 A GRIP ON SPORTS • Believe it or not, today is the last day of May. A good month, gone way too soon. Read on.
•••
• When it comes to months in the Inland Northwest, May is tough to beat. Not too hot, not too cold, wet at times but mostly dry, May has, I don't know, usually about seven bad days. Otherwise, it's great. May sports, however, don't stand out like, say, June or July or even April. There is little decided in May, and that's the problem. There is no major golf tournaments. Baseball is just getting going. Basketball? Well, college is long gone and the NBA is in the middle of its insufferably long playoffs. Even the two major horse races, the Kentucky Derby and the Preakness, serve as prelude these days to the Holy Grail, a Triple Crown winner. (By the way, do you think American Pharaoh, pictured, will do it?) That's decided at the Belmont. In June. Not in May. But May is about possibilities. Your golf game? It probably rounds into shape in May, no matter what that shape is. There's always a chance in May to get outside and take a walk, bringing better health your way. Of course, an umbrella may need to be handy, considering late-afternoon thundershowers are a staple in May. And May is usually the month major league baseball decides which teams are contenders and which are pretenders. By the end of the month – today – there have been enough games played to determine who has the horses to go all the way. The quarter pole has been passed and we are in the long backstretch, when the pack begins to separate. June beckons, with the promise of summer and all that entails. But May, we want to say thanks one last time before you go. Thanks for the sunshine. Thanks for the flowers. Thanks for the thrills. It's been great. See you next year.
••••••••••
• WSU: The NCAA track and field championships are inching closer and a few more Cougars have earned spots. ... Is it too early to look toward next basketball season? ESPN.com doesn't think so. ... Steve Kerr seems to think Klay Thompson will be ready to go when the NBA Finals begin.
• Gonzaga: The penultimate day of May brought Mark Few and the Zag basketball program a gift. Missouri forward Johnathan Williams III (pictured) will transfer to GU, sit a year and be eligible in 2016-17. As Jim Meehan notes in this story, the 6-foot-9 forward will bolster a frontcourt that could be quite bare that season. ... We found a couple of stories about Williams from Missouri. ... BYU's basketball team, like its arena, is in flux.
• CCS: Legendary basketball coach Sam Brasch – I call him legendary because many of the stories I've heard over the years have to be legends – will be inducted in the NWAC Hall of Fame.
• Shock: Once again the Shock came this close to winning a game. But the final minute was their undoing as the Arizona Rattlers, playing their third-string quarterback, won 59-47. Jim Meehan has more in this game story.
• Preps: The finals day of prep sports for the school year turned out to full of excitement. We'll start with track and field, where Greg Lee led the way with stories about the 4A, 3A and 2A championships from Tacoma. ... Chris Derrick took care of the coverage with the 1A/2B/1B girls while Tom Clouse did the same with the boys. ... Central Valley's perfect soccer season came up one match short, as the Bears lost 3-1 in the 4A finals. ... We have baseball and softball roundups to pass along as well as Steve Christilaw's story from the 4A softball championship at Merkel. ... Finally, Lewis and Clark's boys won a share of the 4A team tennis title.
• Seahawks: Jesse Williams is out of the hospital after kidney surgery. ... We all think we know what Russell Wilson should do.
• Mariners: If the M's don't make the playoffs – again – the blame can be placed on two areas that reared their despicable heads – again – yesterday. The first is missed opportunities. The M's once again failed to come through in the clutch in the 4-3 loss to the Indians. ... The other is injuries, as James Paxton will probably miss a month with his strained tendon. If you're scoring at home, that's Hisashi Iwakuma and Paxton now out of the rotation for extended periods. Seattle may not have the pitching depth to handle that. ... Depth is where big payrolls show, despite the thoughts here.
• Sounders: The New York Red Bulls will test Seattle's back line as the teams meet today at CenturyLink. ... These teams have been pretty even throughout their history.
•••
• Goodbye May. We hardly knew ye. Until later ...
---
---