Mon., Sept. 12, 2016
If the Hawks don't get their act together up front, Russell Wilson could pay the price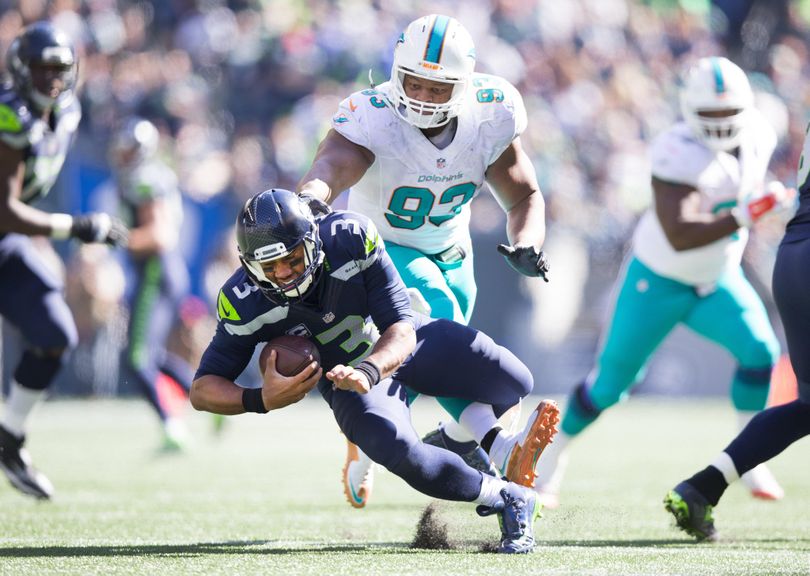 A GRIP ON SPORTS • Russell Wilson walked onto the CenturyLink turf late in Sunday's game with Miami. He was moving a bit like many of us do every day. Which is not a good thing. Read on.
••••••••••
• We can cite old age. All Wilson can blame is a porous offensive line. All-in-all, we have a better excuse. The offensive line can be fixed. It just hasn't been. And it almost cost Seattle its most dependable weapon. In his column this morning, John Blanchette hit what could be the franchise's coffin nail on the head.
"... The organization continues to staff its offensive line on a Value Village budget, to hire Barney Fifes for security when it needs badasses. The Seahawks collect assorted parts and then turn them over to line coach Tom Cable and tell him to come back when he's put together a limo."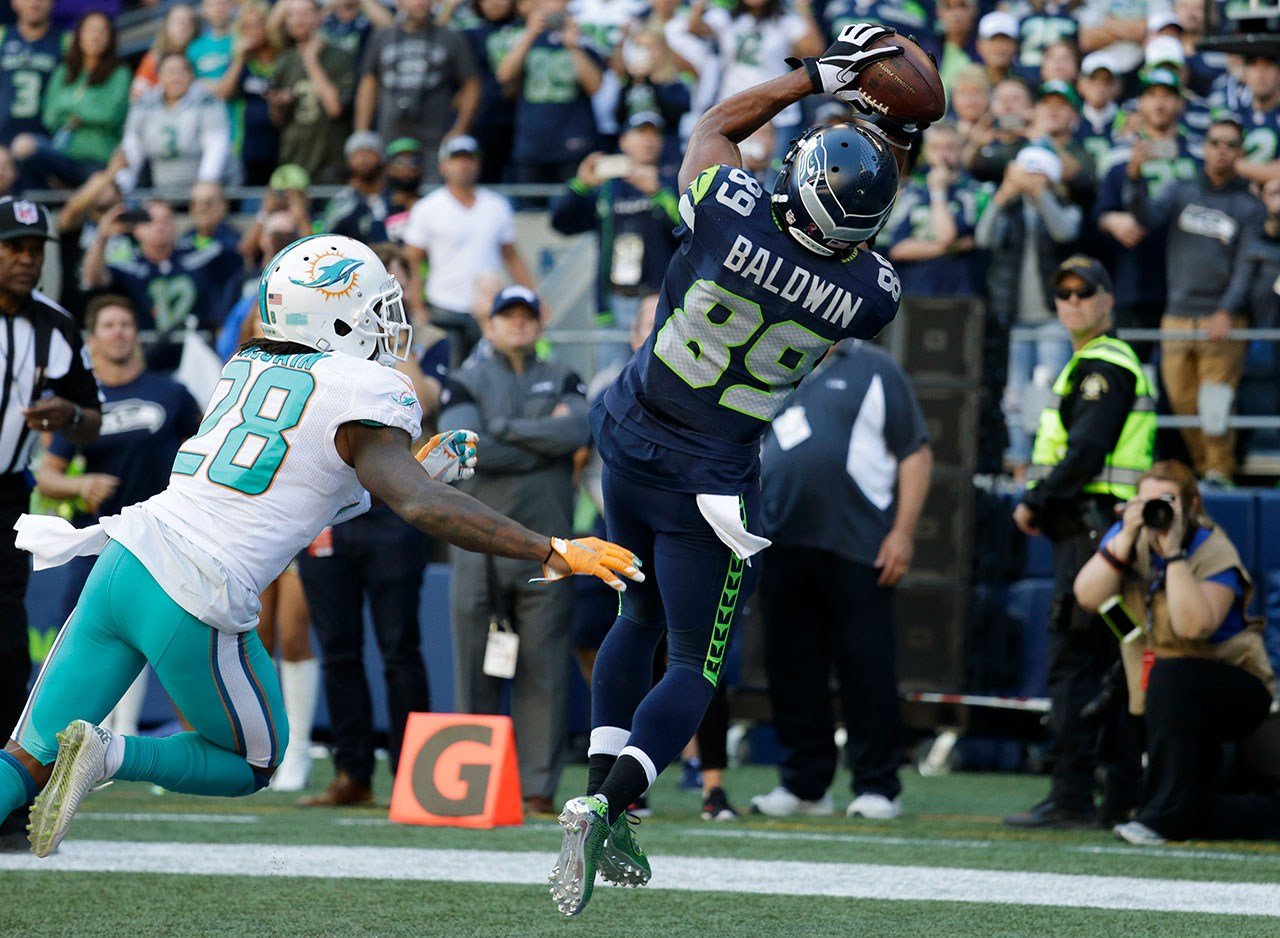 Exactly. But instead of a limo, the Hawks have a bored Uber driver in a 2004 Pontiac Aztek. It might get you to your destination but the ride isn't a lot of fun. Sort of like your last ride in an ambulance, huh? That's where Wilson seemingly was headed when Garry Gilliam whiffed – again – and Wilson's ankle was the victim. From then on the once and future franchise quarterback moved around on one leg, dragging himself up and down the field with the mobility of Peyton Manning, circa 2016. You know, in those DirecTV commercials. But, thanks to a defense that yielded just one touchdown – and to the Dolphins, who dropped one sure touchdown pass – the Hawks still had a chance to win. If only the line could pull it together one time and Wilson could deliver a miracle. The line did and so did Wilson. Not so much a miracle but a near-perfect throw to Doug Baldwin, another guy who got paid and is showing he's worth every Benjamin. So what if the final score was 12-10. There are no style points, right? Well, yes there is. In a sense. The same old problems persist. One could argue the offensive line woes are minor. That every NFL team scrimps somewhere to pay its stars. But there is a reason why Tom Brady takes a discount and we're not talking about the fact he has a wife who makes more money than the Jacksonville defense. He gives back so the Pats can invest in the guys who have his back. When Wilson limped back out in the fourth quarter, held together with spit and tape, I'm sure he was wondering if there was a way he could hand John Schneider $10 million and tell him to buy a decent left tackle. Yes, Miami's pass rush is fierce. So? The Rams have a fierce pass rush too and they are on tap next week. Then there is Arizona. They Hawks have four games left with those two NFC West rivals. It's easy to wonder if Wilson will survive. Heck, it's easy to wonder if he'll be able to play on Sunday in Los Angeles. Without him, Seattle may not have a leg to stand on.
• I heard the M's won again yesterday and opened up my browser this morning all excited about their postseason chances. After all, they have won five consecutive games and that's good, right? But a quick look at the American League wild-card standings discouraged me. Despite the winning streak, the M's are still 3.5 games out of the last available playoff spot. They are four games back in the loss column. But, more importantly, they are in a crunch with seven teams for two openings. Right now Baltimore and Toronto are tied for the available wild-card spots. The Yankees are also involved, two games back. Those teams, along with A.L. East-leading Boston, mean the division has four teams in the postseason hunt. Being they play each other for the most part down the stretch, it's hard to see how they all are going to collapse. The M's need at least two of them to, that's certain. Or at least fade badly. But that still leaves Detroit, Houston and Kansas City involved. Of those, Seattle plays the Astros enough to take care of that threat itself. And Kansas City is a half-game behind right now, which is the only numerical advantage the M's have. There is a postseason chance, sure. A Jim Carrey-like chance. But if I remember correctly, he did get the girl. The M's, on the other hand, probably won't. Too little, too late. When someone rights the definitive history of Mariner baseball, that should be the paperback title.
•••
• WSU: The Cougars were back at practice last night – ah, to be a fly on the wall at Martin Stadium – as they prepare for what's turned out to be a possible season-defining game with Idaho. Jacob Thorpe turns his fingers toward Saturday's game with this story. ... The Times' Stefanie Loh looks back at the Boise State game a bit more. ... Before we move on, the Cougar tennis team had a successful weekend tournament. ... The football polls are out and the Pac-12 has just three teams in again. But that doesn't diminish the conference's bowl chances. ... Washington's rout against Idaho didn't merit a rise in the polls. As always, there was some good and some bad. ... The Cougars are still at the bottom of these power rankings. ... Despite an offense that is a work in progress, Utah found a way to win a rivalry game. ... For some reason, they can't call it the Wildcat formation at Arizona State. (OK, I know why.) ... Defenses have to communicate, no matter the sport. Colorado is doing better at that. ... Losing at San Diego State is nothing for California to hang its heads over. ... Oregon State has the closest thing to a sure win of any conference team this week. ... Oregon has a game that could help its national stature. And the coaching staffs are familiar to each other. ... UCLA is missing a player without an explanation. ... Trailing at halftime, Arizona was challenged by its coach. It responded. ... USC has more than one wide receiver target. ... By the way, I'm always up for a forceful dissenting opinion on a subject. Too bad this isn't one. It has all the earmarks of the good old, "it's always been that way, so don't change it" argument.
• Gonzaga: The Zags' men's soccer team traveled a long way to pick up a victory.
• EWU: It was a good Sunday for the area's women's soccer teams, including Eastern's.
• Indians: Eugene took the first game of the Northwest League's championship series, winning in Everett.
• Mariners: The M's have scored a lot of runs this month, but they showed yesterday they can win when they don't. The 3-2 win at Oakland not only secured a sweep of the woeful A's, it also kept alive their playoff hopes (see above). ... Now that the Rainiers' season is over, the M's will lengthen their bench. ... Did you know the M's have hit more home runs this year against left-handed pitching than any year in their history?
• Seahawks: One area we didn't cover above was the Hawks' pregame ceremony. They linked arm-in-arm. And now they want to help facilitate discussions. Seems pretty constructive to me. ... The Hawks seem to always have someone step up on special teams.
• Sounders: Landon Donovan came out of retirement to help the L.A. Galaxy to a needed win.
•••
• We'll be back here tomorrow. That's a promise. Or a threat. Until then ...
---
---