Sun., Sept. 25, 2016
If every Saturday is like yesterday, it's no wonder college football is so loved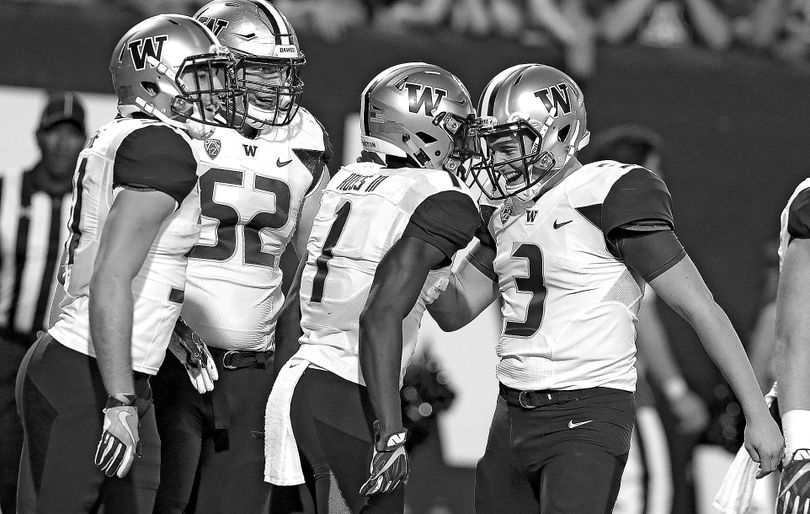 A GRIP ON SPORTS • Non-conference college football games are fun. Sometimes they are even spectacularly fun. But they don't have anything on conference games. Especially on the West Coast. After the sun goes down. Read on.
••••••••••
• To be honest, my gluteus muscles hurt. I rarely got off them after about 1 p.m. yesterday. I believe the term is "glued to my chair." It seemed as if every game I watched yesterday afternoon, evening and late-night had something spectacular – and often a whole bunch of it. From Tucson to Eugene, from Flagstaff to Corvallis, the day was filled with college football games I didn't want to miss. Is every Saturday like this during September, October and November? No don't tell me. I don't want to know. I'm usually too busy to watch. Let's just examine yesterday's games through the magic of "bests."
• Best catch by a one-armed wide receiver: That would have to go to Cooper Kupp in Eastern Washington's 50-35 win over Northern Arizona. Kupp's right shoulder was injured in the Eagles' only loss this season, in overtime to top-ranked North Dakota State. If he hadn't gotten hurt, the Eagles may be undefeated and ranked No. 1 in the FCS. Especially if Kupp had made a one-handed grab like he did against the Lumberjacks yesterday. On fourth-and-8 in the first half, Gage Gubrud threw a pass that was high and to the left of Kupp in the middle of the field. The best receiver in the nation went up, stuck out his good arm and somehow reeled the ball in, all the while twisting away from a NAU defensive back. The Eagles, who trailed 17-12 at the time, got the first down. They ended up scoring. And making the extra point, their first of the game. About two hours later, they had the win and had secured the spot as the Big Sky favorites.
• Best, and most expensive, fumble return: Stanford was favored by 3 or 3.5 points going into the game at UCLA. And it was a 3- or 3.5-point-like game most of the way. Until the final play. The Bruins, trailing by a field goal, went for a Hail Mary. Except quarterback Josh Rosen never got the pass off. He was stripped from behind. Stanford's Solomon Thomas picked up the loose ball and rumbled 42 yards for a 22-13 final. That would be a nine-point margin and all those folks wearing chinos and boat shoes had seen their losing tickets turn into winners just like that. After the clock had expired. As if Stanford grads need any more help.
• Best bad decision: Rich Rodriguez makes a lot of money. Mainly to make faces like Dennis the Menace or Kevin from the "Home Alone" movies. But he's also called upon from time to time to make a decision. He had one to make with seconds remaining in Arizona's 35-28 loss to ninth-ranked UW last night. The Wildcats had marched the length of the field late – helped by one of the great escape-artist moves ever by quarterback Brandon Dawkins – to move within the Huskies 10-yard line. But they faced a fourth-and-three with less than a minute left. Of course Rich Rod went for it, he had to. And Dawkins figured out a way to get the three yards and keep the drive alive. Boom. The next play Dawkins solved the puzzle again and tossed a 3-yard pass to Josh Kern on a well-designed play. There was 17 seconds left and Arizona had a chance to win it right there. Instead Rich Rod decided to kick the extra point and play for overtime. Despite being down to a third-string tailback. Despite having all the momentum. Despite being at home. It seemed appropriate the lack of gambler's instinct would come back to bite Rich Rod. The Huskies scored in overtime, Arizona didn't and the chance for a top-10 upset slipped away.
• Best game: Sorry but I can't pick one. The Stanford win was a throwback to my childhood. The Arizona State win reminded me of my college intramural days. The Boise State win reminded me how poor Oregon State is. Colorado's win showed how far the Ducks have fallen. Washington's win showed the value of a tough non-conference schedule (stop laughing). And Saturday's wins showed, once again, how fun college football Saturdays can be.
•••
• WSU: The Cougars practiced yesterday then got together and watched Oregon and Colorado play. The Ducks, beaten, battered and beleaguered, come to Pullman next Saturday, game time still to be determined. So it will probably be a late night in the Palouse. ... Jacob Thorpe spoke with Mike Leach after practice and has this video of the interview. Jacob also has one of those stories in today's paper. You know the type I mean. A story that makes you feel as if you know a player intimately. In this case the player is Tavares Martin. Or as I will call him from now on, respectively, Elmer Fudd. ... Let's cover all the games in the Pac-12, shall we? ... The ninth-ranked Washington Huskies won 35-28 over Arizona in Tucson. As we said, it took overtime. ... Shame on me. I believed Oregon's defense would be improved under Brady Hoke. Not with the guys the Ducks run out there. They lost to Colorado 41-38 but did have a chance as the clock ran down. ... There were 45 points scored in the fourth quarter of Arizona State's 51-41 win over visiting California. ... Stanford will take an undefeated record into Seattle next weekend after out-toughing UCLA again in the Rose Bowl. ... In case you forgot, USC and Utah played on Friday night. ... Finally, Boise State took it to Oregon State in the first half. Then the Broncos lost their best defender to injury, took their foot off the gas and still won 38-24.
• EWU: I watched the Eagles game yesterday, though there were times I had to switch the channel. Homerism really bothers me, and that's what we heard from the TV broadcast, which just happened to include the Northern Arizona radio team. If I was a little more technologically savvy, I would have figured out a way to listen to the Eastern radio broadcast. Or to mute the darn TV. ... Jim Allen got to watch without a commentary track and he has the game story and a notebook following the big win. ... Elsewhere in the Big Sky on Saturday, Cal Poly rallied to stun visiting Montana 42-41. ... North Dakota picked up a big road win over Montana State, 17-15. ... Southern Utah held off visiting Portland State, 45-31. ... Idaho State got past Sacramento State, 42-34. ... Weber State converted a last-second field goal and got past UC Davis 38-35
• Idaho: One week after a 50-point loss, Idaho persevered in a close game, winning in overtime at UNLV, 33-30.
• Chiefs: The WHL season opened for Spokane last night. For the Chiefs it began in Kennewick, where the Tri-City Americans took them to the woodshed 8-3. Tom Clouse drove down U.S. Highway 395 yesterday and he has this game story. ... Around the WHL, Portland opened the season by pounding Seattle. ... Everett defeated Vancouver, 3-1.
• Preps: North Central finished second in a high-powered cross country meet near Boise. ... A Mead graduate has a new golf coaching position.
• Mariners: If the M's don't make the playoffs, they probably have their play against lowly Minnesota to blame. After last night's 3-2 road loss, Seattle is just 1-4 against the Twins. ... James Paxton continues to show potential. If he realizes it, watch out. Because he'll probably sign with the Yankees the next season.... Shortstop is still a position of concern in Seattle.
• Seahawks: It's a beat-up and battered group of Seahawks who will host the 49ers and Chip Kelly today. But, if the past is any indication, Seattle should give Kelly's offense fits. ... Tyler Lockett is young. But he's emerging as a leader for the Hawks. ... Can the Hawks run the ball better this week?
• Sounders: A win and three points today on the road in Los Angeles would go a long way toward boosting the Sounders into the postseason. ... Things broke relatively well for Seattle yesterday, with Portland losing on the road again and Real Salt Lake drawing at home.
•••
• We are in line for a few beautiful days in a row this week. I am making a commitment to you (and to myself). I will get outside and enjoy them. We won't see 80-degree weather again until next May at the earliest, so let's all take advantage of what's left. And those of you who are reading this in warmer climes, like Camarillo or Vegas and are looking forward to 75-degree days all winter ... dang it. I can't write the words I really want to use. Until later ...
---
---