Mon., Dec. 19, 2016
This week's free game: "Super Mario Run"
Are you a gamer? Do you like free things? Of course you do!
We here at the Tech Deck are just like you: poor gamers looking for cheap entertainment. And nothing's cheaper than cost-free gaming. Each week, we'll bring you a title (or two or three) you can legally play at home without plopping down a single dollar. If you see games you think we should be featuring on the blog, email us at dang@spokesman.com or kiph@spokesman.com.
Nintendo has had an interesting 2016. They announced the release of their new console, the Switch, earlier this year that combines high-definition home gaming with an on-the-go experience. The company's first home console, the NES, got a modern, mini version for the holidays that have eBay users putting up a kidney to get under their trees in time for the holidays. The WiiU continues to lag behind the Xbox One and Playstation 4 systems, and it was a quiet year of software for the console.
Enter Super Mario Run, Nintendo's first mobile game to feature one of its prominent mascots after announcing a partnership with Japanese company DeNA to develop games for phones in 2015. If you have an iPhone, you can download the first three levels of the game now for free on your device. Click below to learn more!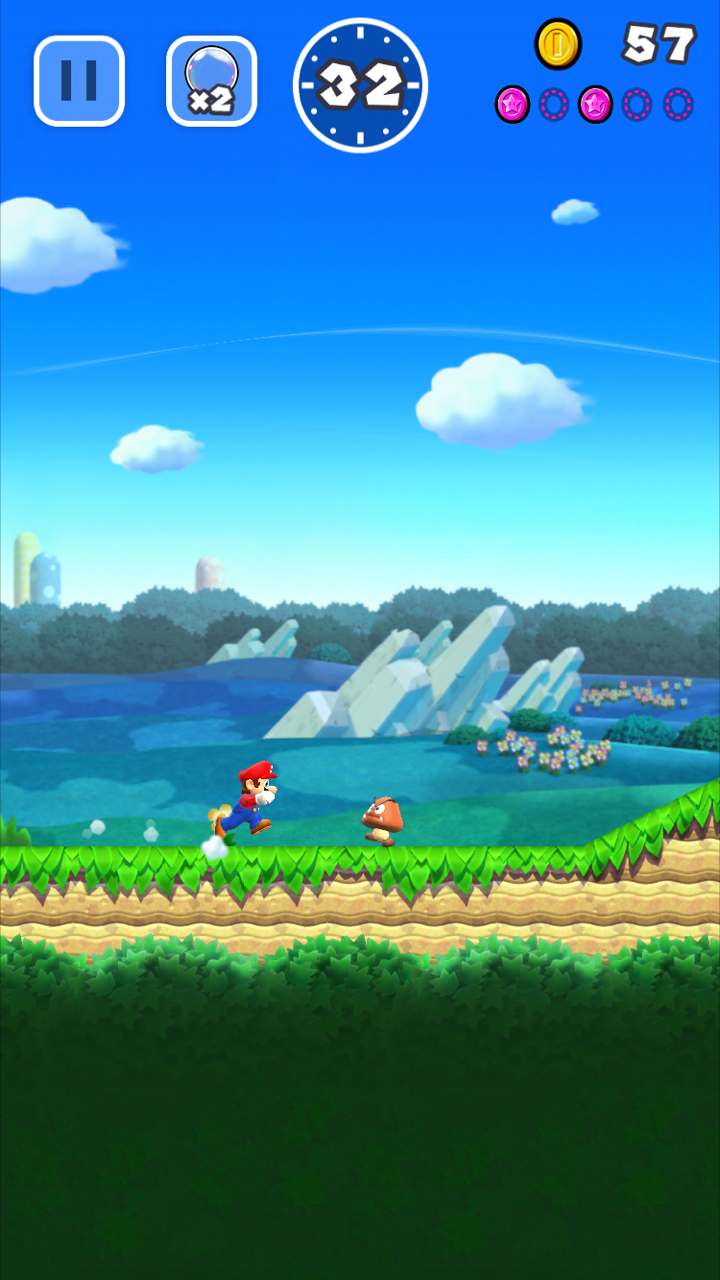 Super Mario Run is an endless running game, not unlike Temple Runner or the dozens of other copycats you can find on the App or Android stores. That means you'll never be in full control of Mario's movement, as he's traversing your usual sidescrolling levels, in the art style of New Super Mario Bros., while stomping Goombas and gobbling mushrooms. However, Nintendo does include some objects that will stop your run, including topographical changes, pipes and certain blocks that freeze the action.
All you can control is the height of Mario's jumps, by pressing your finger on the screen. There's a lot of green space at the bottom of the screen, as you'll see in the screenshot above, which makes it the best possible location to do your pressing without obscuring the action above. However, this isn't completely intuitive, and it'll take you a little while to get used to controlling the plumber in this unconventional manner.
Also, opening the game after downloading the app starts a tutorial level that teaches you the mechanics. After that, there's an additional download period that took about five minutes when I started up the game Thursday afternoon. It's a little grievance, but there's no mention in the menu that there will be an additional download and if you were expecting to hop right in, it's more than a little annoying to have to wait.
To download the full game, you'll need to shell out $9.99, which is pretty pricey for a smartphone app (by comparison, the pocket edition of Minecraft, which is admittedly much older than this game and lacks the novelty of a Nintendo mobile game, costs $6.99). However, there are multiplayer modes and different playable characters to unlock, according to reviews, so if you like the mechanics and idea of Super Mario Run, it's likely you'll get your money's worth out of the title.
Do you think an endless runner is the right way to go with a Mario mobile game? Which franchise would you like Nintendo and DeNA to tackle next? Let us know in the comments below, and check back soon for another free game.
---
---