Mon., Jan. 30, 2017
This week's free game: "Porky"
Are you a gamer? Do you like free things? Of course you do!
We here at the Tech Deck are just like you: poor gamers looking for cheap entertainment. And nothing's cheaper than cost-free gaming. Each week, we'll bring you a title (or two or three) you can legally play at home without plopping down a single dollar. If you see games you think we should be featuring on the blog, email us at dang@spokesman.com or kiph@spokesman.com.
Did you finally finish our last featured game, Mass Effect 2? Well we have something a little lighter for you this week. White meat, to be exact. Porky is a game that casts you as a road-tripping pig, firing missiles out of your car while trying to dodge bombs and disembodied floating wolf heads. Yep. This is 1985 game-making at its finest, and you can play it for free in your browser thanks to the folks at the Internet Archive by clicking below!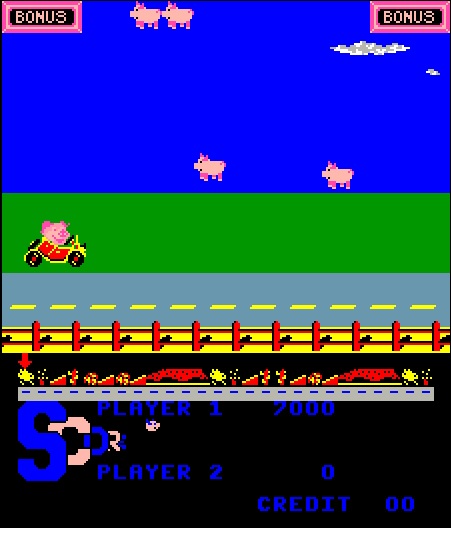 Use the left CTL key to jump and the left ALT key to fire. Your goal is to make it along the scenic highway, gathering up floating pigs for bonus points overhead while avoiding obstacles. At its core, Porky is a simple sidescrolling shooter not unlike many other games of its time. It was built on Namco's Pac-Man arcade board and was one of two games the company Shinkai released that I could discover, the other being 1984's "Driving Force," a Pole Position-like racing game.
Do you have a favorite road trip game (that's not Final Fantasy XV)? Do you long for a remake of Hogs of War like I do, while we're on the subject of swine-related gaming? Let us know in the comments below, and check back soon for another free game.
---
---