* Race percentages are calculated with data from the Secretary of State's Office, which omits write-in votes from its calculations when there are too few to affect the outcome. The Spokane County Auditor's Office may have slightly different percentages than are reflected here because its figures include any write-in votes.
About The Race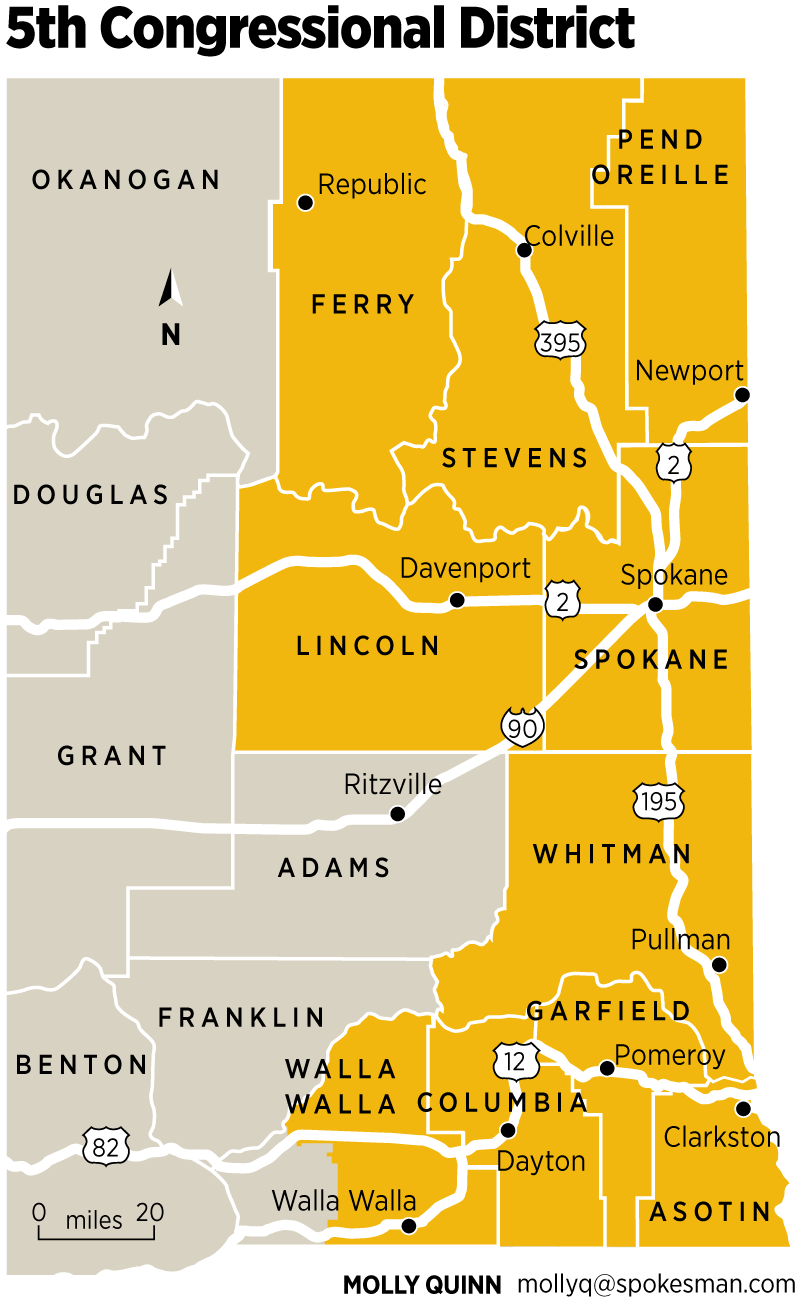 In a rematch of the 2014 contest, Rep. Cathy McMorris Rodgers will seek her seventh term in Congress against Joe Pakootas, a Nez Perce Tribe executive. McMorris Rodgers defeated Pakootas handily two years ago, earning 60 percent of the vote. But her share of the vote in the August primary fell to 42 percent, the smallest portion of primary ballots she's earned since her first successful campaign in 2004.
Washington's 5th Congressional district hasn't elected a Democratic representative since Rep. Tom Foley, the sitting Speaker of the House, was ousted by George Nethercutt in the 1994 campaign. Despite his more promising performance in the primary, Pakootas has not drawn any financial support from the national or state Democratic parties, and he has a massive fundraising disadvantage. Pakootas has raised less than $200,000 in his campaign, compared to McMorris Rodgers' $2.4 million.
Pakootas has accused McMorris Rodgers of being too entrenched in the Washington political system and criticized her support of Donald Trump as president. McMorris Rodgers has geared her campaign toward Congress wresting control of the government from a White House running amok with regulations, and eradicating what she's called "zombie" federal programs – spending that isn't authorized annually by Congress. Party:

Republican

Age:

54

City:

Spokane, Washington

Occupation:

U.S. congresswoman
Education: Graduated from the Columbia River Christian Academy, Kettle Falls, in 1986. Earned pre-law bachelor's degree from Pensacola Christian College in 1990 and executive MBA from the University of Washington in 2002.
Political experience: Appointed to state House of Representatives, serving the 7th Legislative District, in 1993. Elected to state House in 1994, where she served until joining Congress. Elected to Congress in 2004. Former Vice Chair of House Republican Conference. Elected chairwoman of House Republican Conference in 2013. Serves as ranking member of the House's Energy and Commerce Committee since 2021.
Work experience: Aide to state representative, 1990-93. Worked at her family orchard and fruit stand for 13 years, prior to election to Congress.
Family: Married. Has three young children. Party:

Democratic

Age:

66

City:

Inchelium, WA
Education: Graduated from Inchelium High School in 1975. Attended Eastern Washington University. Received executive MBA University of Washington 2006.
Political experience: Former tribal chairman of the Colville Confederated Tribes; member tribal business council 1987-99, 2001-13. Unsuccessfully ran for U.S. Congress 5th District seat in 2014.
Work experience: Enterprise Executive Officer for the Nez Perce Tribe. Former chief executive officer Colville Tribal Federal Corp. Worked in logging, construction. Former executive director of medical and dental services for Kalispel Tribe.
Family: Married. Has four adult children.