State Representative, position 1
* Race percentages are calculated with data from the Secretary of State's Office, which omits write-in votes from its calculations when there are too few to affect the outcome. The Spokane County Auditor's Office may have slightly different percentages than are reflected here because its figures include any write-in votes.
About The Race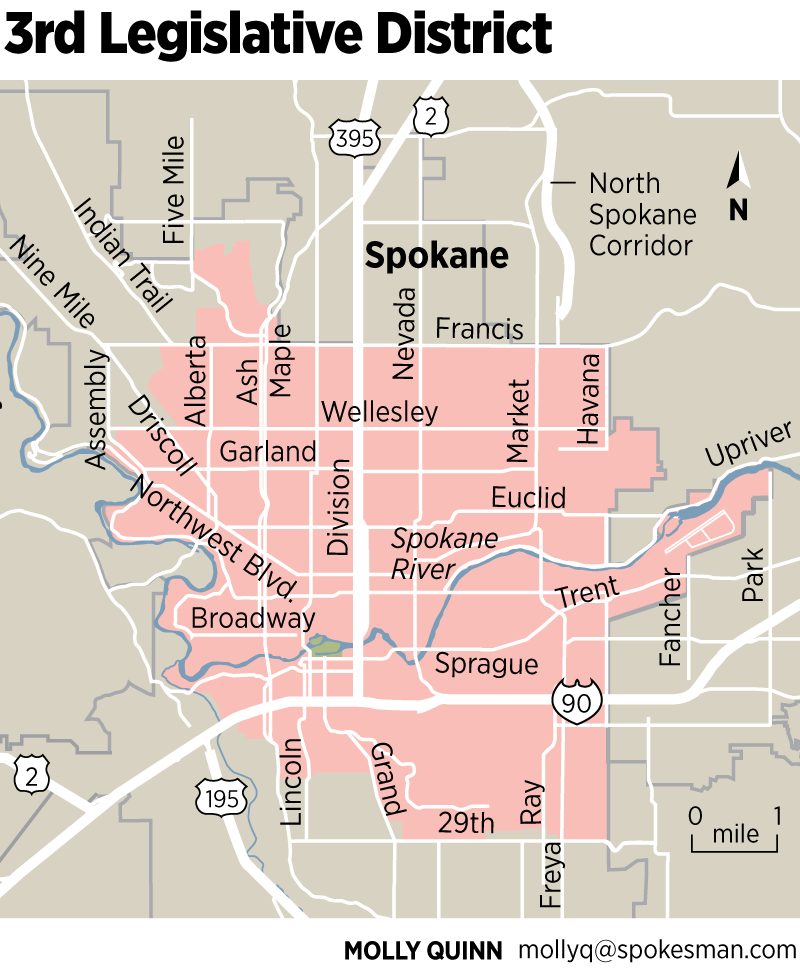 The legislative district that represents central Spokane leans heavily in favor of Democrats, so much so that only one Republican filed to run for any of the three seats up for election this year. In the race for House position 1, incumbent Democrat Marcus Riccelli faces Randy McGlenn II, a Libertarian.
McGlenn has accused Riccelli of being too partisan. He said one of his top priorities is to get corporations to pay their fair share of taxes and end tax breaks to companies such as Microsoft and Boeing. He also is calling for better funding for mental health services and education.
Although he describes himself as a proud Democrat, Riccelli says he works well with members of both parties. He has pushed for more education funding and said he is focused on engaging voters on the planned upgrades to the North Spokane Corridor, getting healthy foods in school and beefing up health care, specifically mental health services. Party:

Democratic

Age:

43

City:

Spokane, Washington

Occupation:

State Representative
Education: Graduated from Mead High School in 1996. Earned a bachelor's degree in business admission from Gonzaga University in 2000 and a master's degree in public administration from the University of Washington in 2007.
Work experience: Worked as Eastern Washington Director for U.S. Sen. Maria Cantwell from 2007 to 2010 and as senior policy adviser to state Sen. Lisa Brown from 2010 to 2012. Previously worked as an adjunct instructor at Eastern Washington University. Worked as project manager at CHAS Health for five year and currently is the community relationship manager for CHAS Health.
Political experience: First elected to his current position in 2012 and re-elected three times. Currently serves on the health care, transportation and capital budget committees.
Family: Married to wife Amanda Riccelli. Has two children.
Campaign fundraising: $119,515 as of Sept. 16, according to the Washington Public Disclosure Commission. Top donations include $2,000 each from Avista Corp., the Washington State Building and Construction Trades Council, the Washington Education Association Political Action Committee, Lyft and the Snohomish Indian Tribal Community. Party:

Libertarian

Age:

45

City:

Spokane, WA
Education: Graduated from West Valley High School in 1994. Earned an associate of applied sciences in networking and information technology at ITT Technical Institute in 2002.
Work experience: Systems analyst at EZ Loader Boat Trailers from 2001 to 2007. Network analyst for Avista's mobile fleet from 2007 to 2008. Systems engineer at Sterling Savings Bank from 2008 to 2012. IT manager at Skils'kin, a nonprofit organization, from 2013 to 2014. Currently an IT operations manager at Access Unified Networks.
Political experience: Currently the elected Secretary for the Libertarian Party of Spokane County since February. Previously served as the chairman of the bylaws committee for the Libertarian Party of Spokane County.
Family: Single. No children.