Sports
Fields' wait to get back in action finally over
Sun., Aug. 1, 2004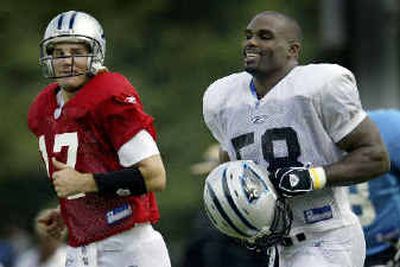 SPARTANBURG, S.C. — Mark Fields was tossing and turning, rolling over every few minutes to check the clock and see if it was time to get up.
After missing all of last season with Hodgkin's disease, the Carolina linebacker could not wait for training camp to begin Saturday morning.
So excited to get back into his No. 58 Panthers jersey, Fields surprised the other linebackers by showing up unusually early to the training room.
"They were like 'Mark, this is not like you,' " Fields said. "They could tell I was a little anxious to get out here."
It was just under a year ago that a cut on his thumb sent Fields to the sidelines during training camp. When the wound didn't heal, the team sent Fields back to Charlotte to see a specialist. After rounds of tests, he found out how serious it was.
"We drove back from here to Charlotte because of a thumb injury — before I know it I had six doctors in front of me telling me that I had cancer," he said. "It was a heavy hit. It was like nothing you can imagine. Nothing."
In the 12 months since, Fields, a former Washington State star, had to watch from an upstairs suite at Bank of America Stadium as the Panthers marched on without him to the first Super Bowl appearance in franchise history.
He stayed out of the spotlight, giving pregame motivational speeches to his teammates before slipping away.
He shared private moments with linebackers coach Sam Mills, who is also battling cancer, as the two tough, strong, hard-nosed athletes endured grueling chemotherapy sessions.
After a spirited 2-hour practice Saturday, Fields acknowledged there were times he thought he'd never play football again.
"When you get that chemotherapy and that radiation in your body, and you're at home and you have those days when you can't move … you think 'Man, this is not going to happen,' " he said.
Fields made a brief return to the Panthers in June, going through light workouts during spring practices. But he wasn't cleared to go full-speed until training camp, so he was full of energy when he finally hit the field.
It took Mills just one play to determine Fields' hasn't missed a beat. As the main defender on receiver Steve Smith, Fields sprinted down the field stride-for-stride with Smith on a long route.
"Mark did a real good job on that, and I said, 'Man, he's back,' " Mills said.
Although the Panthers plan to take it slow with Fields — they will only let him practice once a day for now — the entire team is anxious to have him back because of how much he brings to the defense. The fastest linebacker on the team, he was arguably the best Carolina defender in 2002 when the Panthers ended the season ranked No. 2 in total defense.
He had a career-high 127 tackles in 2002, a team-record seven forced fumbles and 7.5 sacks.
"Mark brings such a presence out there," linebacker Dan Morgan said. "He's a great blitzer off the edge, and putting pressure on quarterbacks. We definitely missed him in that way."
The Panthers will undoubtedly be a better blitzing team with Fields back, and he'll also help the passing game because he's fast enough to drop back and cover receivers.
Fields will also resume his role as both a vocal leader and as a player who leads by example. Panthers coach John Fox said just Fields' presence on the practice field can lift his teammates.
"He is such a unique individual, not just his football playing ability and talent," Fox said. "He plays this game with a lot of enthusiasm, and it is infectious. We missed him last year and we are sure happy to have him back. He looks outstanding."
Local journalism is essential.
Give directly to The Spokesman-Review's Northwest Passages community forums series -- which helps to offset the costs of several reporter and editor positions at the newspaper -- by using the easy options below. Gifts processed in this system are not tax deductible, but are predominately used to help meet the local financial requirements needed to receive national matching-grant funds.
Subscribe to the sports newsletter
Get the day's top sports headlines and breaking news delivered to your inbox by subscribing here.
---