Sports
Sox appoint Varitek captain
Sat., Dec. 25, 2004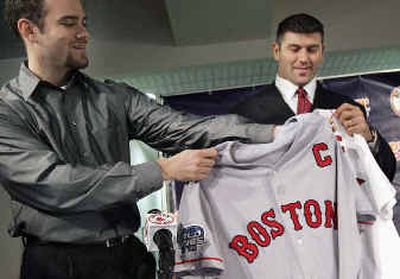 Jason Varitek doesn't expect to hit like Carl Yastrzemski or Jim Rice. When it comes to clubhouse leadership, though, he is every bit their equal.
The Boston Red Sox appointed Varitek their third captain since 1923 after giving their longtime catcher a $40 million, four-year contract. Varitek did not know of the honor until he was presented with home and road jerseys bearing a red "C" on Friday to formalize the leadership role he has taken since joining the team in 1997.
"It's not every day you're lucky enough to sign a player who embodies everything you want your franchise to be," general manager Theo Epstein said. "When you have that player, you don't let him get away."
Rice was the last official Red Sox captain, serving from 1985 until he retired in 1989. "Captain Carl" held the role in 1966 and from 1969-83.
They were batting stars who earned the honor by virtue of their stardom; Varitek is a potent offensive player, but what sets him apart is his handling of the pitching staff and his presence in the clubhouse.
"I'm extremely honored right now. I don't really know what to say," Varitek said. "If I can do half of what they did statistically, I'll be all right."
Other players have been considered captains informally through the years, such as Varitek was until this week.
"We're not asking Jason to change at all by giving him that captaincy," Epstein explained. "It's just a recognition of something everybody knows."
Pitcher Tim Wakefield said he knows Varitek's value despite working almost exclusively with backup catcher Doug Mirabelli.
"He's really the glue that holds the whole team together," Wakefield said.
Varitek originally sought a five-year deal worth $55 million with a no-trade clause that would have guaranteed him the chance to stay in Boston until he was 37. But rather than seek all offers, he told agent Scott Boras to deal with the Red Sox first.
"Jason and (his wife) Karen told me specifically that my job is to sit down and talk with Theo," Boras said.
"I honestly couldn't see him playing in another city," Karen Varitek said. "I just don't think he would fit anywhere else."
Varitek is expected to be the last of the free agents signed by the Red Sox, who have already added Edgar Renteria, David Wells, Matt Clement, Wade Miller, John Halama and Matt Mantei to the team that won the franchise's first World Series championship since 1918.
The Red Sox entered the 2004 season with four major players heading for free agency: Pedro Martinez, Nomar Garciaparra, Derek Lowe and Varitek.
Garciaparra was traded to the Cubs in July, Martinez signed with the Mets this month and the Red Sox didn't pursue Lowe as a free agent. That means they will keep just one of the Big Four, but he's the most important one.
"In our minds, he was the guy that we kind of couldn't live without," Epstein said.
The Red Sox had considered reloading last winter rather than letting the free agents walk and getting nothing in return. But Epstein opted to keep the core together and Boston won its first World Series since 1918.
Varitek hit a career-high .296 with 18 homers and 73 RBIs last season. Since his trade from Seattle in 1997, he has a .271 batting average with 97 homers and 418 RBIs in 832 games.
Varitek will receive a $4 million signing bonus paid over four years and annual salaries of $9 million.
Vazquez speaks out against Yanks
Javier Vazquez said the New York Yankees would be making a mistake if they trade him.
A proposed three-team deal that would have sent the right-hander to Los Angeles, Randy Johnson from Arizona to the Yankees and Shawn Green from the Dodgers to the Diamondbacks collapsed earlier this week when Los Angeles changed its mind.
"I'm disappointed that the Yankees are talking about trading me for having only a bad second half to the season," Vazquez was quoted as saying in editions of La Perla del Sur in Ponce, Puerto Rico.
"I've had four consistent seasons in the major leagues, and for one bad second half it's unfair that they want to trade me," Vazquez said. "I still trust in my abilities, and if the Yankees trade me, they will regret it."
Vazquez, 28, said his preference was to stay with the Yankees. If New York does deal him, he would like to return to the National League.
New York acquired him from Montreal after the 2003 season in a deal that sent Nick Johnson and Juan Rivera to the Expos. Vazquez then signed a $45 million, four-year contract.
"After all this rumors one feels not wanted," said Vazquez, who went 14-9 with a 4.75 ERA. While he made the All-Star team for the first time, he won just one of his last nine regular-season starts.
Yankees general manager Brian Cashman said the Yankees were not trying to trade Vazquez, that they only would consider dealing him to acquire Johnson, a five-time Cy Young Award winner.
Vazquez said he will seek a no-trade clause before signing his next contract.
Spencer signs with Japanese team
Outfielder Shane Spencer signed with Japan's Hanshin Tigers after a seven-year career in the majors in which he played on two championship teams with the Yankees.
The Tigers, of Japan's Central League, announced the move on their Web site. The Tigers also signed Boston Red Sox minor league pitcher Jamie Brown.
Spencer played for the Yankees from 1998-2002, playing a part in World Series titles in 1998 and 1999. He divided the 2003 season between Cleveland and Texas. He spent last season with the New York Mets, finishing with a .281 average, four homers and 26 runs batted in for 74 games. For his career, Spencer hit .262 with 59 homers and 242 RBIs.
Brown went 4-6 with a 4.82 ERA and 92 strikeouts in 23 games this season for Pawtucket, Boston's Triple-A affiliate. The right-hander made four appearances in middle relief for Boston this season.
Local journalism is essential.
Give directly to The Spokesman-Review's Northwest Passages community forums series -- which helps to offset the costs of several reporter and editor positions at the newspaper -- by using the easy options below. Gifts processed in this system are not tax deductible, but are predominately used to help meet the local financial requirements needed to receive national matching-grant funds.
Subscribe to the sports newsletter
Get the day's top sports headlines and breaking news delivered to your inbox by subscribing here.
---