News > Business
Minding his business
Sun., July 18, 2004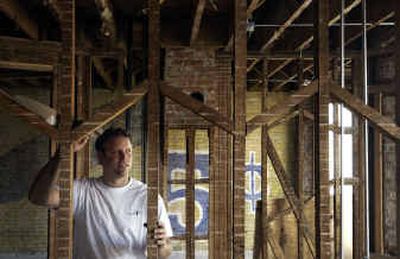 When Rob Brewster was in fifth grade, he stood sadly beside his principal and watched a bulldozer knock down the old Roosevelt Elementary School on the South Hill. He didn't like the new school that replaced it — it lacked the personality and character of that 70-year-old brick building with its creaky floors.
As a child at his family's Spirit Lake cabin, Brewster, the eldest of three, was much more interested in building a little town in the woods than goofing around in the water. He put his younger sisters in charge of the grocery store and the bank, where they printed play money. Brewster, however, ran the make-believe real estate office.
More than two decades later, Brewster really hasn't changed much. Though now, as an adult, the 34-year-old developer has the know-how and vision to save the historic structures he prizes and runs his own company, ConoverBond Development, with real money, and plenty of it.
Since returning to Spokane in 1999, he's built up the multi-faceted company to employ 70 and own more than $45 million worth of real estate in the Inland Northwest, comprising half a million square feet. He's developed restaurants, built a dormitory at Eastern Washington University and is in the process of transforming several historic buildings in downtown Spokane into mixed-use developments that include a hotel, apartments, retail, restaurants and office space.
"Rob came to town and said, 'I'm going to be a developer.' That's pretty rare," said Dave Black, CEO of Tomlinson/Black Real Estate, who's been in the business for 25 years. "Usually you evolve into it. Rob basically came to town and said, 'I'm going to do this,' and he did. I don't know of anything he's failed on."With boyish charm and a down-to-earth manner, Brewster seems comfortable in his own skin. He says hello to everyone and lacks self-consciousness, even when he's running around town in gym shorts. During a recent coffee break at The Rockwood Bakery, longtime Spokane businessman Dave Clack stopped by to chat, as did state Sen. Lisa Brown. He meets his parents for meals every week, named the EWU dormitory after his grandmother and remains close with his two sisters.
Brewster spent 10 years gallivanting around the world after he graduated from Lewis and Clark High School, feeling Spokane didn't interest him enough to keep him here. He went to college in California, spent a year working for U.S. Sen. Patty Murray in Washington, D.C., built homes and schools with an aid organization in Panama, and visited Austria and Costa Rica. But in 1999, Brewster was drawn home by family ties and business opportunities and decided to try to make Spokane into the type of city he'd want to live in, he said.His alma mater brought him back.
The project that launched Brewster in Spokane was the 1999 renovation of the 136,000-square-foot Holley-Mason building at 157 S. Howard. The building had sat vacant for almost 30 years and was rundown with collapsing ceilings and ruin from several fires. Years before, it had housed a hardware warehouse.
Lewis and Clark High School had just passed a bond and was about to embark on a two-year renovation of the historic school, but needed a place for 1,500 students to attend classes in the 1999-2000 and 2000-2001 school years. Spokane School District 81 was thinking of using portables, but capital projects director Ned Hammond had noticed the six-story Holley-Mason, just north of the high school.
Brewster had purchased the $475,000 building through seller financing in January 1998 — essentially borrowing money from the building's owner and paying it back month by month. When his father, Bob Brewster, a Spokane surgeon, heard the school district was interested, he urged his son to move back to Spokane. "You're the only one who will care enough about this project to make it happen," Brewster remembers his father saying.
No banks in town would touch it because they considered it too risky, said Dean Bellamy, now senior vice president of AmericanWest Bank. But when Bellamy met with Brewster, he got caught up in his ideas and vision for the project. The pair — both 29 at the time — spent a year working with the school district to put together a complicated financing package that took advantage of $1 million worth of tax credits reaped by the building's listing on the National Register of Historic Places.
AmericanWest ended up loaning Brewster $5 million, secured in part by the school district's commitment to pay $1.2 million a year in rent for two years. Taking a leap of faith, the contractor, Walker Construction, began work on the building before the financing was totally in place, Brewster said.
"It was an incredible gamble that paid off," said Gary Livingston, then-superintendent of Spokane School District 81. "The financing was complicated, and the risk was great. Here's this young, 30-ish kid with no money and we're going, 'Oh my goodness.' "
However, Livingston said as he began working with Brewster, he was won over.
"He was persuasive. He made a good business case on why this was good for us and good for the community," Livingston said. "At that stage, Rob was just back from college, new in the whole entrepreneurial world, but had a lot of courage and a lot of ideas and no fear. Now he's matured into a very sophisticated entrepreneur."
The Holley-Mason won a state historic preservation award in 2000 and today is almost fully leased by companies such as Inland Northwest Health Services, Dakotah Direct, the Rocket Bakery and GenPrime. Brewster's company offices are on the top floor.
Brewster is endlessly grateful to the people who have taken chances on his projects, like Bellamy, the Walkers, Livingston and Steve Jordan, the president of Eastern Washington University.
"Dr. Livingston really put his job on the line. It was a big deal. If I were to screw up on the thing … it just took faith, and there are people in this community that I just think our community is a better place because of them," Brewster said. "They're optimistic to start with, and they actually do things."
An optimist, born and bred
And for Brewster, his parents top that list. His father, Bob, and mother, Donna, have always supported his goals, Brewster said. Brewster's father co-signed some loans when his son was getting started. His parents loaned him $10,000 for one of his earliest projects, as did each of his sisters, who pooled money left over from college funds when they attended state schools, Brewster said.
Brewster attended Santa Clara University in California, earning a bachelor's degree in political science. Right before his senior year, he started looking for property to buy and found a house on Mission Avenue near Gonzaga University that cost $105,000. With the money he'd borrowed from his family, he took over a Veteran's Administration loan on the home. Next, he refinanced the home and borrowed against it to buy an old warehouse with a friend for $100,000. They fixed it up and sold it two years later for $135,000.
In the mid-1990s, he enrolled in the University of Washington's business school, but dropped out when he read in The Washington Post about two townhouses for sale in Washington, D.C. He moved back there and bought the properties for $200,000 each, using money from the sale of the Spokane warehouse. Again, he borrowed money from the owner to buy the building, then secured a loan for the renovation.
He rebuilt the townhouses and rented them out for a few years. He bought another old townhouse and worked with a London businessman to convert it into 11 condominiums that sold out before they were complete. After that, he was lured back to Spokane for the Holley-Mason project.
Ron Wells, a Spokane developer since 1978 and a historic preservation guru, said Brewster was 20 or 21 when he first started asking Wells about his line of work.
"He clearly had the interest in not only renovation of individual buildings but also in the urban dynamic," Wells said. "I think that's what's important about what I've done. Renovating one building is OK, but unless it fits into an overall urban dynamic and creates some excitement and moves downtown in a positive direction, then it's not necessarily the same thing."
Said Wells, "He understands the scene and what works and doesn't work."
A rare vision
Brewster's appreciation of architecture came from childhood trips to national parks, where he fell in love with grand old lodges at Glacier, Yosemite and Yellowstone. He wanted to duplicate that grandeur, as well as the comfort he saw there.
While in D.C., Brewster had seen a lot of old buildings converted into office space and condominiums. In Cleveland, there were old buildings renovated into apartments. He still travels constantly, snapping pictures of commercial and residential projects he thinks would work in Spokane.
Brewster isn't afraid to create tenants when no companies are interested in leasing space, Black said. That's a trait Brewster shares with Wells, who has started restaurants in his buildings to spark momentum, such as the Steam Plant Grill. Brewster opened The Catacombs underground restaurant in the Montvale Hotel building on the corner of First and Monroe, Kafka Coffee Shop in Cheney and is about to open a new restaurant in Spirit Lake as well.
"He wants to make downtown Spokane a neighborhood again," said Brewster's project manager, Cort Johnson, who also worked on the recent rehabilitations of The Davenport Hotel and Legion Building. "He's trying to plant the seeds of residential."
Brewster pours himself into his work, sleeping only six hours a night and starting his days with 7 a.m. construction meetings. He's a bargain hunter and self-described "Internet hound," constantly surfing eBay, looking for furnishings for his building projects. Rows of lamps, piles of Persian rugs, and stacks of artwork take up space in his office. The back of his black GMC Denali was loaded one day with two fireplace mantels from India that he bought from a Seattle importer.
His company vice president, Chad Hutson, said Brewster once came to him holding out a brochure, solely because he liked one of the words used in the brochure and wanted Hutson to use it somewhere in marketing materials. Flipping through page after page of notes he's taken lately from his boss, Hutson said the staff's challenge is to corral all of Brewster's ideas and translate them into reality."The guy has a vision few other developers have," said AmericanWest's Bellamy. "He sees something before others do and he goes out and makes it happen."Brewster's bookshelves at work and at home are packed with books about architecture, history, computer programming, philosophy and corporate finance. There are books on Kirtland Cutter, books by Wallace Stegner, Tom Brokaw, Donald Trump, Franz Kafka and Friedrich Nietzsche and even the first Harry Potter. Brewster is extremely opinionated and frequently expounds upon topics including the problems with Washington's tax structure, how a lack of diversity is hurting Spokane, and even why the Spokane Indians ballpark should be moved downtown.
"He drives me crazy in that he's always full of ideas," said Mike Edwards, president of the Downtown Spokane Partnership. "He's got an insatiable desire for success. There's always another thing to improve. Every community has a certain way of thinking, and Rob operates a little outside that way of thinking. People take shots at new ideas, but I think he's got a bit of courage that a lot of people don't."
Brewster has political aspirations and said a run for Congress could be in his future within the next decade. As for political party, he's "fiercely independent, because I don't know how you can sit on one side and not recognize there are valid issues on the other side. I really don't think you can be a thoughtful human being and not have some agreement with the other side."
In the meantime, he plans to celebrate the reopening of the 100-year-old Montvale Hotel this fall and the opening of a new restaurant in Spirit Lake later this month. The first tenants have moved into the Havermale Park project, where Brewster is converting several old buildings for use as apartments, office space, restaurants, a comedy club and shops.
"I get so tired of people talking about the things they want to do and, maybe I'm naïve, but why would I waste my time just babbling about something?" Brewster said. "If I'm going to choose to live in a community, then I sure as hell want this to be the best community possible. I don't want to live in a mediocre place. If I can do something that can make it more fun, make it more interesting, make it successful, that's how I see it.
"It's going to take risk-takers. I don't think I'm the only one."
Local journalism is essential.
Give directly to The Spokesman-Review's Northwest Passages community forums series -- which helps to offset the costs of several reporter and editor positions at the newspaper -- by using the easy options below. Gifts processed in this system are not tax deductible, but are predominately used to help meet the local financial requirements needed to receive national matching-grant funds.
Subscribe now to get breaking news alerts in your email inbox
Get breaking news delivered to your inbox as it happens.
---