News > Idaho
Ceremony recognizes area vets
Tue., June 1, 2004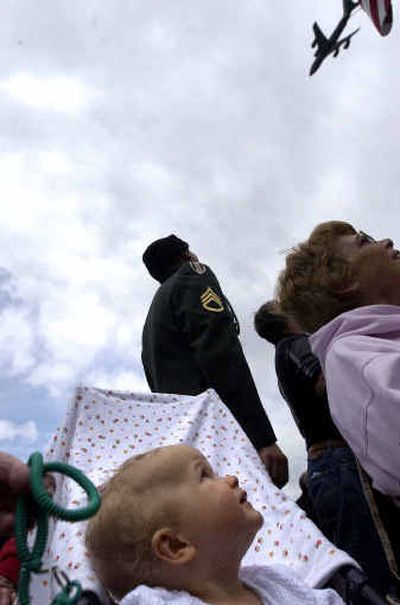 The crowd stood silent for nearly an hour Monday as the name of every veteran buried in Coeur d'Alene Memorial Gardens was read aloud.
A few raindrops fell, and some of the estimated 500 spectators wandered back to their cars. But most stayed.
"In my way of thinking, 50 minutes out of my day is not a sacrifice," said Hayden resident Alice Beek. "I know what my husband went through – the cold weather, the bombs. I was happy to sit 50 minutes in his memory."
Beek's husband, a World War II veteran, died two years ago.
The afternoon memorial service was one of four in Coeur d'Alene on Monday. It was hosted by the Hayden Lake Veterans of Foreign Wars Post 9831 and the Marine Corps League Pappy Boyington Detachment 966.
The event also featured a low-elevation flyover by a KC-135 refueling jet from Fairchild Air Force Base. The plane was flown by Capt. Craig Gural and co-piloted by 1st Lt. Angela Hauck.
Before the hundreds of names were read, Vietnam veteran Dusty Rhoads offered the crowd a larger perspective. Rhoads listed the casualty figures for every war since the Revolution. By pausing to remember fallen veterans, Rhoads said, "we are reminded of the gift we are given."
Wrinkled, graying veterans and their spouses made up much of the crowd. But a contingent of uniformed North Idaho Young Marines also was on hand. The group's leader, Staff Sgt. Joshua McKay, said he recently had one of his most successful recruiting drives for the group, which promotes character, leadership and a drug-free lifestyle.
One of McKay's newer charges is a young man whose cousin was killed recently by a roadside bomb in Iraq. "He is bound and determined to enlist," McKay said.
One of the program's recent graduates, Russell Stillman of Coeurd'Alene, is at Camp Lejeune, N.C., awaiting deployment to Iraq in September. Marine Lance Cpl. Stillman's mother, Marie, attended the Memorial Day ceremony. She said she fully supports her only son's decision to enlist in a branch of the military that often is the first to fight.
"He's in God's hands," she said.
Stillman said her son is deeply patriotic. "When 9-11 happened, he said, 'Mom, if I could go now, I would,' " she said. "He's not in the military for the good benefits. There's a flag to defend and a country to defend. That's why he's in the Marines."
Many of the aging veterans at the ceremony expressed regret at not being able to pick up a weapon and return to battle.
"I would love to go over there with them," said Paul Kelsey, who was awarded two Purple Hearts for his service with the Marines in Korea.
Staff Sgt. Chad Bennett is finishing an active-duty stint in the U.S. Army. He returned to his Rathdrum home nearly two weeks ago and attended Monday's ceremony in full uniform.
"It feels good to be home," he said.
Bennett served as a medic at two stateside bases. He served in the Middle East during the first Persian Gulf War, but his unit wasn't sent this time.
"I wanted to have a sense of completion," he said. "If they said, 'Go tomorrow,' I'd go tomorrow."
Local journalism is essential.
Give directly to The Spokesman-Review's Northwest Passages community forums series -- which helps to offset the costs of several reporter and editor positions at the newspaper -- by using the easy options below. Gifts processed in this system are not tax deductible, but are predominately used to help meet the local financial requirements needed to receive national matching-grant funds.
Subscribe now to get breaking news alerts in your email inbox
Get breaking news delivered to your inbox as it happens.
---