Sports
Smarty Jones getting some quality Servis from veteran trainer
Tue., June 1, 2004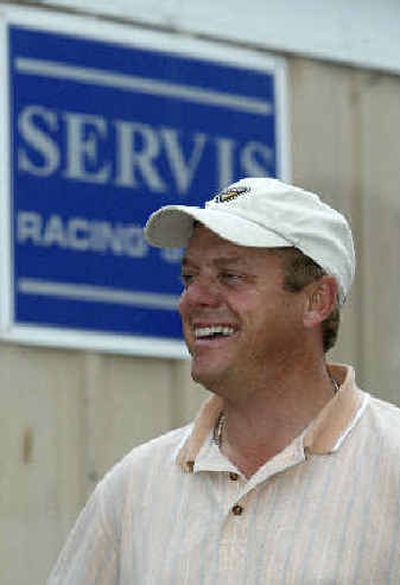 BENSALEM, Pa. — He was a grieving horse owner ready to quit the business. The death of his longtime friend and trainer had persuaded Roy Chapman to clear the barn and enjoy retirement.
There was one colt, though, that showed promise, one last chance at a legacy.
So in 2002, Chapman called Mark Reid, a friend and former trainer. He told Reid he may have a special horse and needed someone who could finally get him to — not win, just get him to — the Kentucky Derby.
Reid said he had the man. His name was John Servis. The horse was Smarty Jones. Together they are one win from racing immortality.
Immortality? The thought never crossed Servis' mind when he was 14 and slinging slop on a breeding farm in Charles Town, W.Va. Servis yanked weeds, cleaned stalls and emptied manure wagons for $40 a week. The money didn't matter. Horses were what men in his family knew.
His father, Joe, was a jockey and manager of the Jockey's Guild for more than a decade. His uncle, Jack, was a longtime jockey agent at Philadelphia Park.
Joe Servis thought his son would get one whiff of those chores and do something else. Instead, John came back the next summer and then on the weekends and after school. John Servis had found his calling.
After high school, Servis spent a semester at Shepherd College in Shepherdstown, W.Va., but bought a horse from a New Jersey owner. Servis spent $1,000 and agreed to give the owner an additional $1,500 after its first win. The horse, named Two Fisted, won its first two races.
"That was the end of college," Servis said.
There were stints in Maryland and Florida before Servis found his way in 1980 to Philadelphia Park in Bensalem. Servis was a jockey agent when he hooked up with Reid.
Reid hired him as an assistant trainer. He knew Servis had not only skills but charisma. It would serve the assistant well nearly 25 years later as the daily face of this Triple Crown story.
Servis, 45, has regaled the public with Smarty Jones stories. How did Smarty get hurt? Time and again, Servis tells the story with enthusiasm. The trainer wore a Flyers jersey at a public workout. He signs autographs and connects as a man of the people with Philadelphia's notoriously fickle fans.
In 1981 at Atlantic City, N.J., Servis struck up a friendship with a jockey named Stewart Elliott. The two shared a love of horses, hunting and fishing. Elliott rode for Servis for years. They were a couple of journeyman who hardly seemed destined for the big-time.
That changed when Smarty Jones' original trainer, Bobby Camac, was murdered in 2001. Roy and Patricia Chapman, who made their fortune through car dealerships, wanted out of the business and turned to Reid to help them with that one frisky, speedy colt.
Reid soon called Servis, and the trainer reached out to Elliott. The chemistry has been perfect.
"He trusts my judgment because you never know what's going to happen," Elliott said. "For two friends in the same business to come up with a horse that can even win the Kentucky Derby, that's pretty special in itself."
Servis sat down with the Chapmans this year and told them about Elliott's alcohol history. Servis knew if the horse was this good, stories of Elliott's past would surface. Neither wanted the Chapmans to be surprised.
"I credit John for that," Elliott said.
The trainer drew up an unusual Kentucky Derby campaign that went through Arkansas. Now, with victories in the Derby and Preakness, the undefeated colt will try to win the Belmont Stakes on Saturday and become the first Triple Crown champion since Affirmed in 1978.
"John is one of the best trainers, if not the best trainer, to get a horse conditioned I've ever known," Roy Chapman said. "He's very patient with the horse."
Even Reid questioned the tactics.
"It was kind of an all or nothing thing," Reid said. "He just had supreme confidence in his horse. … It's not a route I would have taken, but I would have been wrong."
About five years ago, Servis was beginning to have doubts. He had settled in Bensalem with his wife and two kids, but his clients had horses in New York, Delaware, New Orleans and Florida. Some days he commuted for hours and came home about 8 p.m. He thought his wonder horse might never come.
His wife told him to stick with it. Sherry Servis is now her husband's public relations liaison.
John Servis stopped the grueling commutes, restricting his training to Philadelphia Park. Better horses soon came his way.
Now, as he's pulled in so many directions, Servis cuts off media interviews by 1 p.m. He wants to be home when sons Blane, 16, and Tyler, 13, get back from school. For years, Servis coached youth football and was the defensive coordinator for the Bucks County Bears.
"I've loved working with the kids. It's a stress release," Servis said. "The only two times I get away is that and if I go hunting."
Servis has thought about other opportunities and leaving the bush leagues of Philly Park, but he just can't uproot his family.
"This is home for me," he said. "Everybody's happy here."
Money is no issue. By winning the Belmont, Smarty Jones would become North America's richest horse with more than $13 million in earnings. Whoever empties Smarty Jones' manure wagons will make considerably more than $40 a week.
On Servis' cell phone is a picture of his wife, his oldest son and his dog, Cassius, named for Muhammad Ali. This year, Team Smarty has been like Ali in his prime. One more big fight awaits.
"Hard to believe, huh?" Servis said. "Who was I just a few months ago? Now look at this."
Local journalism is essential.
Give directly to The Spokesman-Review's Northwest Passages community forums series -- which helps to offset the costs of several reporter and editor positions at the newspaper -- by using the easy options below. Gifts processed in this system are not tax deductible, but are predominately used to help meet the local financial requirements needed to receive national matching-grant funds.
Subscribe to the sports newsletter
Get the day's top sports headlines and breaking news delivered to your inbox by subscribing here.
---