News > Business
'Rabbit transactions' fueled Met's demise
Wed., June 9, 2004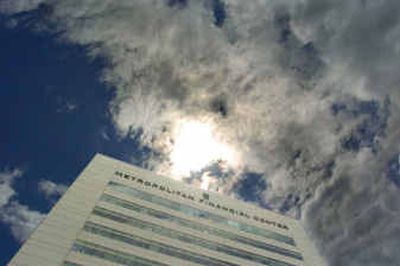 Investors burned by unscrupulous sales practices and fraudulent financial reports at Metropolitan Mortgage & Securities Inc. may find payback by reaching into the deep pockets of prestigious accounting firms and wealthy former executives, according to a court-ordered investigation.
Special examiner Samuel Maizel sharply criticized Ernst & Young LLP for auditing practices that failed to reveal a doomed company.
The report, released Tuesday, also had harsh words for C. Paul Sandifur Jr., the Spokane power-broker who steered the $2 billion company inherited from his father into bankruptcy.
Maizel accused Sandifur of running a "virtual fiefdom" where he directed his inner circle of business advisers to concoct financial schemes to appear profitable even as the business collapsed.
Attempts to interview Sandifur failed Tuesday.
Maizel said in the report that Sandifur declined to be interviewed by the examiner's team. The former CEO threatened to invoke his Fifth Amendment right against self-incrimination had Maizel issued a subpoena.
Tens of thousands of investors, mostly senior citizens living in the Northwest, stand to lose more than a half-billion dollars invested with Metropolitan.
It's among the biggest financial disasters in Spokane history and has some of the hallmarks of recent accounting scandals within Enron Corp. and Adelphia Communications that undermined investor confidence in the financial markets.
Maizel's report provided examples of how Metropolitan, unable to earn a profit on its vast portfolio of investments and loans, fell into a pattern of making 11th-hour business deals designed to turn losses into profits at the end of year.
Sandifur once called these year-end tricks "rabbit transactions," because they were akin to pulling a rabbit out a hat, the report says. He later banned the nickname as inappropriate.
The report suggests that substantial dividends Sandifur paid to himself while the company teetered "may be recoverable as fraudulent transfers or illegal dividends."
Maizel and his team of accountants and other professionals spent 45 days digesting thousands of files, interviewing dozens of former and current Metropolitan employees and deposing key Metropolitan officials. The examiner's team could be paid up to about $900,000 for the work.
The effort culminated Tuesday in a 260-page report that includes thousands of pages of exhibits that reveal Metropolitan strategies average investors were never told.
Among them:
" That Metropolitan cherry-picked real estate appraisals that allowed it to inflate loan and property values.
" That the firm used inter-company transactions to hide losses and prevent certain loans from going into default.
" And that Metropolitan was essentially a "deal house" where employees were paid extra to close as many transactions as possible, irrespective of quality.
As an example of these suspect year-end dealings, Maizel highlighted a timber/real estate deal in Hawaii.
Called the Koa Timber Property, two Metropolitan affiliates loaned $9.33 million to developers who wanted to log rare Koa wood.
Separately, Metropolitan acquired timber harvesting rights on the land for $2.5 million.
Two months later, just before the end of the year, Metropolitan sold its timber harvesting rights to one of the affiliates for $13.1 million.
The result: The year-end deal gave Metropolitan a $10.7 million profit on the transaction.
Several government agencies are investigating Metropolitan, including the U.S. Attorney's Office in Portland which has convened a federal grand jury to probe the company's stock and bond sales.
Other agencies looking into Metropolitan include the Federal Bureau of Investigation, the U.S. Securities and Exchange Commission, and the Washington Attorney General's Office.
Mike Shaffer, a class-action attorney representing some investors, said Maizel's report raised important questions about Ernst & Young, the Big Four accounting firm that quit as Metropolitan's independent auditor in January.
"Ernst & Young had a very special responsibility to bondholders in this case," he said. "Metropolitan was the kind of company where the normal checks and balances of the corporate world were absent.
"Unfortunately, (Ernst & Young) placed a greater importance on the fees paid by Metropolitan than in protecting investors."
Officials at Ernst & Young were unavailable for comment.
The firm is now a target of an unfolding legal strategy to wring money out of any firm or individual who may be responsible for the financial collapse, according to attorneys representing the company and creditors.
Ernst & Young became Metropolitan's auditor in 2001. It quit in January after determining that executives made "material misstatements" about the company's financial condition. Tom Turner, president of Metropolitan's Idaho sister company, Summit Securities Inc., was fired shortly afterward.
The auditors told Maizel they had concerns about Sandifur and Michael Agostinelli, Metropolitan's general counsel, who was fired in April.
Two lawyers involved with Metropolitan's bankruptcy say bondholders could recover 15 cents to 20 cents on the dollar if the company is liquidated.
Bill Romney, the chief restructuring officer directing Metropolitan through bankruptcy, found the report an accurate portrayal of what went wrong.
"It seems consistent with what I've seen," he said. Metropolitan hired Romney this year to preserve what was left of its crumbling business.
The firm's three insurance subsidiaries have been taken over by state regulators in Washington, Idaho and Arizona. About 87 percent of the assets of Metropolitan and Summit are held by the tightly regulated insurance companies.
Jim Odiorne, deputy insurance commissioner in Washington, said the largest of these companies, Western United Life Assurance Co., could be rehabilitated within a year.
Former Summit president Turner cooperated with Maizel. Turner answered questions for 14 hours without a lawyer present, the examiner said.
"Whatever people say about the guy, he's in there answering questions," Maizel said. "He was very forthright … and his testimony was helpful."
Local journalism is essential.
Give directly to The Spokesman-Review's Northwest Passages community forums series -- which helps to offset the costs of several reporter and editor positions at the newspaper -- by using the easy options below. Gifts processed in this system are not tax deductible, but are predominately used to help meet the local financial requirements needed to receive national matching-grant funds.
Subscribe now to get breaking news alerts in your email inbox
Get breaking news delivered to your inbox as it happens.
---