News > Voices
Art of communication
Thu., June 10, 2004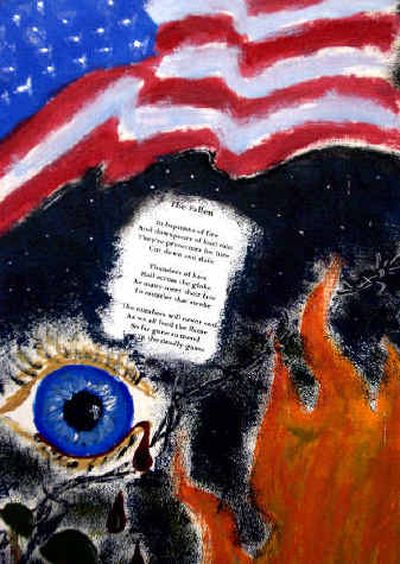 Sophomore Nicole Ridl took a poetry class at Central Valley High School because she wanted to earn credit for the verse she'd been writing in notebooks and journals for years.
Many of her classmates also joined the class because they enjoy the written word. Senior Rogers Stack explained that writing is a relaxing, emotional release.
But when educational assistant Jennifer Larue came up with a plan for the class to illustrate their poems with paintings, many were skeptical.
"At first I thought, 'I don't know how I'm going to do this,' " Stack said. "It was a lot different. I've never been a good artist."
Larue owned a gallery in the downtown Liberty Building in the mid-1990s. There, she displayed and sold local artists' work and provided materials and space for teenagers to work on their own art.
"Art is an ancient form of communication," she said. "I always tell kids that if they think they can't do art it's because they haven't discovered yet what they want to communicate."
Following that logic, the students in Chrissy Riddle's poetry classes should all be as accomplished as Michelangelo. They have been writing poetry in class every day for months.
Senior Vong Xiong was pleasantly surprised with his painting, which depicted an idyllic pond in the middle of a forest scene.
"I watched a lot of Bob Ross painting shows on TV," he said.
The students used acrylic on wood boards that Larue collected from local businesses.
Even though Xiong's canvas was a quiet and beautiful scene, his poem, like many of his classmates' work, tackled tough issues.
"I wanted to write about the ripple effect," he said. The poem "is about racism and discrimination. People pass it on and it keeps getting wider and that's why we have so many problems in this world."
His classmate Stack painted a barbed wire-covered city as a tornado whipped in the distance.
Stack's short poem begins with arresting images: "Lightning can strike/ Like a hateful word/ Out of someone's mouth/ Fire can burn on/ Like a never ending war/ Between two countries/A tornado can destroy/ like a nuclear weapon/ on Hiroshima and Nagasaki."
Stack said he was moved by photographs of World War II he saw on the Internet. He added that he has been wrestling with the thought of people who die during wartime.
"The world kind of destroys itself on its own, but we with our wars help it along," he said. "I was thinking of how natural disasters and human disasters are eventually going to destroy the world."
Classmate Kenji Honsey wrote about the pain of everyday existence.
Ridl's poem was about vampires. She said she intended the creature to stand as a metaphor for those who are at the margins of society.
The poem is about "people who are alone and suffering and have nowhere else to go," she said.
Riddle said addressing the power of the students' works has been one of the challenges of leading the classes.
Although she teaches the structure and rhyme schemes of sonnets and villanelles, the students usually turn to the world around them when they put pencil to paper.
One student wrote a poem about suicide. Riddle took a copy down to the school counselor to ensure the student got help.
"We have to be careful," she said.
School officials confirmed that another student was expelled after reading a poem in which she threatened to shoot classmates.
"Some of (the poems) are really deep," Riddle said. "But there are kids who tell me that this is the best class they've ever taken because it allows them to be themselves."
Conrad Bagley, a former counselor at Sacred Heart Medical Center's Psychiatric Center for Children and Adolescents who now teaches parenting classes, said the dark nature of the students' poetry is not unusual. Rather, it is a healthy, crucial form of expression.
"This is one of the most tense emotional times of a person's life," he said. "Your emotions are dominant and your intellect is just building."
Classes like Riddle's provide the struggling teens a nonjudgmental, noncompetitive outlet for their emotions, he said.
"The most important thing that happens is they find out that they aren't alone."
Local journalism is essential.
Give directly to The Spokesman-Review's Northwest Passages community forums series -- which helps to offset the costs of several reporter and editor positions at the newspaper -- by using the easy options below. Gifts processed in this system are not tax deductible, but are predominately used to help meet the local financial requirements needed to receive national matching-grant funds.
Subscribe now to get breaking news alerts in your email inbox
Get breaking news delivered to your inbox as it happens.
---