News > Idaho
Hugh Olin Smith was a lifelong student
Sat., June 19, 2004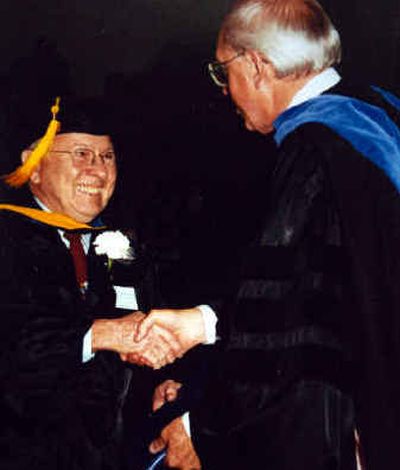 A resident of the Coeur d'Alene area since 1974, Hugh Olin Smith lived most of his life in North Idaho as a retiree.
Yet, in his retirement, Smith epitomized the description of a lifelong student. After a full career in the shipping industry, Smith became a North Idaho College student in his 60s. He died in February at the age of 87.
He was the picture of health, according to his son Bob Smith, and daughter, Janet Bunke, until he was diagnosed with colon cancer. He hadn't been to a doctor since 1937, until the disease crept in. Hugh was still hiking, kick-boxing and going to World Gym with Bob until July 2003. His wife of 59 years, Toni, died May 14 at 79, of "a broken heart," according to Janet.
"Dad was absolutely convinced they were soulmates," Janet said. "He was crazy about her."
The couple met at the Western Union office where Toni worked in Hartford, Conn. Hugh joined the Navy because he didn't want to work on the family farm. He served four years in the Navy in the engineering department, honorably discharged in 1941. He attended the U.S. Maritime School of Marine Engineering, and the Calhoon School of Marine Engineering.
He worked in a shipyard as a machinist after the Navy, but he didn't like that. He was going to go back into the Navy but couldn't get credit for ratings he'd earned on the battleship USS Arkansas or the destroyer USS Rowan, and he didn't want to start over. So, he volunteered for the Merchant Marine.
"Everyone thought he was nuts," Bob said. "They had the highest U-boat sinkings in the beginning of the war. The Merchant Marine had the biggest losses in WWII."
The merchant marine ships delivered all the supplies for the war, so were closely watched. Hugh spent most of WWII in the North Atlantic. He was chief engineer for 20 years with Keystone Shipping Co. of Philadelphia and National Bulk Carriers Inc. of New York City. He retired in 1978.
In the meantime, Toni bought 20 acres from a magazine site-unseen in Republic, Wash., from a group called Re-forestation. Finding it to be too remote, the Smiths traded it for 20 acres off Burma Road near Lake Coeur d'Alene's Turner Bay.
"Just like you see in the back of an outdoor magazine, like where they'll have an ad, buy 20 acres in Montana," Bob said, "it was one of those things."
They pitched a tent first, eventually building a home. They lived there from 1975 to 1985.
They moved to Coeur d'Alene and managed an apartment complex for a while. But that wasn't enough for Hugh.
"He always wanted to go to college," Bob said. "The war interrupted that, he got married, raised a family … so when he retired he wanted to go back, but first he had to get his GED. He just wanted to go to college. He loved to learn stuff. He was very highly self-educated."
He was 66 when he went back to school, to get the education that he had to put on hold, due to the war and family. North Idaho College Political Science instructor Tony Stewart met the Smiths at a Popcorn Forum presentation about the Kennedy assassinations. Shortly after, Hugh Smith became a student himself. Tony said that Hugh had a second career at North Idaho College as a volunteer. He was very active with the NIC alumni association after his graduation in 1985, when he received his associate's degree in political science.
He also portrayed Teddy Roosevelt in chautauqua performances at the Popcorn Forum, his favorite character to play. He would also portray John C. Calhoun, which was difficult for him because he had philosophical differences with Calhoun.
He served on the Associated Students of North Idaho College board in 1984, his sophomore year. Tony recalls Hugh was excited about having a fund-raiser on campus to raise money for the poverty stricken residents of Ethiopia. He was so optimistic that they would raise $4,000, assuming every student would contribute. He didn't realize that most college students carry very little cash. They still raised an impressive $900, which they gave to the Catholic Charities.
Hugh went on to Lewis-Clark State College, attending classes in Coeur d'Alene on the NIC campus as is still done now, and graduating with his B.A. in business in 1991 at the age of 75, according to Priscilla Portnier of the NIC alumni association. He was a director of the Alumni Association Board and Alumnus of the Year in 2000.
This year, a scholarship at NIC has been founded in his name. The first recipient, Joni Connelly, is also a nontraditional student in the nursing program. She will receive one semester's tuition in his honor. Priscilla said Joni called the alumni office and wanted to know everything she could learn about Hugh. She said Joni is the type of person Hugh would have approved of as recipient because of her nontraditional status and because she is so caring about people. Joni is interested in becoming a Hospice nurse, an organization close to Hugh and Toni's hearts.
Seventeen people started Hospice of North Idaho, Stewart and the Smiths among them. Toni and Hugh set up the first Hospice thrift store, in Post Falls. Now there is one in Coeur d'Alene as well.
"My real fondness for them is that they were such good volunteers," Tony Stewart said. "Hugh was a quiet man, but very focused."
Stewart said that Toni ran the thrift store for a long time. He said that Hugh was gifted in carpentry, and did a lot of work getting shelves up for the Hospice store.
"Coincidentally, as it turned out, Dad was on Hospice care," Bob said. "They were fantastic."
Hugh and Toni were also very active in the Republican Central committee. "They worked so hard at volunteer work of all kinds," said Ruthie Johnson, state committee woman for the GOP from Kootenai County and a delegate to the Republican convention in New York City in August. "They were really hard-working people; they'd put in eight-hour shifts working on campaigns."
Hugh was also active in Toastmasters and the Red Cross, and enjoyed participating in Civil War re-enactments.
Ruthie said that Toni worked really hard raising the kids while Hugh was at sea as a merchant marine. She said that when they moved to Idaho, they become very involved in the community.
"Toni was such a generous person," Ruthie said. "You learned not to compliment anything she had because it would be yours!"
Toni loved to sing opera and '50s and '60s foreign folk music. She performed in her younger days in Pennsylvania and Delaware under the stage name Dena Mara. Janet said her dad loved to sing classic love songs. "It Had to be You" was Hugh and Toni's song.
Janet said her mother also loved to read about various religions and attend services as diverse as Baha'i, Unitarian and Buddhist. Toni was baptized Catholic, and Hugh was Baptist.
"She was always searching," Janet said.
Also new this year is the Hugh Smith Volunteer Tutor of the Year award, established for the work he did tutoring for Adult Basic Education.
In a poignant letter he wrote to the Alumni Association before his death, he wrote, "Words cannot express the gratitude and thankfulness that I feel to you for the great honor that you have bestowed upon me by naming a scholarship in my behalf. I can think of nothing that would be more pleasing or humbling. Everything I have done for the college and the association is a partial repayment for what they did for me. I do not think that I am owed anything by the college or Alumni Association. What you have done for me is a bonus, and I thank you from the bottom of my heart."
Local journalism is essential.
Give directly to The Spokesman-Review's Northwest Passages community forums series -- which helps to offset the costs of several reporter and editor positions at the newspaper -- by using the easy options below. Gifts processed in this system are not tax deductible, but are predominately used to help meet the local financial requirements needed to receive national matching-grant funds.
Subscribe now to get breaking news alerts in your email inbox
Get breaking news delivered to your inbox as it happens.
---