News > Idaho
Volunteers lend a hand
Mon., June 28, 2004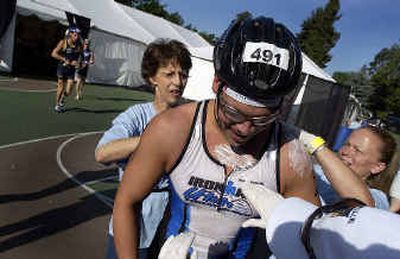 Slathering athletes with sunscreen is a messy job, but someone's got to do it.
As an Ironman volunteer, I was determined to do my duty, arriving half an hour before my afternoon shift was to begin. Saturday night's rain was long gone, and there was plenty of sun and more than enough heat. I put on little latex gloves, which were so hot that several of us disposed of them and went after the athletes barehanded.
We were stationed outside of the men's and women's changing tents, so as they raced out of the tents, we were there to offer our services. There were so many on the volunteer team that when it was slow, we were able to gang up on an athlete to get them on their way into the third phase of the grueling triathlon, the 26.2 mile run. It resembled a pit stop in a car race.
Once I established a rhythm, I got quite fast. Some of the athletes were very focused and just wanted to get on their way, where others were quite humorous and very impressed with our teamwork.
Troy Nebeker, of Redmond, Wash., took the time to say, "You ladies have a wonderful day!" before heading off into the run. I should mention that the sunscreen team was primarily women, although there were at least two men.
As I became more efficient, I could identify who was going to want sunscreen. When fair-skinned athletes would emerge from the tent, it was a given they would want sunscreen. I learned quickly they usually wanted their shoulders and the back of their neck done. But several of the guys would stand with their arms out and say, "hit me," which meant the full treatment.
The women athletes were more specific about where they wanted the sunscreen. Mary Lou Lowrie, a fair-skinned woman from Gloucester, Maine, entrusted me to do her face and nose, and was most gracious. Then it dawned on me that their noses probably fry, so I started putting a little bit on everybody's nose if they would let me.
The legs on these athletes are amazing. Most of the men shave their legs to increase their speed. This also made the sunscreen application on the legs go a lot better.
My shift was to last until 5:30 p.m., but by 3 p.m. the unthinkable happened. We ran out of sunscreen and were told there would be no more. We pounded the last drops out of the bottles, and told the athletes that there would be sunscreen at the aid stations.
I stayed awhile longer, cheering on these champions, before I gave in to the heat and sun. I told the sunscreen team leader, Bonnie Marek, to count me in for next year. It was inspiring.
Local journalism is essential.
Give directly to The Spokesman-Review's Northwest Passages community forums series -- which helps to offset the costs of several reporter and editor positions at the newspaper -- by using the easy options below. Gifts processed in this system are not tax deductible, but are predominately used to help meet the local financial requirements needed to receive national matching-grant funds.
Subscribe now to get breaking news alerts in your email inbox
Get breaking news delivered to your inbox as it happens.
---