Sports
Briefly
Sat., May 8, 2004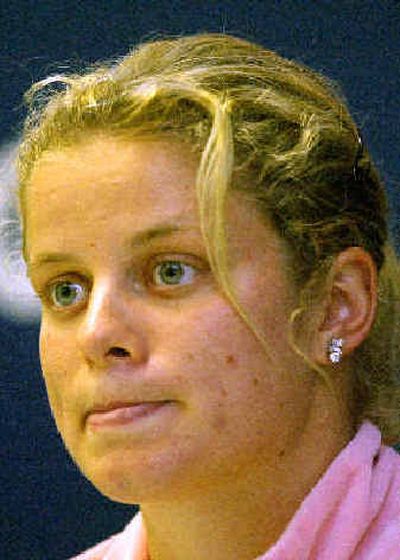 Coach: Clijsters needs five weeks off; French Open in doubt
Kim Clijsters needs to take five weeks off with a left wrist injury, her coach told a Belgian radio station Friday.
That would seem to suggest she'll miss the season's second grand slam, the French Open.
"The doctor has told her to rest," Marc Dehous said in an interview with VRT radio. "It is yet another setback."
Clijsters was the runner-up in 2001 and 2003 at Roland Garros, where play starts May 24. The French Tennis Federation said it was unaware whether Clijsters is pulling out.
The pain in her wrist flared up after she played her first tour match in six weeks Wednesday, struggling past qualifier Marta Marrero 6-3, 2-6, 6-4 in the German Open's second round at Berlin.
Clijsters pulled out of that clay-court event Thursday, saying: "I hope I can play the French, I don't know. It's a 50-50 chance. It's hard to answer that right now."
Clijsters' wrist has been in a brace for over a month, and the injury has proved more problematic than expected. She resumed playing at the Fed Cup two weeks ago, leading Belgium past Croatia in the first round, but complained she still felt pain.
She hoped to be back in top form for the French Open.
• In Rome, James Blake slammed into the net post during practice and will be sidelined two to five weeks with head and spine injuries.
The American was hurt chasing a drop shot Thursday, ATP spokesman director Nicola Arzani said.
Blake, who has played for the U.S. Davis Cup team, was expected to be released from the hospital in two to three days.
The 43rd-ranked Blake pulled out of next week's Hamburg Masters and could miss the French Open.
Blake lost to Jiri Novak on Tuesday in the first round of the Italian Open. He stayed in town to practice and met with the pope Wednesday.
Hockey
Regina parts company with Lowes
Bob Lowes is no longer the head coach of the Regina Pats.
The Pats announced that Lowes and the Western Hockey League club agreed to part company at the conclusion of Lowes' contract, which expires July 31.
During his three seasons in Regina, Lowes guided the Pats to a regular-season record of 89-85-26-17. The Pats reached the playoffs in each of those three years, but lost in the first round.
Lowes, a former captain of the team in 1983-84, has twice won the Canadian Hockey League's Coach of the Year award, most recently with the Pats in 2001-02.
• Former U.S. Olympic captain Lou Nanne and the late Mike Buckna were inducted into the International Ice Hockey Federation's Hall of Fame on Thursday.
Buckna, who died in 1996, helped turn Czechoslovakia into a global hockey power in the 1930s.
Nanne was born in Ontario and became a U.S. citizen. He was an All-American at Minnesota from 1959-63. After captaining the U.S. team at the 1968 Winter Olympics, Nanne joined the Minnesota North Stars, totaling 72 goals and 167 assists in 11 seasons.
Nanne also led the U.S. national team in 1975 and 1977. He was appointed general manager of the U.S. squads in the 1981, 1984 and 1987 Canada Cups and the 1994 world championship. He was enshrined in the U.S. Hockey Hall of Fame in 1998.
IIHF said it was recognizing Buckna, along with Miroslav Subrt of the Czech Republic and Ladislav Horsky of Slovakia. Czechoslovakia split into the two countries in 1993.
In all, 12 members were inducted, including four in the builder's category (Buckna, Horsky, Japan's Tsutomu Kawabuchi and Subrt), six in the player's category (Germany's Rudi Ball, Vitaly Davydov of Russia, Nanne, Sweden's Ronald Pettersson, Nikolai Sologubov of Russia and Czech Frantisek Tikal) and two in the referee category (Ove Dahlberg and Yuri Karandin).
Volleyball
Long Beach State, BYU advance
Top-seeded Brigham Young and conference foe Long Beach State advanced to the NCAA men's volleyball championship Thursday night at Honolulu.
BYU (28-4) won a rematch of last year's title match, beating defending champion Lewis 30-21, 30-28, 30-21. In the first semifinal, second-seeded Long Beach State (28-6) defeated No. 3 Penn State 30-26, 30-26, 30-26.
BYU will play in its fourth championship in five years today. The Cougars won NCAA titles in 1999 and 2001.
Long Beach State is making its sixth Final Four appearance and first since 1999.
Sports people
An international arrest warrant was issued for the third-place finisher in the 2002 Tour de France on suspicion he imported banned substances. The warrant for Lithuanian rider Raimondas Rumsas was issued by Franck Guesdon, an investigating judge, lawyers said. There was a similar warrant for Krysztof Fisek, a doctor suspected of providing the cyclist with the substances. … All-American Ryan Gomes made himself eligible for the NBA draft, but has not hired an agent and hasn't ruled out returning to Providence University for his senior season.
Local journalism is essential.
Give directly to The Spokesman-Review's Northwest Passages community forums series -- which helps to offset the costs of several reporter and editor positions at the newspaper -- by using the easy options below. Gifts processed in this system are not tax deductible, but are predominately used to help meet the local financial requirements needed to receive national matching-grant funds.
Subscribe to the sports newsletter
Get the day's top sports headlines and breaking news delivered to your inbox by subscribing here.
---