Sports
A wacky way to get started
Sun., May 9, 2004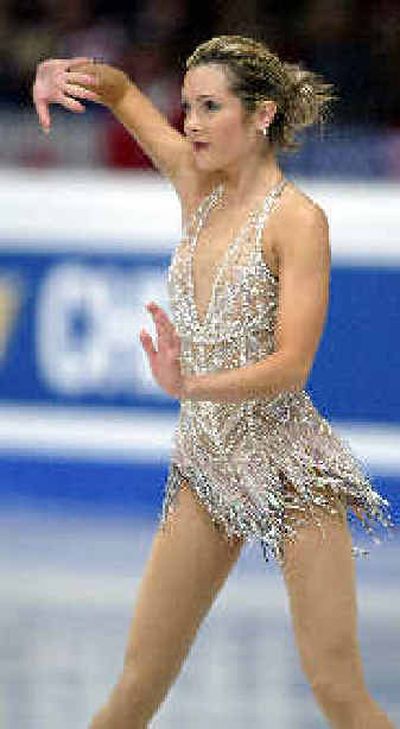 PORTLAND, Ore. — A little more than a decade ago, Jennifer Kirk was a 9-year-old wannabe figure skater getting fitted for her first pair of skates when someone ran into the Boston-area shop with horrible news.
"I was from New England, so I knew Nancy Kerrigan and somebody was going: 'Nancy Kerrigan's been shot!' And I thought, 'A skater's been shot? What's going on?' "
Kerrigan, New England's comely princess of the ice, wasn't shot, but whacked in the knee with a baton at the 1994 national championships in Detroit.
"I remember sitting in the shop, waiting for my skates to get done and watching the TV, then learning all about this Tonya lady. I got so into skating because it was on TV, and I remember doing school reports on it and watching the news every night," Kirk said. "I wanted to know every thing about it."
Kirk, now 19, won the bronze medal earlier this year at the national championships in Atlanta. She looks to better that finish in January 2005 when the nationals come to Portland (Spokane is host in 2007) — which Kirk knows as that Tonya lady's backyard.
She means, of course, Tonya Harding, a Portland native and the only woman to ever land a triple axle in competition, who has been banned for life from amateur competition as a result of the so-called whack heard 'round the world.
The assault was later connected to Harding's ex-husband, Jeff Gillooly. Harding denied having advance knowledge of the plot but admitted helping with a botched cover-up and was convicted of hindering prosecution.
Harding — now a professional boxer — was raised in the Portland area and lives close by, in Vancouver, Wash.
Kirk, a slight former ballerina, is similar to Harding only in that she's also a talented athlete. She is one of the few top Americans who include a triple-triple combination in competition.
"I think it is very important to continually step up the technical part of skating. You see the men do all these quads, and the women were just kind of in a slump — we haven't pushed it to the top," she said. "But I think at the same time when you push that technical envelope you have to be able to incorporate the artistry that you see in a Sasha Cohen or a Michelle Kwan because they are at the top of the world right now and there's a reason for that."
In January in Atlanta, Kirk took third behind Cohen and Kwan. All three are expected to compete in Portland for one of the highest-profile sporting events the city has ever hosted.
The national championships have come to the Rose City before, back in 1978. But that was before the Tonya and Nancy saga raised the sport's profile.
The event, held Jan. 9-16, is expected to draw 125,000 spectators to the Rose Garden Arena and adjacent Memorial Coliseum. In addition to Kwan, Cohen and Kirk, the weeklong event includes men's, pairs and ice dance championships.
Managing director Mike Rosenberg says about 2,000 all-event tickets have been sold. Individual event tickets will go on sale this fall.
The economic impact on Portland and surrounding communities is expected to be $30 million, not bad for one of the rainiest months of the year, Rosenberg said. "We're bringing lots of people to Portland in January – the visitors' association couldn't be happier," he said.
As for the attention that will inevitably fall again on Harding because of her proximity, as well as reports that she is seeking reinstatement from skating's governing body, Rosenberg was careful in his response.
"The way that we look at it is that was a long time ago, and we're focusing on this event, and the people who are competing in this event," he said.
Local journalism is essential.
Give directly to The Spokesman-Review's Northwest Passages community forums series -- which helps to offset the costs of several reporter and editor positions at the newspaper -- by using the easy options below. Gifts processed in this system are not tax deductible, but are predominately used to help meet the local financial requirements needed to receive national matching-grant funds.
Subscribe to the sports newsletter
Get the day's top sports headlines and breaking news delivered to your inbox by subscribing here.
---